Potensic has just taken the wraps of a serious-looking camera drone that that will cost just $299.
The Potensic Dreamer has a 1/3in Sony sensor which can shoot 8.3 megapixel stills. But although it is billed as a 4K drone, in reality it shoots video at 2.7K at frame rate of 30fps. Even so, this resolution matches this of the highly popular DJI Mavic Mini.
Unlike the Mavic Mini, however, the DJI Dreamer quadcopter does not have foldable arms - and is significantly heavier with a take-off weight of around 760g. This is therefore under current drone regulations will need to registered before it is flown in the UK or USA.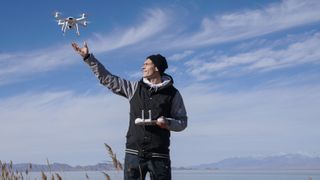 The drone comes with a remote control unit, that gives you dual-joystick control using your own smartphone and the Potensic app. The controller operates in the 5.8GHz band, and offers an operating range of 800 meters. The Dreamer has built-in GPS and a barometer.
Specifications
Takeoff weight: 760g
Max speed: 17.8mph (8m/s)
Max ascent speed: 5m/s (sport mode)
Max descent speed: 2m/s
Max flight time: 31 minutes
Internal storage: MicroSD card slot (4 - 256GB)
Lens: 78° field of view
Camera sensor: 1 / 3-inch Sony CMOS 13MP
Maximum resolution: 3840x2160 pixels
Video resolution: 2.7K (2688 x 1512 @ 30p)
Bitrate: 20mbps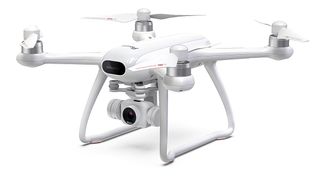 Intelligent flying features include Follow Me, Return to Home, Waypoint, and Orbit Flight option. The 4S-type smart battery offers a maximum flight time of 31 minutes – which eclipses that of many other budget drone rivals.
In sport mode, the aircraft can generate triple power in under 0.1 second, so as to get a great control experience. In normal mode, when the battery adapts output to suit the circumstances, this technology helps the battery recover the braking energy of the motor and increase the flight endurance.
The Potensic Dreamer will be available to order from Amazon shortly for $299.
• Best camera drones
• Drone flying for beginners
• Drone rules: US, UK and beyond
• Best DJI drones
• Best underwater drones
• Best drone accessories
• Best drones for kids
• Best indoor drones for fun
• Make money from a drone