Looking for the best indoor drone? This guide will tell you what to look out for, show you are pick of the best models, and guide you to the best price deals…
Wherever you're doing it, and for whatever reason, flying drones is a lot of fun. Nowhere is that more pure and true than indoors. You get all the fun of close quarters' flying, the relative safety of compact quads, and complete freedom from any aviation regulations (until you fly out the window).
Theoretically, of course, any drone can be flown indoors, so long as it's kept away from the fixtures and fittings, but some are better suited to it than others – indoor drones are smaller and, better still, can also be a lot more wallet-friendly.
Drones built with photography in mind usually feature GPS, which becomes useless indoors, have lenses designed for aerial photography rather than First Person View (FPV) piloting, and have powerful motors; excess power is great outdoors to counter wind, but may be risky near much-loved fixtures & fittings!
Far better to use a craft suited to indoor use. If they're small and light, making the indoor world seems bigger by comparison. They generally feature propeller guards to avoid any damage to the drone, furniture, people or pets nearby, and ideally a small camera with a wide field of view, though it is far from an essential component.
Outdoor drones typically use Radio Control (RC), allowing them to travel several kilometers from their remote control. Indoor drones can use this technology, but more commonly use wi-fi frequencies; some can then offer mobile phone control, or phone viewing of a built-in camera) without a connecting cable, unlike an RC drone.
Because there is such an overlap with the fast-moving toy world, there are a lot of choices; some of the newer products have the advantage of mass-production prices, while some of the established drones offer more in terms of features and quality.
Here's our selection of the best indoor drones (or indoor-friendly drones) you can currently buy, to suit all tastes and budgets.
The best indoor drones for 2023
Why you can trust Digital Camera World Our expert reviewers spend hours testing and comparing products and services so you can choose the best for you. Find out how we test.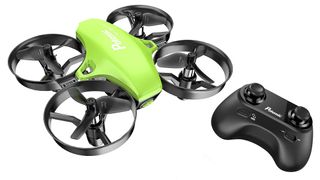 The A20 fits in the hand with room to spare, and in a crowded marketplace it stands out on build quality (not least the chunky propeller guards) and simplicity of both use and design. Many mini drones come with confusing controllers with an array of push-buttons for calibration, but the Potensic is elegant. There are two thumbstick controls and shoulder buttons to operate the camera and cycle thorough the three speed modes.
Beginners will appreciate the altitude hold (meaning you don't need to continuously adjust the throttle to hover) and headless mode (meaning you don't need to worry about the drone's orientation). There is also automatic landing, and a red LED at the rear which flashes when the battery is about to run out so you can make sure you're hovering in a good landing spot.
This drone, the A20, is the entry level option but for a higher investment the A30W or the P7 (a little further down this list) add a 720P camera.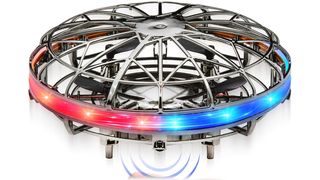 Eschewing the traditional remote controller with sticks approach, this drone wants to get up close and personal, responding to hand gestures from inside a complete protective cage. This lack of complication and total finger protection make it ideal novel fun for children of all ages.
To get in the air, you simply toss the drone cage into the air and the motors will kick in. It'll slowly but continuously rotate and it has two IR sensors on opposite sides which it uses to detect and avoid your palm – so essentially you can "push" it without touching it. It maintains altitude, but also has an IR sensor on the bottom so you can "push" it up too. Finally the motion sensor will shut it straight off it hits something, with the cage absorbing the blow. Simple but effective. If you get your hands near the sensors on both sides (which isn't as easy as it sounds) then it'll even attempt a flip.
The only physical interaction you'll need is via the on/off switch at the bottom and the small charging port (which connects to a standard USB socket). The cage has a good balance of flex and rigidity, the packaging and manual is good, and – while Scoot offer other versions – this with UFO-like LEDs – is definitely the favorite. There is no camera, and you can't practice your controls, but it's a lot of fun.
See also Best drones for kids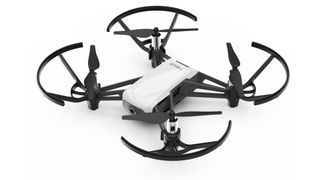 While some of the drones on this list are toy-grade, this is in every respect a consumer-grade product, with quality packaging, safe-looking batteries, and a full set of features. It is a little more expensive than some, but you get what you pay for – not least the Intel and DJI tech on board. That includes a downward-facing sensors which make for stunningly stable hovering and auto landing, and the ability to react to a wall bounce.
At first you'll have fun flying it around the house like any other drone, sneaking round doors using the FPV video on your phone screen (you can also use an optional game controller). There are button-press flips and stunts to impress friends and family, but really that's just the start.
You can capture still photos at 5 megapixels and video via the app (from the same camera that you see through as you fly); the video is digitally stabilized and looks much better than equivalents in this price bracket. Thanks to visual block-based programming tool Scratch, you can experiment with programmed flight. Since Scratch is often used in schools as a way of introducing programming, it's easy to learn, and rewarding.
Read our full Ryze Tello review for more details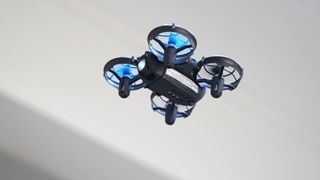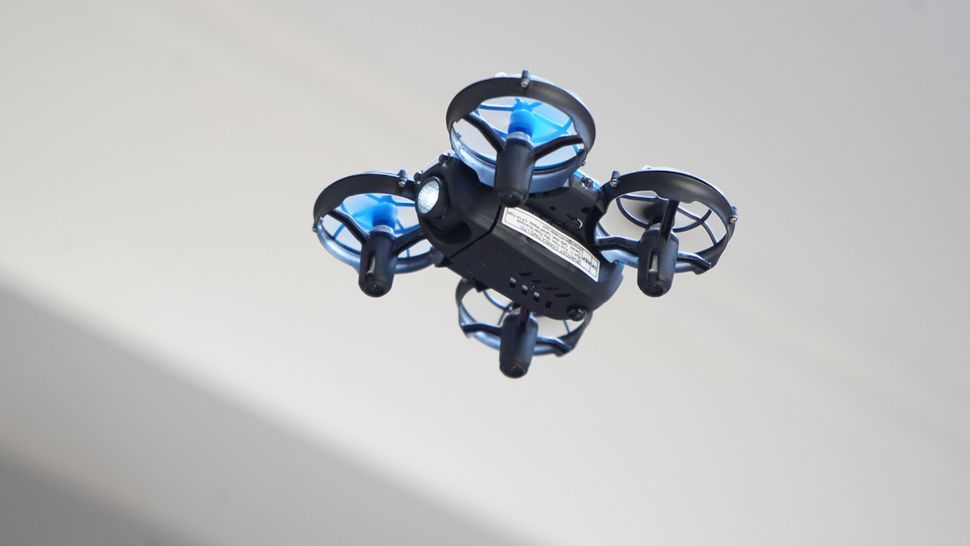 Taking a mix of inspiration from the pro brands and the other toys, this drone offers the almost expected 3D flips and headless mode. But thanks to the addition of five sensors (front/back/left/right/bottom) it can also be directed by wafting a hand near the hovering drone; it'll immediately back off. This also has an obvious safety bonus, though it should also be noted that the propellor guards are better than on many drones in this list.
Other features that make this an appealing choice are the circle mode (the drone will make small circles), choice of three speed modes, and the design of the batteries which are much easier to insert and remove without putting stress on delicate cables or lithium battery cells than some other compact drones.
Read our full Holyton HS330 review for more details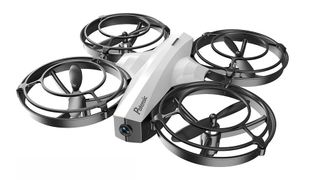 With convincing build quality and safety cages around all the props, not to mention a better-than-average battery, the P7 would be a good choice even before we get to its special feature: Battle Mode.
Without blowing holes in your living room (or sending anything down a small thermal exhaust port), the P7 drones are able to fight using forward-facing lights which are recognised by a matching opponent if the 'hit' comes from within 5m. When shot, the phone app plays a sound and the drone reacts by turning away a bit, but not far enough to be a problem even indoors. Sadly there are no sensors on the back, so you'll bot need to go for an aggressive approach rather than developing subtle tactics.
You also get a few other cool features to have fun alone, including 3D flips and gesture detection to take selfies via the app.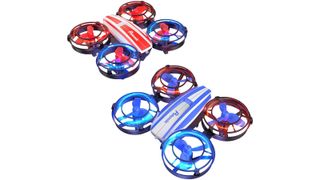 The delights of battle mode – bringing dogfighting indoors – were seen on the Potensic P7, but this more compact drone means you can get two for around the same money and feel even safer that the kids can't do any damage.
There are no lasers; the drones 'fire' infrared forward and this is detected by a sensor on the front – a little like firing TV remote controls at each other. The upshot is you can only make a successful shot indoors (sunlight poses problems) and firing forwards, but it's still fun and when 'hit' the drone spins out of control briefly. 3 'hits' and it'll land.
You get two drones in the box, so you can battle right away with no more outlay, but the drones also sport 3D flip, circle mode and a rudimentary altitude hold so there are a lot of entertaining flight modes. The lack of FPV cameras means no phones are needed and younger kids can join the fun safely.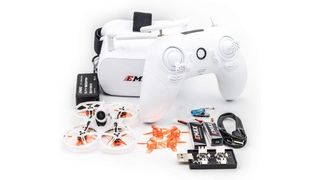 Drones have been embraced as professional tools and fun toys, but there is another dimension – a dedicated hobbyist community (with their own racing and freestyle competitions). At the cutting edge this side of the hobby relies on separate goggles, radio controllers, specialist batteries & chargers, and ultra-low-latency analogue video signals. Many enthusiasts build their own drones, but this "Ready to Fly" kit gets you in the air faster.
The tiny drones – the Whoop category, as the fans say – are idea for indoor flight. It features a camera which can be tilted to an aggressive angle (so it is level when the drone is traveling forward at speed), atop a very strong frame, this drone is the perfect craft to master the skills of FPV racing. It's durable enough to survive the knocks, has a strong radio, and the powerful brushless motors can reach stunning speed.
The analogue video system eliminates the digital encoding/decoding latency which toy drones are prone to, so you feel a direct connection to the world you see through your goggles. There are three modes to get you going, but it is tricky to master and there are a wealth of options which could be bewildering to non-geeks; this is really a gateway drug to quad racing.
If you're looking for a half-way house, EMAX's EZ Pilot has more beginners' features.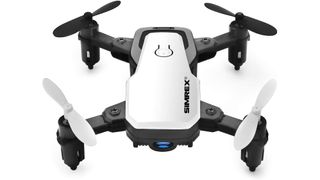 The Simrex X300C manages to fit the feeling of a basic drone, and a good bit of fun, in a very small device – and the enticements of flips and rolls too! The control pad's sticks – which slide in place – are surrounded by arrow buttons which make calibrating the drone's hover straightforward (though inevitably not as precise as a professional device). Nonetheless we'd still recommend flying with the prop(ellor) guards on – and with them the device can gently bounce off walls no problem. The fact all this can be achieved without adding the phone makes this a great choice for kids, but loop that into the wi-fi and access to a 1920 x 1080 camera with 110˚ field of view is a nice touch.
Holding 'down' once you've landed stops the props, just like a much pricier drone; aspects like that makes this a great "first drone"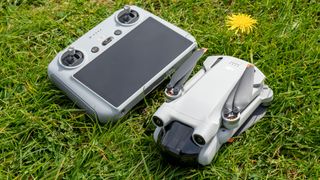 The DJI Mini 3 Pro has supplanted the DJI Mini 2 at the top of the firm's ultra-light options, sporting as it does collision sensors and an all-new high resolution camera with portrait mode. For some, at least, those collision sensors will be an excellent addition to indoor missions. Others won't agree, and DJI have a cost-saving option for them in the form of the Mini SE. Both are on our round up of best camera drones); but in our view short collision sensors make a lot of sense in big rooms, like halls, but will likely require disabling in a smaller space, where physical propellor guards let you get a lot closer.
Both aircraft, however, use a 'visual positioning system' (sometimes known as 'optical flow') to track the surface beneath them, meaning they can reliably hover in a well-lit room with some texture to the floor but, in the dark, or on a perfectly even surface, there is some risk of drifting (though no more than other indoor drones, however).
Both are operated by the excellent DJI Fly app (though the Mini 3 has more up-to-date physical controllers), which allow for capture of high quality images and video as well as sharing them, so if creativity is your goal DJI is where you should be looking. The 'Cine' mode, for slow flight, means you can sneak along corridors and round corners to capture smooth dolly-like shots. The only real worry is the down-draft; it's light compared to a prosumer drone, but pushes a lot more air around than the others on this list, so don't fly it over any lose papers!
• Much of this goodness can be found for a lower investment in the DJI Mini SE. We'd say the SE was fine for indoors; check out the differences in our DJI Mini SE vs Mini 2 and DJI Mini 3 Pro v Mini 2 guides.
Read our full DJI Mini 3 Pro review for more details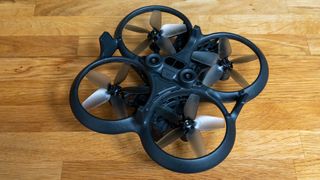 We've lauded the indoor potential of the 2021 "DJI FPV," but the Avata is even better whether you want to fly in (larger) indoor spaces or take it outdoors. Bigger than some toys, the "cinewhoop" style airframe is still smaller than DJI's last effort and builds in very robust protection plus the ability to flip itself back upright if you crash and land on your back.
Atop all that is the benefit of a high-end 48MP camera which can be remotely tilted thanks to the powered 1-axis gimbal boosted by phenomenal digital stabilization which outputs gorgeous 4K 60fps video (at 2.7K it'll go up to 120fps, and DJI's latest Goggles 2 can display that at 150Mbps. The 7.6 x 5.7mm CMOS can just about cope with the low light of indoors, too and with with room to maneuver you'll be able to get up to 60mph (96.5kph). There is also an emergency brake button and a choice of controls – traditional sticks require an extra FPV Remote Controller 2, while a 'floating joystick' is included and easy to grip.
Read our full DJI Avata review for more details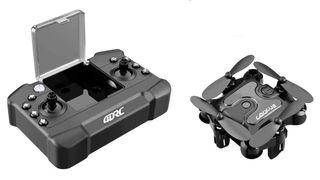 Very much in the gift category, the 4DRC V2 is a small drone best suited to indoor flight by any kids old enough to remember to attach the propellor guards before take off. Why do they come off? Because the drone can fold up and fit into a cavity in the controller which is a pretty useful facility. We also liked the replaceable batteries having traditional contacts rather than dangling cables with tiny connectors.
In terms of controls, there are three speed modes, altitude hold, and assorted flips to play with. As a seasonal gift the ability to fold up and be thrown quickly into a protective case can't be sniffed at either – perfect for demonstrating to friends and relatives. We didn't like that there appeared to be a camera on the marketing materials even though there isn't on the drone (there is a sister product with one).
Choosing a drone to fly indoors
Flying a drone indoors is a lot of fun, and has the advantage that it isn't subject to the buffeting of wind which requires a certain minimum of weight and power to overcome. That's why the main decision you need to make about an indoor drone will be whether it's exclusively a toy, or whether you need a drone which will be just as happy outdoors. That will inform the price, but there are other factors to keep in mind:
Camera: Not all indoor drones feature a camera. If you're performing stunts within a few meters of yourself and just having fun that might not matter, but in general we like cameras at DCW so we've got to flag it!
Safety sensors: Collision sensors from outdoor drones don't enjoy being in normal homes; they will warn about walls from anywhere in the room and if they automatically stop the drone you'll likely have to turn the feature off while you're flying inside. On the other hand, in larger spaces, these can be very useful. The enormous Inspire 2, for example, had forward and upward distance sensors, the later to prevent flying into ceilings.
Size and weight: The main factor which makes indoor and toy drones safe is their low weight. While aviation authorities like craft to come below 250g (8.8oz) indoor drones will have no problem coming in at a fifth of that, meaning they will hurt less than a tennis ball (which typically weighs 58g (2oz) and can travel a good deal faster!)
Propellor guards: Whether they're removable, or fixed aspects of the design, a frame around the propellor is a very useful safety feature. For the concerned parent, it protects over-enthusiastic children's extremities, but even more so it protects the very vulnerable small propellors from the inevitable collisions. The more crashes a small drone can survive without needing the propellors replacing, the better as this can be fiddly and potentially frustrating for younger pilots!
Flight time: Most small drones have only a few minutes flight time, but in practice this isn't much of an issue – you'll likely want to concentrate in short bursts and a battery swap can make for a good moment to hand to the next sibling in turn. We would recommend having a number of batteries though or waits between short sessions will be long.
Read more
The best drone accessories
The best drones for aerial photography
Drone rules and regulations
The best 4K camera for filmmaking
The best laptop for video editing