Maybe you bought yourself a drone a while ago, and have been meaning to take it for a spin, but never quite got round to it. Maybe you want to get a drone and need some advice about the best drones to get started with? Or perhaps you were given one for Christmas, and it's not made it out of the box yet. Either way, if you've been wondering how to fly a drone and you've suddenly found yourself in lockdown, then this might actually be a golden opportunity to get a handle on some drone videography tips.
Now we must be very clear here – not everyone will have the perfect conditions to enable them to fly their drones legally. Many countries across the world are in lockdown, with citizens prevented from leaving their homes except for essential reasons (and, obviously, flying a drone is not essential). These tips are for those lucky souls who are able to fly a drone legally in their back garden.
• Read more: Everything photographers need to work from home
However, it's also worth remembering that drone legislation has severely tightened over the past few years, and all drone pilots must be up-to-date with their country's or state's laws. We recommend researching what is legal in your region before you start taking your drone out of your kitbag. Remember that many countries don't allow drones in built-up city areas, so if you're living somewhere that's densely populated, then we'd recommend checking out some of our other home photography tutorials instead.
Another common requirement is that drone pilots must always be able to see their drone while it's in flight. This means that, despite many drones being able to travel as far away as 4 miles, it's best not to pilot the drone too far away from where you are. It's also worth remembering that if your drone crashed, you'd have to go outside and get it, so make sure that you aren't flying your drone too far away from your house.
With all of this being said, if you're lucky enough to have a spacious back garden and few neighbors, this might be the perfect opportunity to practice your drone piloting skills so that when lockdown is over, you can expertly create magnificent drone footage on your next outdoors adventure.
How to fly a drone: Drone videography tips
If you're in the right position to be able to practice with your drone, then here are a few tips to help you get started. The most important thing to remember is to take it slow. If you find yourself getting confused, the best thing you can do is take your fingers off the controls – the drone should just simply hover in place until you start moving it again.
While the video you're able to shoot in your back garden might not blow anyone away, it's a great way to practice your technique so that you're confident the next time you're in a magnificent location.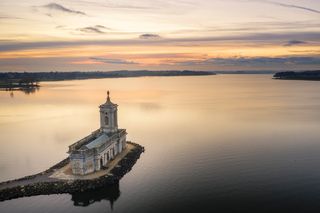 01. Shoot in Manual
Always shoot video in Manual mode and with white balance set to a preset rather than Auto. This is because any changes in aperture, shutter speed or white balance will be visible in the video and could apply undesirable settings. Manual mode will lock everything.
02. Keep an eye on your shutter speed
When shooting video, it's essential to shoot with a shutter speed that's double the frame rate of the video. So if you're shooting at 24fps, aim for a shutter speed of 1/50sec for natural-looking movement.
03. Use filters
Control shutter speed with video using ND filters. Having the shutter speed slightly faster than double your frame rate is better than if it's slower.
04. Find your focus
DJI drones are set to continuous AF, which can be turned off in the main camera menu. To focus, use single-shot AF focused one-third of the distance into the scene or directly on the subject itself, depending on how you intend to fly around or over it.
05. Use Tripod Mode
Tripod mode is a setting that slows the drone down and makes it slightly less responsive when turning. This produces much smoother movement of the drone, which translates into far smoother and more cinematic footage.
Read more
Best camera drones in 2020: these are the best drones for photography
Best drones for kids in 2020
Best drones for beginners in 2020: drones that keep it safe and simple