Best thermal drones - Quick list
Thermal imaging technology has gone from being the preserve of the military and covert services to just another day-to-day tool. The Predator-like ability to see heat is as useful for building inspectors and insulation engineers as it is for search-and-rescue services. There is even a growing interest among game hunters (and those searching Loch Ness).
While an infrared camera can see at night, that doesn't necessarily mean you're allowed to fly in the dark. You'll need to check your local regulations and likely take an extended course in order to be able to operate between sunset and sunrise. Every drone on this list has a take-off-weight over 250g , so registration is required in most places.
On the subject of drone regulations, it's also worth knowing that DJI aircraft also incorporate a 'Flysafe' database. These areas restrict take-off and – even if you have aviation authority permission – you'll also need to clear flight in these areas with DJI (via their app) which can take a few days.
Finally don't forget that thermal photography is only part of the equation for most purposes; it's worth thinking about the visual camera and its capabilities. For operations like search-and-rescue a good zoom range is very useful. Longer optical (as opposed to digital) is always better, too, though perhaps more significant if you're looking to read a license plate, for example.
We would also talk here at length about resolution and frame rate, but it seems that the current crop of drones has somewhat standardized. Similarly, all these cameras offer 'radiometric' readings (remote temperature readings) so that's not a capability question you need to log in advance.
Top picks
The best thermal drones
Why you can trust Digital Camera World Our expert reviewers spend hours testing and comparing products and services so you can choose the best for you. Find out how we test.
The Best Overall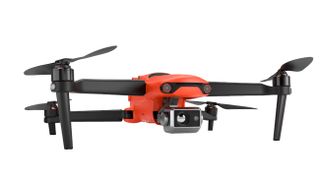 In Autel orange, this aircraft looks ready for the work site, and it is well equipped too. The 640T Enterprise's visible camera is the same 8K as its standard sibling, which means it also has 16x zoom (4 x lossless, depending on your output resolution). The IR camera also boasts FLIR's well-known approach, and can be displayed into a crop of the wider visible spectrum on the generously-sized "Smart Controller." It has a whopping 9-inch screen, HDMI-out, as well as the ability to initiate automated mapping. Even better, there is no Autel geofencing so no additional bureaucracy threatens. The drone also has a fixing point above the camera for the included accessories; a (very) loudspeaker, spotlight, or night-flight beacon (you might need a second beacon though as the spotlight will likely take priority at night).
Best for zoom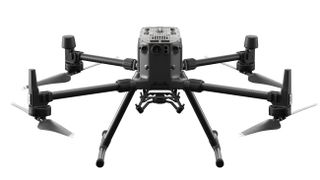 The M30T is an incredibly powerful tool for all kinds of aerial work. The thermal camera is there, but for search and rescue or security monitoring the powerful zoom – backed up by AI subject tracking – means the M30T has some other tricks up its sleeve. There is also 'super mode' resolution for 1280x1024 thermal imaging and a laser range finder.
The drone also has a socket for third-party accessories which adds versatility – a speaker and spotlight is available – though the dual camera gimbal is fixed.
In search-and-rescue we're sure the dual-controllers will be useful – the main fuselage has a 1080P forward-pointing camera for the pilot, while another user can direct the camera (within 180˚ pan and 165˚ tilt). All operators will also appreciate the 7-inch display and function buttons of the excellent RC Plus controller, as well as the quick-top-off mode on the charging station.
Best for rapid launch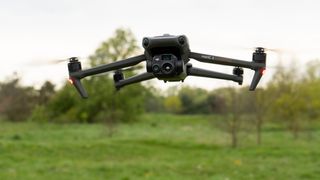 The Mavic 3 Enterprise arrived nearly a year after the standard version, and brings all that we liked about that drone in a rugged hard carry-case. More significantly, it has a new beacon light (built-in), and mounts for accessories like RTK for mapping-level accuracy.
For thermal photography, it has the same 640x512 resolution as its predecessor, but this is just one of three cameras; DJI manages to squeeze in a 56x hybrid zoom comprising of a half-inch main sensor (smaller than the Mavic 3's but still capable of 4K video). The thermal camera's EFL is 40mm – 61˚ field of view, and the system can provide up to 28x zoom views with continuous side-by-side with the optical image to help operators direct responders.
DJI also offers a suite of software for flight planning, mapping and thermal analysis; the Enterprise series is where DJI is prepared to offer SDKs, too.
See our full DJI Mavic 3T Enterprise review
Best for flexibility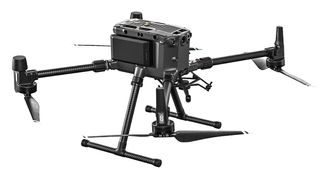 The 300RTK is a professional drone, with the flexibility (and deployment delays) that includes. The Drone accepts DJI's detachable Zenmuse cameras which can – depending on your choice of lens – afford spectacular levels of optical zoom in the visual range. The triple can make home for gimbals on top or below for cameras, LIDAR, spotlights and other accessories making for ultimate flexibility. Don't forget to budget for every component you want – you'll probably go for DJI's H20T for thermal, and the P1 gives amazing visual. Like the M30T, this machine has dual batteries – pro-grade redundancy isn't cheap, but it does mean you can land and swap the batteries sequentially without powering down. Another pro feature is dual-control, which can be even better on this drone than the M30T as the camera can hang low and rotate further.
Best external camera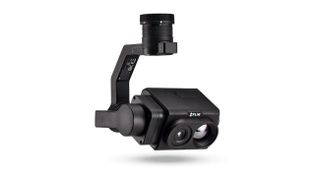 While DJI offer their own H20T payload for the M300RTK, that drone (unlike the M30T) offers the option of payload choice. In other words there is a slot, literally, for the FLIR Vue TZ20-R Dual Thermal camera. Since FLIR are as close as it comes to an industry standard for thermal imaging, many will find the advantage of fitting one of their cameras, not least for the MSX technology, a proprietary system for merging visual and thermal imagery to boost the apparent resolution. The dual camera system effectively multiplies resolution four times, according to FLIR. The TZ-20R boasts the now-standard 640 x 512 resolution, but the 5x, 10x and 20x zoom and 95-degree field of view make for swift surveying. All this can still be controlled using the DJI Pilot app.
Best for agriculture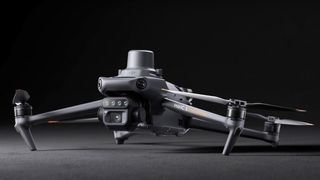 An update to DJI's previous multispectral drone has been a long time coming; the model this replaces was built around the Phantom 4 rather than the folding Mavic series. Now, finally, a variant of the Mavic 3 has emerged, with the associated advantages of long battery life and folding arms. The gimbal-mounted camera block features a 4/3-inch 20 megapixel optical camera plus four 5-megapixel cameras. These capture images in specific wavelengths, not all visible to the human eye, which reveal crop conditions.
The higher resolution and better battery than its predecessor mean the drone can cover up to 2 square kilometers, or 495 acres, beating the P4 Multispectral by a factor of neary 25 times. It also boasts centimetre-level positioning accuracy and the 15km radio range of O3, plus omnidirectional obstacle sensors.
End-of-line alternatives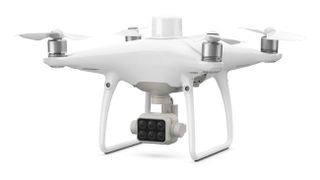 The P4 Multispectral is designed for agriculture, featuring a 6-camera gimbal which combines different kinds of thermal and visual camera data. DJI call the result NDVI (Normalized Difference Vegetation Index), a clear graphical display of the progress of crops. Here near infrared is especially helpful in identifying chlorophyll – more such light and the plants are healthier. This, in turn, can help a farmer efficiently prioritize their efforts to keep things healthy without over-using treatment. DJI offer a specific app, GS PRO, for iOS operation. It might be built on an older Phantom airframe, without the battery life or collision detection of newer designs, but it looks good and the camera offers unique data (made useful by a spectral sunlight sensor so they can be fairly compared).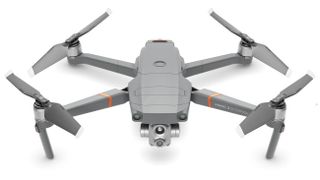 The Mavic 2 Enterprise was never the most expensive thermal drone, and now it has been replaced by the Mavic 3T, it can be found for less. The main downside is the lower battery life compared to newer aircraft – a real drag in S&R situations – but on the other hand the batteries are still easily acquired, self-heating, and only one is required at once (better on the wallet than the Matrice series!)
The DJI Smart Controller (the predecessor to the RC Pro) is included in the bundle, with its 5.5-inch 1000-nit display, making for a complete package that can get aloft quick. All-in-all this is an effective system, if thermal is your main requirement, the only issue we see is supply and, in the medium term, ongoing software support, so if these don't feel like an issue to you don't be afraid of it as a possible cost saver.
FAQs
How do thermal drones work?
Thermal drones is shorthand for drones with thermal cameras. They typically allow a pilot to position a camera which translates temperature into a visual image. They often also have a traditional optical video camera pointing in the same direction. This is useful for identifying sources of heat – for example a lost person, or an overheating piece of equipment – e.g. electricity surveys.
What makes a good thermal camera?
Two factors are useful – one is the resolution. Around 640 x 480 is good for a thermal camera though. The other is the refresh rate; some thermal cameras have low refresh rates and as a result the video is quite jerky.
On a drone it is also useful to know how well the camera operates together with a visual camera – this might be a 'hybrid' mode.
How we test thermal drones
Our drone expert has operated professionally and where possible flies the drones in real-world situations, simulating the kinds of missions they will be used on to review them. Where we're not able to pilot the craft outdoors, we share knowledge with trusted operators as well as checking the wider community's insights. All our drone reviews and guides are overseen by on-team Managing Editor Adam Juniper who is one of the UK's leading experts on drones, a professionally-qualified commercial drone pilot, and who has written several books on flying drones, including The Drone Pilot's Handbook.
Read more
• Best thermal imaging cameras
• Best thermal imaging binoculars
• Best night vision goggles
• Best indoor drones
• Best camera drones
• Best drones for kids
• The best drone accessories
• Drone rules and regulations
• The best 4K camera for filmmaking
• The best laptop for video editing