Buying the best drone for kids isn't just about getting into their good books and keeping them quiet. Drones are something you should want your children to play with, as they'll teach them valuable skills.
Best Drones for Kids: Quick Links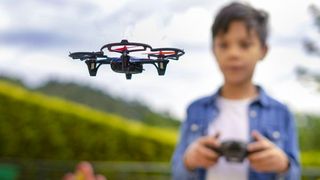 Editor's Picks ★
1. Best overall
2. Best family drone
3. Best toy drone
4. Best follow-me drone
5. Best indoor drone
6. Best first FPV drone
FAQs
How we test drones

Drones can be useful in STEM learning: racing and stunt pilots usually get into self-building, which encourages understanding of electronics, and computer skills. Furthermore, some drones provide a great way to learn to code.
So whether your kid is a budding photographer or YouTuber who wants some aerial imagery, or they're just seeking the adrenaline rush of racing against others, drones offer a new way to play and tempt them outside and away from the PlayStation... and what parent wouldn't want that?
So what's the best drone for kids on the market today? Below, we've put together a guide to help you find the best drone for you and your family.
Here, you'll find drones for different ages and budgets. We'll explain the differences between them, and share the facts and figures you need to choose the right option.
Editor's picks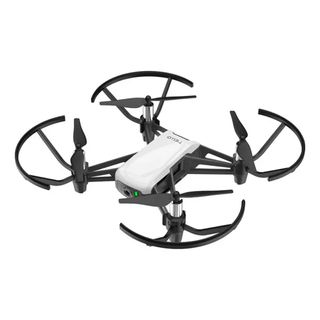 Best overall
A compact drone designed for wi-fi control from phones, this is a great toy with some extra educational value via the Edu(cational) edition.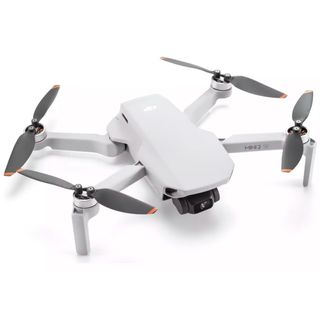 Best Family Drone
The most basic model of DJI's range of drones is, thanks to their high standards, also a pretty decent drone. It's easy for anyone in the family to use, and takes great photos and video.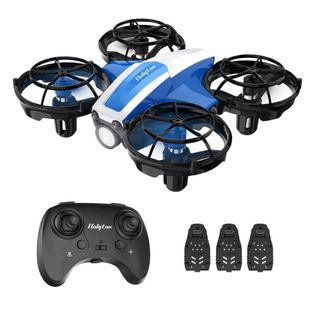 Best toy drone
It surprised us how much fun could be crammed into a sensibly priced, and safe little (probably mostly indoor) drone, but this one manages it.
The best drones for kids in 2023
Why you can trust Digital Camera World Our expert reviewers spend hours testing and comparing products and services so you can choose the best for you. Find out how we test.
Best overall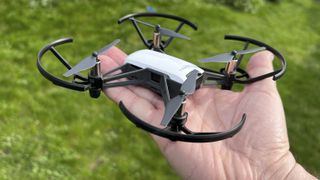 The Tello shares a lot of tech with Ryze's parent company, DJI, which is great news when it comes to quality and smarts. The camera is built into the body offering five-megapixel stills or 720P video – this is as good quality as it gets in the toy market. As well as the standard version, watch out for an Iron-Man branded Tello, and Edu(cational) flavor too (see below).
Naturally, there is the full range of flips and tricks to impress friends, plus 'EZ' video shots, but where it really excels is its educational value. That even includes compatibility with Scratch – a block-based visual programming system so computer enthusiasts can learn programming on a phone or tablet in the most fun way possible. This coding capability makes the Ryze a popular choice with STEM educators.
While the robust airframe hasn't seen an update since 2018, there have been several software updates keeping the app fresh. Other firms have written alternatives, available in phone app stores, which add functions like panoramic photography and FPV flight.
Read our full Ryze Tello review for more details
Best family drone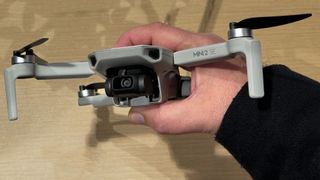 Strictly speaking, this updated version of the DJI Mini SE isn't a toy. It is, though, a sub-250g drone, so just under the weight which is a cut-off for registration in the USA and China, and a tier in the EU and UK.
Frankly, it's a brilliant job. For older kids with smartphones (or adults who haven't quite grown up), it has the same basic components and flight time as pricier pro drones. It can also record 2.7K video and 4000 x 3000 pixel JPEGs to a MicroSD card. Because the camera has mechanical stabilization, the footage looks good too so long as you avoid pixel-peeping. At least as good as most phone cameras.
If you're buying this, you're buying a serious flying camera – a very serious gift. It can even capture orbiting selfies so you might be boosting social media too. The previous edition has been discontinued, but the only significant change is the replacement of the older controller with one of DJI's newer designs which is more robust and has a stronger signal, so no complaints there.
Read our guide to DJI Mini SE vs Mini 2 for more details
Best toy drone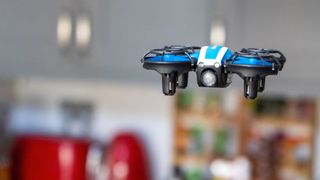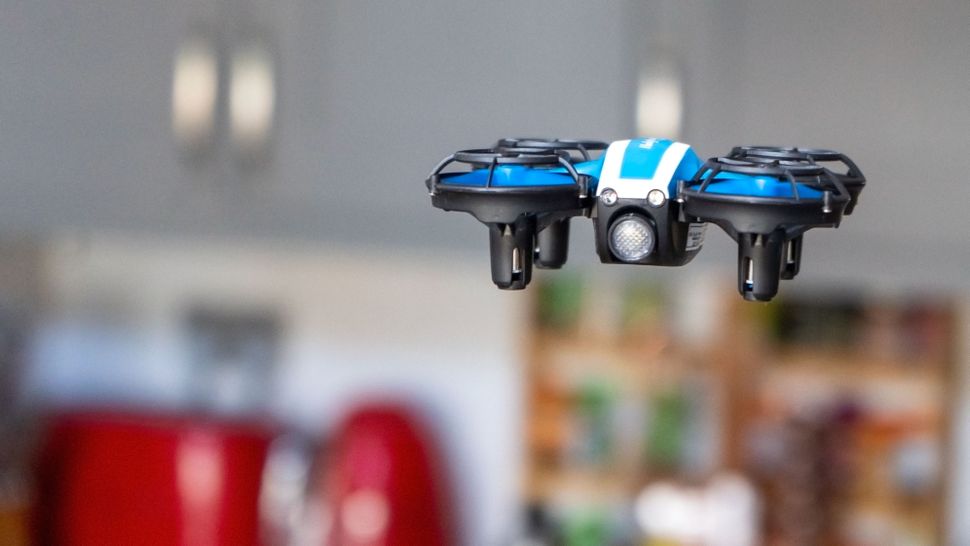 Taking a mix of inspiration from the pro brands and the other toys, this drone offers the almost expected 3D flips and headless mode. But thanks to the addition of five sensors (front/back/left/right/bottom) it can also be directed by wafting a hand near the hovering drone; it'll immediately back off. This also has an obvious safety bonus, though it should also be noted that the propellor guards are better than on many drones in this list.
Other features that make this an appealing choice are the circle mode (the drone will make small circles), the choice of three-speed modes, and the design of the batteries which are much easier to insert and remove without putting stress on delicate cables or lithium battery cells than some other compact drones.
Read our full Holyton HS330 review for more details
Best follow-me drone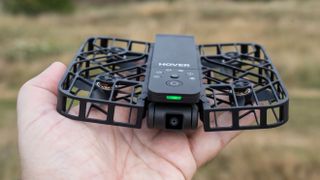 This might not be ideal for younger kids without a bit of parental supervision, and it's certainly not the cheapest option, but it does offer a very different take on drones that we can't ignore in this list, especially if you're thinking of something the family can enjoy.
When I tried it, this drone surprised me with its sensibly safe design, and by how the AI could simply follow me, taking off and landing on my own hand. After initial set up, I didn't even need my phone to do it – there is a combination of a speaker inside so voices reassure you that you've asked for the right thing and simple buttons on the frame.
Think of it as an angel on your shoulder which can be passed between family members and follow them running, cycling, or undertaking any activity. An unusal drone, but amazing.
Best indoor drone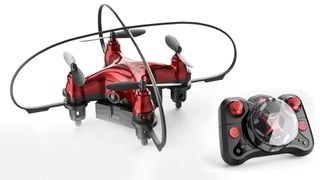 If you're looking for a super low-cost option, check out this quadcopter, which features altitude hold and three different speed modes. With protection guards, a headless mode, and the ability to do an 'Emergency Stop', this drone is designed to be as user-friendly as possible. And that should help pilots of any age and ability to have fun flying it.
The Holyton HT02 comes with three batteries, which should offer up to 24 minutes of flight time. Plus, its lightweight and compact build mean that not only are you free from having to register the drone with aviation authorities, but it's also super easy to transport.
Despite the low cost, you also get a controller, four spare propellers, two guards, two USB chargers, and three drone batteries. This will give your kids the complete package needed to enjoy racing their drones. So while there's no camera (as you'd expect at this price), you really can't go wrong.
Best first FPV drone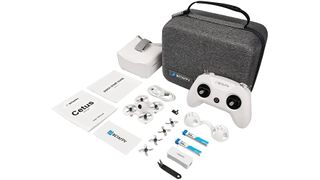 For what is, compared to other FPV gear, not a very big investment, you can get everything you need to get flying: goggles, a controller, and the drone. It might lack a few of the features that devoted FPV hobbyists insist are essential but this isn't for them. For older kids (or dads) who've been lusting after the excitement of putting goggles on and remotely piloting their own micro drone, though, it's perfect.
Key functionality is there too. For example, the remote can also be used with a computer to play drone sims while the battery is charging. And don't tell your kids, but some aspects are arguably better than enthusiast gear. For instance, the tiny drone can't do too much harm when it crashes and, unlike most FPV drones, has a hover sensor built in too.
Cheap drone for kids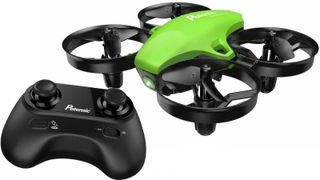 Compact and robust, this drone has an in-built pressure sensor that's capable of hovering without the operator's help and flying using the pilot-friendly 'headless' mode. In practice, that means the drone can be moved around a room using a single control stick, which is easier than most video games. If you do crash, there are good solid prop guards.
On the downside, the attempt to protect the battery with a flap is tidy but fiddly. And don't be fooled by the claims of 16 minutes of flight time: this is just a doubling of the (optimistic) eight-minute time for one battery since there are two in the box. Nevertheless, that's still a decent flight time, and overall we reckon this is the best drone for kids getting started with remote-control flying.
Rugged drone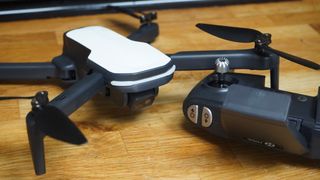 Compact and stylish, the 151g weight comes into its own in the children's category; every gram shaved off the total means less harm can be done should the drone go out of control (or be controlled maliciously). This is well under the 250g limit for registration, so you can feel comfortable that this is a toy.
Holy Stone suggests 13 is the cut-off and perhaps that's the right age to follow the start-up instructions, though a patient younger kid could probably manage it too. The app offers a decent range of controls for a drone at this price, and some slightly silly features that the kids might enjoy (it'll recognise a gesture and take a photo). The controller feels robust (if a little plasticky) and while you won't get the responsiveness of higher-end drones like the DJI, it's still an adequate controller with the ability to tilt the camera.
Oh, one thing from my testing – make sure you're on the faster flight modes if it is a windy day – you need to beat the breeze. The camera, though, is surprisingly good for the price bracket, as we mention in my full HS280 review.
FAQs
What is the right age to have a drone?
We'd say that, when you're looking at small toys under 50g, like some of those on this list, then with a bit of supervision (and patience) a child as young as four can have a go, while about age 8 they should be able to keep one of their own.
If you looking to go for a larger drone that needs to be registered, then the operator needs to be old enough to sign and understand the registration – in the USA, in FAA territories, that is 13.
In the UK, the CAA requires a parent or guardian to register on behalf of a child under 13.
How We Test Drones
Our drone expert Adam Juniper has been flying drones for a decade now, and is the author of The Drone Pilot's Handbook, a book specifically designed to introduce the drone hobby to younger adopters. He knows the features and tech to look for to ensure a good time, as well as the real life experiences and that knowledge is the basis of this list. He also reviews and tests many of the drones in the best camera drones list.
Read more:
The best drone accessories
Best drones for aerial photography
The best indoor drones
Best travel drones
Drone rules, regulations and registration
Best underwater drones
Best cameras for kids