This is an amazing one-day deal from Adorama for our readers in the US... a great mirrorless camera with a lens for just over $300 (about £250/AU$460). We have seen similar discounts earlier in the year, but his is one heck of an amazing discount!
The Olympus OM-D E-M10 Mark II has a 16.1MP Micro Four Thirds sensor and a TruePic VII Image Processor. It's capable of up to 8.5fps shooting and Full HD 1080p/60 movie recording. It has in-camera 5-axis image stabilization, which compensates for up to four stops of camera shake so you can achieve beautifully sharp images, even at slower shutter speeds.
• Read more: Best Olympus camera
The Olympus OM-D E-M10 Mark II features a contrast-detect autofocus system that employs 81 areas to quickly and accurately focus on your subject. It also has built-in WiFi that not only allows you to instantly share your photos, but also means you can use the Olympus Image Share app to transform your phone into a remote camera control.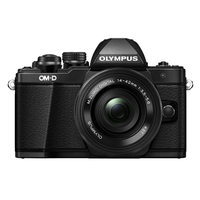 Adorama is a US retailer that may ship to other regions. If you're looking to purchase this product from another country, please ensure you double-check shipping costs and availability, as well as compliance with local tax and import laws.
Not in the US? Check below for the best deals we've found in your location.
Read more