Mitsubishi is about to introduce its cheapest ever dye sublimation printer. Designed for professional photographers who want to print high resolution prints on location, the Mitsubishi CP-M15 will retail at £420 – the lowest price seen on a dye sublimation printer of this type.
The unit can print a 4x6-inch print in 12 seconds at a cost of just over 10p per print. The printer can take both sin-inch and five-inch media - allowing print sizes up to 8x6inch, down to 2x6inch strips for passport-style miniprints.
The unit weighs 14kg (30lbs), so is not the most portable of printers – but this it is capable of being installed at a wedding or sports event, say, so that images can be output as soon as they are shot from your laptop.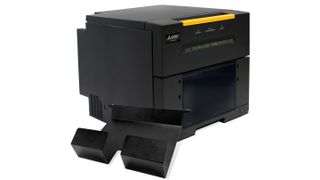 The dye sublimation technology that the printer uses means that the rolls of paper are supplied with ribbon cartridges that are the same length - so that you always know exactly how many more prints you can output. A typical roll-and-ribbon pack will produce 750 4x6-inch prints.
We have seen these dye sub events printer become more popular amongst pros in recent years, with some interesting innovations in the last 12 months. Last year Mitsubishi launched the CP-M1, that incorporates a rewind function to eliminate ribbon waste. And last month Citizen launched what it claimed its lightest and smallest events printer, the CX-01, which weighs just 5.8kg.
The new Mitsubishi printer will go on sale from 24 February in Europe, Middle East and Africa; the CP-M15 is not intended for sale in North America we are told.
Read more
Best portable printers