Citizen has launched the smallest and most portable events printer it has ever produced. At 5.8kg, the Citizen CX-01 might not be a pocket printer - but it sets a new standard for events printers, which are widely used by professional photographers to produce prints to sell at weddings, sporting events, and at leisure venues (such as theme parks).
The Citizen CX-01 is in fact under half the weight of Citizen's best-selling model, and occupies less than half of its footprint. Printing on rolls of 4-inch or 4.5-inch paper, it can print a standard 6x4 inch print in 18 seconds.
• Read more: Best 3D printers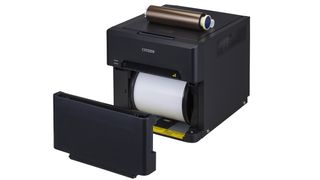 You might not have heard of dye sublimation printers before. Unlike instant print technologies, like Instax or Zink, the paper and dye are not contained in the print. And unlike inkjet printers, there are no ink tanks. Instead, the dye is supplied by rolls of ribbon which is heat transferred onto the paper. The ink ribbon roll is sold with the roll of paper, ensuring that paper and ink run out at precisely the same time - and minimizing wastage – with the ribbon being the same length and width as the roll of paper. The running costs work out at less than 25c / 20p per 4x6in print.
The advantage of dye sublimation comes in the quality of the results, the speed, and the ease of set up – hence the popularity of this type of printers with photographers that have to sell prints in a variety of locations.
The Citizen CX-01 retails for £550.80 in the UK (US pricing currently unknown).
Read more
Best portable printers