If you are an events photographer, then you need to be able to produce prints fast – and as you are selling these they need to be high quality. This makes usual inkjet or giclee photo printers unsuitable. If you work as a pro shooting shows, visitor attractions, sports events, or parties then you need a dye sublimation printer.
Dye sub printers make each print in seconds with no moving inkjet heads, they use roll paper and colour cassettes. Each print uses a precisely cut length of paper - with individual cyan, magenta, yellow and gloss layers creating the photo.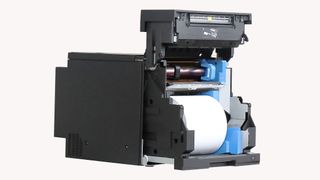 Mitsubishi are market leaders in the events printer game. But until now, if you bought an 8 x 6 inch model and wanted to make 6 x 4 prints, the colour cassette would not last any longer.
The new Mitsubishi CP-M1E cuts this waste with a Rewind Function which can reposition the dye-sub ribbon and make full use of the materials. Each roll of paper and each ribbon is capable of producing 800 6x4in prints, or 400 8x6in prints.
The CP-M1E weighs 15kg and retails for £684.
Read more:
Best portable printers for photos
The best online photo printing services