The Fujifilm XF10 only went on sale back in August, but is the latest camera to feature in one of Amazon UK's legendary one-day sales. Until midnight today, this fixed lens compact is available for £334.99 - which is the best-ever price we have seen it for, and over £100 more than you could find it for yesterday.
The offer is available for either the traditional all-black version for the camera, or the two-tone 'Champagne' variant.
The lens in front of the large APS-C sensor is a Fujinon 18.5mm f/2.8 lens, and this provides the user with an effective focal length of 28mm in 35mm terms. It's been designed with a 10cm close-focusing distance and a 9-blade diaphragm for circular bokeh.
It comes with a 3-inch touchscreen LCD - and has built-in Bluetooth to allow you to beam images you take straight to your smartphone using Fujifilm's free app.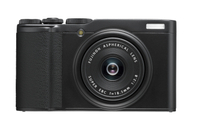 A traditional style compact camera that puts image quality ahead of features. It has an APS-C-sized sensor (the same size as found in many DSLRs), a 24 megapixel resolution and has a fixed wide-angle lens.
Deal ends: Midnight, December 21 (GMT)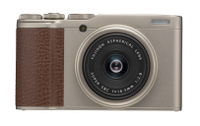 Fujifilm XF10 (Champagne) £334.99
A traditional style compact camera that puts image quality ahead of features. It has an APS-C-sized sensor (the same size as found in many DSLRs), a 24 megapixel resolution and has a fixed wide-angle lens. Deal ends: Midnight, December 21 (GMT)
More gift ideas
The best compact cameras in 2018
The best cheap camera deals this Christmas
The best stocking stuffers for photographers