Cameras at CES, we hear you cry? Granted, it's not usually a show famous for its photography output but CES 2019 is set to be that bit different. This year we're set for a multitude of launches, from 8K cameras to 360-degree delights.
If the rumors are correct, we will see some shiny new kit from the biggest camera players. The likes of Sony, Panasonic, Canon and even Nikon have had some products that have either been leaked or teased (but not the highly anticipated Sony A7000, alas).
And don't forget to bookmark this page as Digital Camera World is putting on its Elvis suit and heading to Las Vegas for the show. We'll be keeping this page updated with all the cool kit we will be getting our hands on.
We're excited - and here's why you should be excited, too.
What is CES 2019? "CES showcases more than 4,500 exhibiting companies, including manufacturers, developers and suppliers of consumer technology hardware, content, technology delivery systems and more; a conference program with more than 250 conference sessions and more than 180K attendees from 150 countries." That's according to the blurb on the official CES website. Essentially, it's a conference packed with all the latest technology.
When is CES 2019? It takes place in Las Vegas, US, Jan 7-10, with press briefings before this. Digital Camera World will be there reporting on all the latest camera news.
We will be updating this article regularly throughout CES 2019 so keep coming back.

What's been announced so far...
Sharp shocks by showing first 8K pocket camera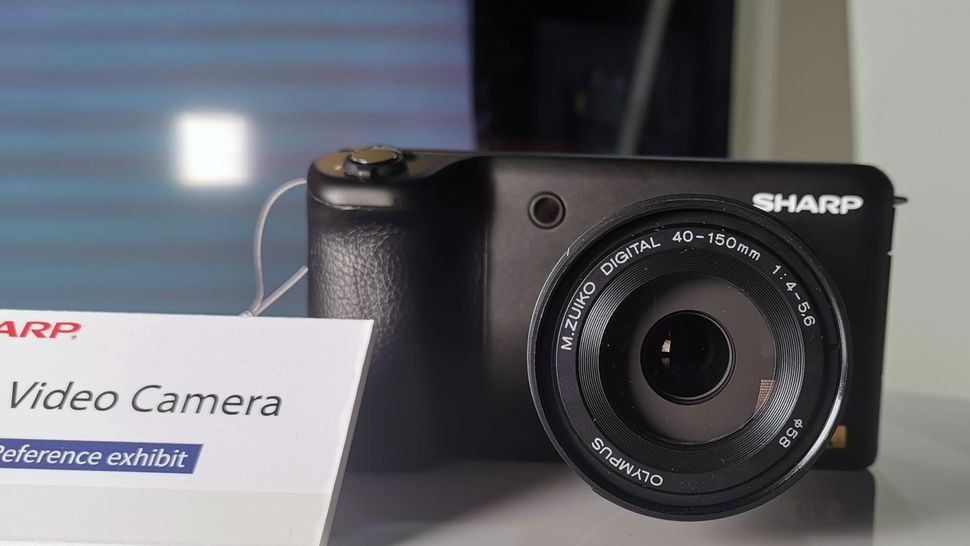 We had hoped that CES would be the place that we would see the first 8K cameras aimed at the consumer and semi-professional market. But we hadn't expect it to be Sharp that would be first out of the gate. Its prototype uses a Micro Four Thirds sensor and a lens system – and comes with a five-inch touch-sensitive screen. It looks very similar to the BlackMagic Design Cinema Pocket – in that it is a compact video camera that looks very much like an interchangeable lens mirrorless camera. Sharp already make broadcast 8K cameras, and were major players in the 1990s camcorder boom.
Read more: First look: Sharp 8K Video Camera

Lexar goes large with 1TB SD card
15 years after Lexar introduced the first one gigabyte SD card, the brand has now gone a thousand times better with a one terabyte card. Yes, that's more storage than many people have in their laptop...
Read more: Memory monster! Lexar launches 1TB SD card

Panasonic S1 / S1R release date revealed
The mirrorless Panasonic S1 and S1R were the stars of the show at Photokina 2018 but we still don't actually know that much about the cameras. And they have been shrouded in mystery since that event.
Lucky, then, Panasonic revealed at CES 2019 that the two cameras will be released March 2019 and will come with two new features: HDR functionality and a new High Definition Resolution mode.
We also know that the S1R has a 47-megapixel sensor, while it's cheaper sibling, the S1, has a 24MP sensor. We also know about the lenses that will be launched with the cameras but when it comes to price and availability, there's still no word.
We expect Panasonic will reveal exactly what these will be at CES 2019 and we are hoping that we will also get hands on with the devices.
Read more: Panasonic Lumix S1R and S1 will be available March 2019 with two new features


Nikon Z 6 and Z 7 to get eye-tracking autofocus
Nikon did not launch any cameras – but they have announced that they are working to add three great new tricks to its Z 6 and Z 7 full-frame mirrorless cameras. The most exciting of these will be Eye AF – an autofocus that automatically locates and tracks the eyes of a person in the frame. Eye AF has been a unique feature of Sony's A7 and A9 mirrorless cameras up until now. The feature will be added at a firmware update.
Other new features for Z series cameras that will be added through firmware updates will be support for CFexpress memory cards, and support for ProRes RAW output.
Read more: Nikon Z7 and Z6 to get eye-tracking autofocus

Nikon Z 14-30mm f/4
Nikon unveiled another new lens for the Z 6 and Z7 full-frame mirrorless cameras. The 14-30mm f/4 is the first ultra-wide zoom with a focal length of 14mm that can be fitted with a filter on the front. The new lens will go on sale in April.
Read the full story: Nikon Z 14-30mm f/4 S: ultra-wide zoom for Nikon Z6 & Z7

DJI puts you in the picture with Smart Controller
Don't want to have to use your phone to control your drone? DJI has the answer for you, albeit at a price. It's Smart Controller is a sophisticated remote with a big 5.5-inch LCD screen – and is particularly aimed at those using its most recent Mavic UAVs.

Read more DJI debuts Smart Controller for drones with built-in display
Insta360 Titan: 11K video, now!
The buzzword at this year's CES is 8K – as all the manufacturers preview their next generation TVs. But this camera goes three better, offering 11K video shooting right now! The Insta360 Titan is a professional 360 camera – and achieves its high-resolution video (and stills) using eight Micro Four Thirds sensors.
Read more about the Insta360 Titan

Airborne selfies are now a thing
AirSelfie has launched a fleet of new selfie drones that will hover in front of your face and take a snap of you. They may looks slightly dystopian but these gadgets mean that you can get selfies hands-free and look like you are in the future doing it. In total, there are three new drones: the AIR 100, AIR ZEN and AIR DUO.
Read more: AirSelfie launches a fleet of new aerial cameras to take your vanity levels sky high

Smile, you're on Kodak camera
Kodak has announced a new Instant Camera range which offers you the choice of a real print out or a digital copy of your image. In all, two cameras have been revealed: the 16-megapixel Kodak Smile Classic and the Kodak Smile, which offers up an LCD screen, a 10-megapixel digital camera, and microSD card slot.
Read more: Kodak Smile Classic offers analogue and digital in one retro-looking camera

What we expect...
Sony A7000
This is the biggie. Sony is very close to releasing an update to its Sony A6000 range of cameras and it is likely that we will see the Sony A7000 at CES. There have been a slew of leaks about this camera, so we pretty much know what to expect when Sony do take the wrapper off of its new camera.
We should see a camera that has a new 32MP Exmor RS APS CMOS, ISO 64-64000 and 4K shooting. But, Sony may well upstage itself with another launch...

Sony 8K camera
Sony is going big on 8K at CES 2019 and there are rumors abound that it will be launching a new 8K camera alongside an 8K TV, projector and its own processing platform.
This camera is so secret that we don't actually know whether it will be a camera or camcorder but the mere thought that Sony is pushing into 8K for photography is enough to make us weak at the knees.

Canon PowerShot G7 X Mark III / G9 X Mark III
The Canon PowerShot G9 X Mark II wasn't the biggest overhaul of the G9 X range but it didn't need to be, as the camera was one of the best around. Canon did improve on the processor and how the camera handled, though, and these improvements were welcomed. It looks like Canon will try and improve on its DSLR alternative with the Canon PowerShot G7 X Mark III and G9 X Mark III.
The new additions to the specs list seem to be 4K video capabilities and Dual Pixel Autofocus. The zoom is also said to be improved and we could well see the debut of a new 24.1MP 1.0-inch CMOS sensor, as well as the ability to shoot at 10fps.

Nikon D6
The Nikon D5 is a cracking DSLR and one that's had a number of firmware updates to keep it competing with more current cameras. It is a premium camera so any update will have to be a significant one to convince users to upgrade.
Rumored specs are a little thin on the ground but it's expected to have more AF points than its predecessor, a bigger sensor and 12fps continuous shooting speed. If this is indeed the case, then that shooting speed would be the same as what the Nikon D5 allows for at the moment.

Olympus E-M1X
Up until very recently, it was hoped that we would see the Olympus E-M1X at CES 2019. But this may have actually been scuppered by a new Olympus tease that reckons a new camera will be revealed nearer the end of January.
It would be great if the camera was shown off at CES, though. It's thought that the Olympus E-M1X is a new professional-grade mirrorless camera with a built-in grip, a 20MP sensor, 18fps and 7.5 stops of image stabilisation.
To be honest, any launch will be a win for Olympus. It had such a barren 2018 that we were starting to worry the company had gotten cold camera feet. Bit 2019 is Olympus' 100th birthday, so hope they celebrate with lots of launches .

Suometry OmniPolar Camera
The Suometry OmniPolar Camera isn't a rumor but a real product that was recently given a CES 2019 innovation award. That is pretty much the biggest hint you can get that the camera will be shown off at CES.
The camera is 3D 360 camera which offers in-camera stitching and depth mapping which means that it is able to shoot great VR footage in real time. The camera has been designed to be used in the hand so is ultra portable and it can process video in less than 25ms.
Kodak Smile Classic