We take a look at the best camera for Instagram, including premium compacts, mirrorless systems and the best camera phones for upping your gram game. Instagram pictures are a whole new genre of photography with a different approach to shooting and sharing photos, and capturing Instagram photos means choosing the right sort of camera.
One of the biggest reasons why people take photographs these days is to share them via Instagram. With that in mind, you'll want to ensure that you have the best camera for Instagram and the job of showing you living your best possible life!
The good news is that there are dozens of different cameras to choose from which are more than up to the task of elevating your social media output. There's also a fantastic camera phone market at the moment, with many of the best camera phones currently on sale featuring fantastic cameras.
The bad news is that choosing exactly the right camera (or phone) can be a tricky task. We're here to help you cut through the noise and choose the ideal camera for you. We'll recommend five different standalone cameras, each offering something which we think an Instagrammer would like, followed by five different smartphones which each offer something special, too.
In selecting the best cameras for Instagram, we've picket out four key qualities:
Portability: It's safe to say that much of what we see on Instagram falls under the genre of "travel" photography. Gleaming white sands, exotic food and epic landscapes are what fill our feeds anyway. In which case, it stands to reason that you don't want to be lugging around a great big heavy camera – especially if you're travelling "hand luggage only". See our guide to the best cameras for travel.
Connectivity: It's all well and good taking an amazing picture that will surely go down well with your followers, but if you can't get it off your camera quickly and easily, it's all for nothing. You don't have this problem with smartphones, but cameras need to have decent Wi-Fi and Bluetooth connectivity options – as well as intuitive smartphone apps.
Image Quality: The biggie, of course. If there's one sure-fire way to stand out from the crowd on Instagram, it's by taking something with superior image quality than the average dinner-sharer. These are the 10 cheapest full frame cameras right now.
Unusual camera features: This one applies more to smartphones. We're keen to suggest smartphones which offer something special – such as wide-angle lenses, telephoto lenses, special modes, or professional level controls.
Let's see what's made it on to our list…
Best cameras for Instagram
Image 1 of 6
Image 2 of 6
Image 3 of 6
Image 4 of 6
Image 5 of 6
Image 6 of 6
1. Canon PowerShot G7X Mark III
A pocket-friendly premium compact with excellent vlogging features too
Sensor: 20.1MP 1.0-inch type CMOS | Lens: 4.2x zoom (24-100mm equivalent), f/1.8-f/2.8 | Video: 4K | Connectivity: Bluetooth & Wi-Fi | Screen: Tilt-up 3.0-inch 1040k-dot touchscreen | USB Charging: Yes
Pocketable
Great video features
No viewfinder
Fairly high price
Canon's dinky G7 X cameras have long proved popular with social-media lovers, thanks to their fantastic video features. The G7X Mark III builds on that heritage, adding a range of specifications which make it even more tempting. Top of the list is 4K video recording, which is uncropped. You can use the tilt-up touchscreen to frame your vlogs, while LiveStreaming to YouTube is also built-in. For fans of Instagram stories, a special vertical record mode has also been added. The icing on the cake is a new external mic input socket. It's not just video-lovers that should consider the G7X Mark III. With a very flexible 24-100mm (equivalent) lens, and a large one-inch sensor it's also capable of capturing some striking stills, too.
Image 1 of 6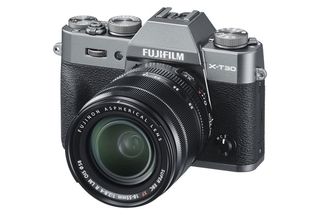 Image 2 of 6
Image 3 of 6
Image 4 of 6
Image 5 of 6
Image 6 of 6
A baby X-T3 with great image quality ideally suited for travel
Sensor: 26.1MP APS-C CMOS | Lens Mount: Fuji X | Video: 4K | Connectivity: Bluetooth & Wi-Fi **Screen:** 3.0-inch 1.04m-dot tilting touchscreen | USB Charging: Yes
Great design
Good overall system size
Limited for action shots
Some handling quirks
If you crave high image quality, but don't want something too big to carry, cameras like the Fujifilm X-T30 represent a great compromise. The APS-C sized sensor is not the smallest, nor the biggest, creating an overall system that balances performance and portability with aplomb. The Fuji X system is well-established now, with the X-T30 being a junior version of the more expensive X-T3. You get a lot of the same specifications, with the main sacrifice being for those who shoot fast action – so if you're a landscape, travel, or food photographer, happy days. Buy the X-T30 with the 15-45mm kit lens for the smallest package, but also consider Fujifilm's range of teeny tiny f/2 prime lenses to give you even better image quality. Other note-worthy specifications include a very pleasant electronic viewfinder, tilting touchscreen and 4K video recording.
Read more: Fujifilm X-T30 review
Image 1 of 5
Image 2 of 5
Image 3 of 5
Image 4 of 5
Image 5 of 5
A full-frame sensor for superb images that'll help you stand out
Sensor: 24.2MP full-frame CMOS | Lens Mount: Sony FE | Video: 4K **Connectivity:** Bluetooth & Wi-Fi | Screen: Three-inch, 921k-dot, tilting touchscreen | USB Charging: Yes
Largest sensor of group
Affordable full-frame
Fiddly buttons
Bulkiest of the group
The image quality from a full-frame camera should really make your Insta pics stand out from the crowd. Once upon a time, full-frame meant a huge camera, but Sony changed all that its A7 series, which is just about portable enough to be considered travel-friendly. It was also very much true that full-frame used to be way out of the price-ranges of most amateur photographers. These days, with the Sony A7 III you get a fantastic all-rounder which you can pick up for under £2000 (with a lens included). If you tire of the kit lens, there's a host of other FE-mount lenses, too.
Read more: Sony A7 III review
Image 1 of 5
Image 2 of 5
Image 3 of 5
Image 4 of 5
Image 5 of 5
4. Panasonic Lumix LX100 II
A flexible premium compact with large sensor and ideal travel lens
Sensor: 17MP Four Thirds CMOS | Lens: 24-75mm (equivalent) f/1.7-f/2.8 | Video: 4K | Connectivity: Bluetooth & Wi-Fi | Screen: Fixed, three-inch 1240k-dot touchscreen | USB Charging: Yes
Fast, versatile lens
Small and light
Fixed screen
Modest upgrade from predecessor
The original LX100 won a lot of fans thanks to its large sensor, great handling and high degree of portability. Although the Mark II version represents a relatively small upgrade (you now get a touchscreen, better 4K Photo options and the very handy ability to charge via USB), it still makes it on our list of Insta-friendly cameras. In many ways this is the perfect travel and street camera. It produces great images, with a limited but still flexible zoom lens, and it can just about fit in your jacket pocket. Some neat handling touches, like an aperture ring and shutter speed dial also make it very nice to use, too.
Image 1 of 4
Image 2 of 4
Image 3 of 4
Image 4 of 4
Popular with bloggers, this retro beauty has a handy tilting screen
Sensor: 16.1MP Four Thirds Live MOS | Lens Mount: Micro Four Thirds Video: 4K | Connectivity: Bluetooth & Wi-Fi | Screen: Tilting three-inch 1040k-dot touchscreen USB | Charging: No
Retro design
Budget friendly price
No viewfinder
No USB charging
If you're looking to boost your gram game but don't have a huge amount of cash to spare, the E-PL9 is a good option. Not only that, but with its retro design, it'll look great should it accidentally end up in one of your selfies, too. The Four Thirds sensor is capable of producing some very nice images – so long as you stick to shooting in good light, while other useful specifications include a tilting screen and a range of interesting and fun creative filters and effects (another way to make your shots stand out). There's no viewfinder here (if you're used to shooting with a mobile phone, you might not care), and it's a shame not to have USB charging, but otherwise this is a great little travel camera which can be picked up for under £500.
Read more: Hands on review: Olympus E-PL9
Best phones for Instagram
Probably the best smartphone for photographers on the market right now
Sensors: 40MP, 20MP + 8MP | Lenses: 27mm f/1.6 (equivalent), 16mm f/2.2 (equivalent) + 125mm f/3.4 (equivalent) | Video: 4K | Connectivity: 3G/4G/Wi-Fi/Bluetooth | Screen: 6.47-inch 2340 x 1080 OLED Charging: USB-C
Flexible triple-lens camera
Very well featured native app
No lens between 27mm and 125mm
Quite pricey
Just about the best smartphone for photographers currently on the market (until Huawei announces the next one, no doubt), the P30 Pro has everything you could ever need for those fine-tuned Instagram snaps. There's a triple lens setup, giving you the choice of ultra-wide-angle, a "standard" lens, and the real ace up the P30 Pro's sleeve, a 5x optical zoom lens boasting a 125mm equivalent. On top of all that, the range of shooting modes found on the Huawei P30 Pro is also very impressive. A particular highlight is the fantastic Night mode, which is sure to boost your low-light shots, while those who are a little more advanced can take full control in "Pro" mode. The only real complaint is the lack of choice between the 27mm and 125mm focal lengths – but you can always use the well-performing hybrid digital zoom if necessary.
Read more: Huawei P30 Pro review
7. Google Pixel 3
Simple and straightforward, but with high-quality image output
Sensor: 12.2MP | Lens: 27mm f/1.8 (equivalent) | Video: 4K | Connectivity: 3G/4G/Bluetooth/Wi-Fi | Screen: 5.5-inch FHD+ OLED | Charging: USB-C
Great Night mode
Simple to use
Only one lens
No "Pro" mode
If you crave something which is simple to use, but gets the job done regardless, then the Pixel 3 is a fantastic choice. Although it's not resplendent with lots of fancy extras, what the Pixel 3 does offer is top-quality imagery in a consistent and reliable package. Just having one focal length lens might seem a little bit backwards in 2019, but due to advanced computational algorithms it can still manage to create shallow depth of field effects very well, especially for portraits. The stunning "Night Sight" mode also does an excellent job with low-light scenes. Advanced users might be disappointed by a lack of a Pro mode, or indeed many modes at all, but for those who just want something straightforward, using the Pixel 3 is a dream. If your budget is on the tight side, take a look at the Pixel 3a which uses exactly the same camera as the Pixel 3, making sacrifices elsewhere (such as to build quality).
A well-featured camera app and three different lenses to choose from
Sensors: 12MP + 16MP + 12MP | Lenses: 26mm f/1.5-2.4 (equivalent), 16mm f/2.2 (equivalent), 52mm f/2.4 (equivalent) | Video: 4K Connectivity: 3G/4G/Bluetooth/Wi-Fi | Screen: 6.3-inch Quad HD Dynamic AMOLED | Charging: USB-C
Flexible triple-lens setup
Well featured camera app
microSD cards can expand inbuilt memory
Pricey
You'd be forgiven for being a little worried about buying into the Huawei system with relations a little frosty between the Chinese company and the US administration. If therefore you're looking for the flexibility of several lenses, along with a very well-featured native camera app, the Samsung S10+ has to be the recommendation of choice. Here you got a super-wide-angle, a "normal" lens, and a 2x optical zoom lens. OK it doesn't offer you the 5x optical zoom of the Huawei – but we'll wager that 2x will come in more handy in normal situations, anyway. A range of different shooting modes should mean you can find something to suit every situation, while a Pro mode gives enthusiasts the extra control they desire. On the front, selfie lovers will welcome the dual-front-facing cameras, giving you the opportunity to create impressive portrait effects.
Read more: Samsung Galaxy S10+ review
9. Apple iPhone XS Max
Tied to the Apple ecosystem? There's a lot to love in the XS Max
Sensors: 2x 12MP | Lenses: 26mm f/1.8 (equivalent), and 52mm f/2.4 (equivalent) | Video: 4K | Connectivity: 3G/4G/Bluetooth/Wi-Fi | Screen: 6.5-inch Super Retina OLED | Charging: Lightning
Great screen
Simple operation
No advanced modes
Very expensive
It was once very true that iPhones were the go-to brand for those looking for a quality smartphone camera. Although competition has ramped up in recent years, if you find yourself in the Apple ecosystem (and want to stay committed to it), then you will still be rewarded by the iPhone XS Max. Simplicity is the aim of the game here, with very little in the way of fancy camera modes to experiment with – but arguably that leaves you free to get on with the task at hand, taking great pictures for your feed. With two lenses to choose from, you can get close to the action, as well as creating shallow depth of field effects that look great shared on Instagram at small sizes. As with anything Apple, the downside is the high asking price, but if you're a fan you're probably already OK with that.
A great mid-ranger with a pop-up selfie camera for an undisturbed display
Sensor: 48MP + 8MP + 16MP | Lens: 27mm f/1.6 (equivalent), 81mm f/2.4 (equivalent), 17mm f/2.2 (equivalent) | Video: 4K | Connectivity: 3G/4G/Bluetooth/Wi-Fi | Screen: 6.67-inch 3120 x 1440 pixels Fluid AMOLED | Charging: USB-C
Good value
Triple lenses
Not everyone will like the pop-up camera
Better performing Night modes elsewhere
If you don't want to take out a small mortgage to buy a smartphone, but you still want something that will progress your Instagram shots, take a look at the OnePlus 7 Pro, a fantastic mid-range model. The "gimmick" of this phone is the pop-up selfie camera, which gives you lovely clean lines for that big screen. It's a bit of a Marmite thing – we'll leave you judge for yourself whether you'll love it or hate it. Meanwhile, for your non-selfies, the rear of the phone is well-equipped, with a super wide angle, standard and telephoto lens to choose from. The native camera app is also pretty good too, with modes available for those who like to tweak their gram shots to the nth degree.
Read more: OnePlus 7 Pro review
Read more:
• These are the best cameras for vlogging
• What are the best cameras right now?
• We pick the best budget camera phones