If you're after one of the best cameras for Instagram, chances are you want something that is easy to use, takes great-quality photos and videos (particularly the latter, given how much the algorithm favors videos and Reels), and is portable.
Once upon a time, the best camera for Instagram would have been your phone – but now the app is used by professionals to promote their businesses using high-quality images and video. The best camera phones still do a fantastic job, but dedicated cameras will produce imagery that's a cut above.
At the same time, it's worth noting that Instagram massively compresses your photos and videos when you upload them, reducing the image quality. So you really don't need a high-resolution camera here!
Best cameras for Instagram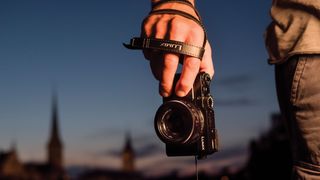 The original LX100 won a lot of fans thanks to its large sensor, great handling, and a high degree of portability, and was designed for keen photographers willing to pay a little more for a pocket-sized camera with the class of a full-size mirrorless model.
Although the Mark II version represents a relatively small upgrade (you now get a touchscreen, better 4K Photo options, and the very handy ability to charge via USB), it still makes it on our list of Insta-friendly cameras. In many ways, this is the perfect travel and street camera.
It produces great images, with a limited but still flexible zoom lens, and it can just about fit in your jacket pocket. Some neat handling touches, like an aperture ring and shutter speed dial, also make it very nice to use, too, but that fixed rear screen could prove a deal-breaker for some – it does limit the angles you can shoot from.
Read our full Panasonic Lumix LX100 II review for more details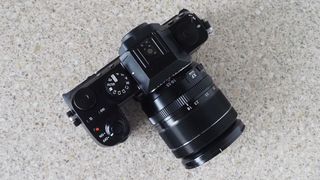 The Fujifilm X100V has been all the rage with TikTokers, but it's near impossible to find – and we think the X-S10 is probably the best all-rounder in the Fujifilm stable right now. It's got a fully-articulated screen, which makes it ideal for self-shooting content, it handles extremely well, and even though it has fewer external controls than other X-Series cameras, the dial setup is more conventional. It also has in-body image stabilization, which is great for shaky hands and low-light shooting.
The newer Fujifilm X-S20 is now available, but we think the X-S10 is better value for money at the moment. And if you can't quite stretch to the X-S10, the Fujifilm X-T200 is another great option – but the downside is that it doesn't have a flip-out screen.
Read our full Fujifilm X-S10 review for more details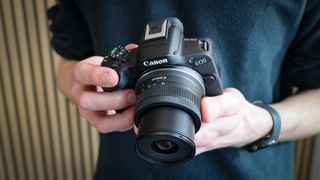 The Canon EOS R50 is the perfect companion for content creators and travelers that want a small and simple-to-use camera. An APS-C sensor combined with interchangeable lenses is a step up in quality from any compact camera or camera phone – especially when those lenses are from Canon's cutting-edge RF lineup (and you can mount Canon's EF-mount DSLR lenses using an affordable adapter).
Canon has also gone a long way to make connecting a camera to a phone or laptop as simple as possible, with several different methods of wirelessly transferring files, removing the barriers that might slow workflows previously so that content can get online faster.
With the guided UI and Canon's straightforward menus, it couldn't be simpler to use. With a solid spec sheet, including 24.2MP still images and 4K video (oversampled from 6K), you can get a lot of quality from this tiny camera. The autofocus system trumps anything else in the category, and you get blistering 15fps stills shooting for fast-moving subjects.
Read our full Canon EOS R50 review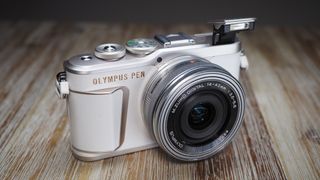 Providing a superb, enviable balance between price and performance, the Olympus Pen E-PL10 is any fashion-conscious photographer's dream. It's a smart, capable mirrorless camera, as capable at shooting stills as it is 4K video – even though its 16MP sensor is a bit old now.
The Micro Four Thirds lens mount this camera the greatest selection of native lenses on this list, covering everything from hyper-wide fisheye lenses to special effect Lensbaby Optics. Its built-in Art Filters enable you to shoot photos and videos with in-camera effects that you won't find on Insta – some are better than others, but our advice is to go for one of the three Vintage filters, Bleach Bypass or Instant Camera.
Crucially, it also has the best smartphone app of any brand when it comes to getting your images off the camera quickly and efficiently.
Read our full Olympus PEN E-PL10 review for more details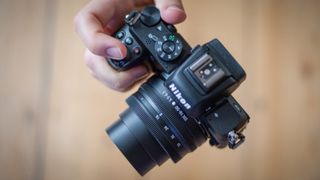 Nikon's first mirrorless cameras were full frame models designed for experts and professionals, but the Nikon Z50 is pitched firmly at amateurs and enthusiasts – and especially the new generation of content creators. The Nikon Z50 is a much smaller camera than the Z6 and Z7, but clearly shares the same design DNA. Despite its small size, it has a good grip and good external controls, and the retracting 16-50mm kit lens is remarkable not just for its pancake lens dimensions but for its overall performance.
Nikon may have come to the APS-C mirrorless market comparatively late, but it's come in with a camera that has so many good points it's hard to know where to start – but we will highlight the 4K video, 11fps shooting... and the fact that its Z mount is identical to that on the larger cameras, so you can use dedicated Nikkor Z DX lenses, full frame Nikkor Z lenses and regular Nikon DSLR lenses via the FTZ adaptor. It also has a flip-over screen for selfies and vlogging. Best of all, the Z 50 is a terrific value, especially when bought as a twin-lens kit.
Read our full Nikon Z50 review for more details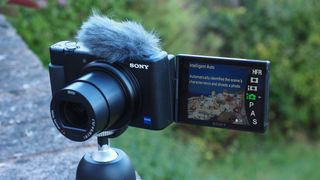 While the newer Sony ZV-1 II supersedes it, the ZV-1 remains a great option that doesn't require you to faff with lens changing. Some might dismiss it as yet another Sony RX100 variant, but it's much more than that. The sensor and lens might be familiar, but the body, the controls, the audio, and the rear screen are all new and different and optimized brilliantly for vlogging.
There are a couple of niggles. The huge change in the minimum focus distance when you zoom in is annoying and (yet again) the SteadyShot Active stabilization didn't work too well for us. But the autofocus is exceptional and the ZV-1 is a joy to use, not least because here at last is a vlogging camera that really is designed specifically for content creation, right down to that fully vari-angle rear screen and the supplied mic windshield. It's also a lot cheaper than the flagship Sony RX100 VII, despite offering a better proposition for creators.
Read our full Sony ZV-1 review for more details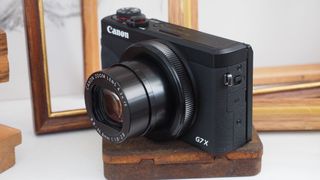 Canon's dinky G7 X cameras have long proved popular with social-media lovers, thanks to their fantastic video features. The G7X Mark III builds on that heritage, adding a range of specifications that make it even more tempting.
Top of the list is 4K video recording, which is uncropped. You can use the tilt-up touchscreen to frame your vlogs, while LiveStreaming to YouTube is also built-in.
For fans of Instagram stories, a special vertical record mode has also been added. The icing on the cake is a new external mic input socket. It's not just video lovers that should consider the G7X Mark III. With a very flexible 24-100mm (equivalent) lens and a large one-inch sensor it's also capable of capturing some striking stills, too.
Read our full Canon PowerShot G7 X Mark III review for more details
Best phones for Instagram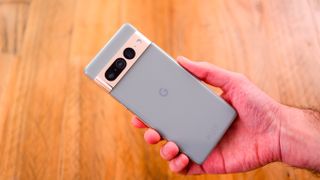 The Pixel 7 Pro is simply the best camera phone you can buy at its price, it's that simple. It wipes the floor with the similarly priced iPhone 14, and beats the much pricier iPhone 14 Pro in a few key areas too.
While the 7 Pro's RAW capture isn't particularly impressive, and some traditionalists might not like how Google processes photos, the camera mix is still mind-bogglingly good as far as point-and-shoot photography goes.
With sleek design, a mighty screen, and excellent future-proofing by way of continued software support, you do get a lot for your money here. So even though the phone had a couple of small hiccups in our time with it – specifically when it came to connectivity, as a package, you'll be hard-pressed to get a better value flagship phone than the Pixel 7 Pro.
Read our full Google Pixel 7 Pro review for more details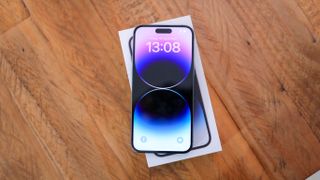 The iPhone 14 Pro Max is the largest of the latest iPhones with a big screen, a larger 1/1.28-inch 48MP sensor plus a front camera that has autofocus and handles depth perception much better.
It's the same weight as its predecessor, the Apple iPhone 13 Pro Max at 240g but it is considerably more powerful thanks to the new A16 Bionic chip. It also comes with an active mode and cinematic mode when shooting 4K video so you can shoot really high-quality Reels!
While the larger screen is great for viewing content, editing photos, and creating reels, it does make the phone much harder to hold so anyone with smaller hands might want to opt for the iPhone 14 Pro instead - it has all the same features but a smaller, more manageable screen.
Read our full Apple iPhone 14 Pro Max review for more details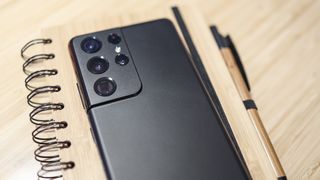 Despite being a last-gen device, the S21 Ultra remains a stunningly sophisticated device with a lot to offer. This phone features four rear cameras, including a 108MP f/1.8 main camera, a 12MP f/2.2 ultra-wide camera, and two 10MP telephoto cameras – one with an f/2.4 aperture and 3x optical zoom and one with an f/4.9 aperture and a huge 10x optical zoom. You also get a fantastic 6.8-inch screen.
The Dynamic AMOLED 2X display features a 120Hz refresh rate for smooth scrolling and gaming experiences, HDR10+ support, 1500-nit peak brightness, and a 1440 x 3200 resolution.
Read our full Samsung Galaxy S21 Ultra review for more details
Best cameras for Instagram: How we choose
Instagram is many different things to many different people – but there are some constants. We've identified four primary criteria that we consider when making our choices:
Portability: It's safe to say that much of what we see on Instagram falls under the genre of "travel" photography. Gleaming white sands, exotic food, and epic landscapes are what fill our feeds anyway. In which case, it stands to reason that you don't want to be lugging around a great big heavy camera – especially if you're traveling "hand luggage only". See our guide to the best cameras for travel.
Connectivity: It's all well and good taking an amazing picture that will go down well with your followers, but if you can't get it off your camera quickly and easily then it's all for nothing. You don't have this problem with smartphones, but cameras need to have decent Wi-Fi and Bluetooth options – as well as an intuitive smartphone app. (Smartphones are obviously already a step ahead here!)
Image quality: This is the biggie, of course. If there's one sure-fire way to stand out from the crowd on Instagram, it's by taking something with superior image quality than the average dinner-sharer. Smartphones are good and getting better, but if you want quality to be your calling card, then a mirrorless camera is the best choice. We're not talking resolution, since Instagram crunches your images, but a camera sensor is able to capture so much more detail, dimension, dynamic range and dynamic motion (by using the shutter to arrest or accentuate motion).
Unusual features: This one applies more to smartphones. We're keen to suggest smartphones that offer something special – such as wide-angle lenses, telephoto lenses, special modes, or professional-level controls – but cameras offer some great tricks as well. OM System / Olympus cameras have a great selection of in-camera Art Filters, for example, while Fujifilm cameras have built-in film simulations.