UPDATE: A potential announcement date for the Canon EOS Rs has been leaked, and it looks like we could be seeing this dazzling new camera by the end of next month. Rumors published by Canon Watch suggest that the Canon EOS Rs will be announced ahead of CP+, which starts at the end of February.
Apparently, we might also see two new RF mount lenses as well, which could possibly be more budget-oriented. This would be a welcome addition from Canon, as the RF mount lenses are known for being quite pricey.
ORIGINAL STORY:
We might only be a hop, skip and a jump away from the end of 2019, but the camera rumor mill is already rumbling along happily for 2020 - and it looks like we're certainly not going to be disappointed by next year's camera offerings! One of the most exciting rumors we've heard is that Canon will reportedly be releasing a new EOS R-series camera, which has been dubbed the Canon EOS Rs by rumor sites.
• Read more: Canon EOS RP review
With the Canon EOS R and Canon EOS RP having been released over a year ago - and Nikon having recently released its own new Z-mount camera, the Nikon Z50, it's not surprising that we're seeing a new R-mount camera from Canon.
However, while the Nikon Z50 was positioned in the camera market as an enthusiast camera perfect for vloggers and influencers, the Canon EOS Rs definitely looks a little more professional.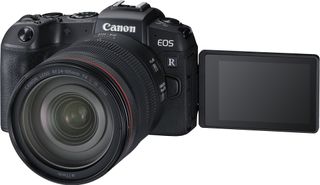 According to rumor website Canon Rumors, the Canon EOS Rs is rumored to have a beefy 75MP full frame CMOS sensor, which is a huge step up from the 30.3MP sensor on the Canon EOS R. Plus, this sensor will also apparently "focus on the dynamic range". It's not clear what that specifically means, but we assume the Canon EOS Rs' sensor will have improved dynamic range.
However, the sensor isn't the only exciting aspect of the upcoming Canon EOS Rs. Professional Canon photographers everywhere may need to sit down for this announcement, as the Canon EOS Rs is rumored to have… dual card slots! Ever since the Canon EOS R was released, one of the main gripes about the camera has been its single card slot, which essentially made it useless as a professional camera. However, Canon has finally heard the frustrated cries of working pros and granted their wishes. Merry Christmas indeed.
Other interesting potential specs include a DIGIC 9 processor, the joystick from the EOS-1D X Mark III, a larger and higher resolution EVF than the EOS R and full weather sealing. The Canon EOS Rs will also have a fully articulating LCD screen and similar ergonomics as the EOS R.
However, what we're most excited about is that the Canon EOS Rs will apparently be released in February 2020. This date makes perfect sense, as it gives pros enough time to buy the Canon EOS Rs and practice with it before the 2020 Olympics. It also means that we've got something new and shiny to look forward to as we're battling the January blues.
We can't wait to see what the Canon EOS Rs will be like, but in the mean time, we'll be keeping you up to date on any new developments and rumors.
Read more
Best Canon lenses in 2019: go longer, wider and closer with your Canon camera
Best cheap Canon camera deals in 2019
Canon vs Nikon: who makes the best cameras? Let battle commence...