We've been waiting to test the Canon EOS 850D since it was first announced back in February 2020. But the global pandemic meant world-wide supplies came to a grinding halt; however, while we still wrestle with weekly challenges and evolving restrictions, Canon has been able to finally release the camera.
The 850D (also sold as the EOS Rebel T8i in some countries) is positioned as more of an all-rounder camera for enthusiasts than a true beginner DSLR, though it's equally tempting for existing Canon users stepping up from cameras like the entry-level EOS 1300D or 800D.
We fully tested the Canon EOS 850D with the EF-S 18-55mm f/4-5.6 IS STM lens, and also the Canon EF-S 18-135mm f/3.5-5.6 IS STM (the latter also being a kit option with the 850D), in a variety of shooting scenarios from dark forests to bright countryside, and portraits to close-ups of plants.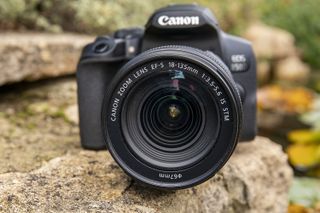 Specifications
Sensor: 24.1Mp APS-C CMOS (22.3 x 14.9mm)
Image processor: Digic 8
AF points: 143 Dual Pixel CMOS AF
ISO range: 100-25,600
Max image size: 6000 x 4000px
Metering zones: 384
Video: 4K UHD at 25p, 24p / 1080p (FullHD) at 60p, 50p, 30p, 25p, 24p
Viewfinder: Pentamirror, 95% coverage, 0.82x magnification
Memory card: SD, SDHC, SDXC (UHS 1)
LCD: 3-inch vari-angle touchscreen, 1,040k dots.
Max burst: 7.5fps (Live View), 7fps (viewfinder)
Connectivity: Wi-Fi 2.4GHz, Bluetooth 4.1, USB 2.0, mini HDMI, 3.5mm microphone jack
Size: 131 x 102.6 x 76.2mm
Weight: 515g body only (with card and battery)
Key features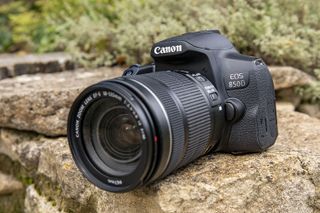 Canon is keen to offer photographers easier ways to share images online, so the EOS 850D includes 2.4GHz Wi-Fi and Bluetooth Low Energy so you can connect to your iOS or Android device through the Canon Camera Connect app to edit and share high-quality images. From there, content can be downloaded to a smart device, reviewed and posted on social media or shared with friends and family.
The Canon EOS 850D is a lightweight, versatile and connected DSLR, powered by Canon's fast DIGIC 8 processor and is capable of 7fps continuous shooting. It has Canon's tried and tested 24.1-megapixel Dual Pixel CMOS APS-C sensor, but what sets the 850D apart from the old 800D is its Intelligent Tracking (iTR) autofocus technology, and of course, its new 4K movie capability. However, it's worth noting that while 4K may be new to Canon DSLRs at this price point, mirrorless cameras in the sector have been 4K-capable for at least one camera generation already.
iTR AF aims to improve focusing when using Face Tracking AF and the new Eye Detection AF in Live View, to help you take better portraits with sharper eyes to bring your subjects to life.
While shooting 'traditionally' using the optical viewfinder (that shows 95% coverage) the autofocus tracking on the 850D benefits from 45-point all cross-type AF, as well as Canon's Dual Pixel CMOS AF.
The 850D's body design is compact but comes with top and rear dials for dual control of both shutter speed and aperture. As part of Canon's EOS system, you can use any EF or EF-S lens, and you can add a Speedlite flashgun for more creative lighting than the built-in pop-up flash can provide.
Naturally for a camera in this sector, it can shoot uncompressed RAW files, to give you more control when editing your images, but there's also a C-RAW format that'll produce smaller file sizes that almost doubles the continuous shooting buffer from 40 images to 75.
As far as movie recording is concerned, the camera can record in Full HD at up to 60 fps, or 4K UHD resolution at up to 25 fps. There's also a detailed set-up for time-lapse movies and automatic scene selection. To counteract the 'jittery shake' associated with handheld movie shooting, the 850D features 5-Axis Movie Digital IS, for smooth, controlled video capture.
The 850D is available body-only, or with the Canon's decent EF-S 18-55mm f/4-5.6 IS STM kit lens, which gives you a focal range versatile enough for you to capture everything from wide-angle landscapes to portraits.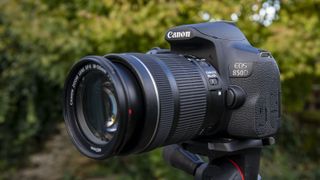 Build and handling
At 515g body-only, the 850D certainly feels light for a DSLR, and even with the larger EF-S 18-135mm lens attached it's easy to hold and shoot, with little danger of hand or arm ache, even when compared to larger Canon DSLRs like the Canon EOS 90D with an attached EF 24-105mm lens.
To give you added flexibility to shoot from challenging positions, the 850D features a 3-inch Vari-Angle touchscreen, which we found can be positioned at almost any angle for more creative compositions.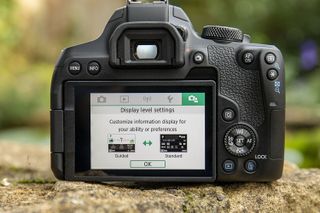 The 850D also comes set up with an especially easy-to-use Guided menu interface, which explains features like how aperture priority mode can be used to blur a background behind your subject or keep a whole landscape in focus. But there's always Canon's traditional menu system if you'd rather have more precise settings control.
On the Mode Dial you have access to standard exposure shooting modes (manual, aperture priority, shutter priority and program auto) as well as a fully automatic Scene Intelligent Auto more, and various Creative Filters such as Grainy B/W, Fish-eye Effect and Miniature Effect. As with all Canon's EOS beginner/enthusiast DSLRs, there are also Scene modes that are useful options for beginners who need a helping hand in specific shooting scenarios.
New AF ON button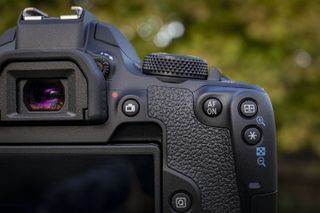 The 850D gets a new, dedicated AF ON button at the rear that's long been a favorite on higher-spec Canon DSLRs like the EOS 90D and Canon EOS 7D Mark II, and also full-frame pro cameras like the Canon EOS 5D Mark IV. This is a small but welcome addition as it can be used for Back Button autofocus, leaving the Shutter Button just for metering when half-pressing, and taking the picture when fully pressing the button.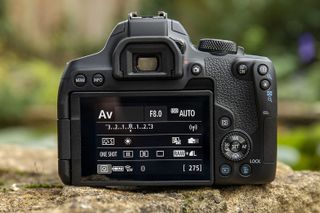 The small Quick Control Dial is better than the basic four buttons surrounding the Set button on the rear panel. However, the dial is thinner than that on the old EOS 77D and the more upmarket EOS 90D. We found it tricky to use accurately when dialing in Exposure Compensation when shooting in aperture and shutter priority modes. But as you can access all the settings you need via the touchscreen, we'd generally just tap the screen, press the Q button then tap and adjust specific settings that way.
Focusing using the touchscreen in Live View offers far greater focus control and accuracy - no surprise when capturing stills in Live View mode, as you have 143 points in automatic mode or 3975 points in manual selection, thanks to the Dual Pixel CMOS AF.
With a smaller EOS body comes a tiny LP-E17 battery that Canon claims will last for 800 shots using the viewfinder, or only 310 shots using Live View on the touchscreen. It's half the size of the LP-E6 batteries found in larger bodies like the EOS 7D Mark II.
A small point, but we were disappointed there's no specific Highlight Alert setting so any overly bright areas in images flash when reviewing shots on the LCD. For that you need to press Info when reviewing images to bring up the Histogram view, which makes the image itself smaller on screen, then over exposed areas will flash to warn you, so you can darken your exposure and re-shoot.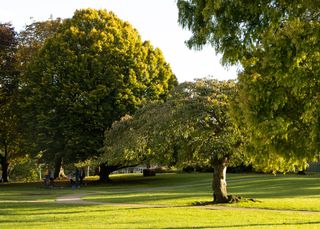 Performance: Stills
The Canon EOS 850D inherits the Intelligent Tracking (iTR) autofocus we've previously seen on Canon's professional camera range, thanks to its use of Canon's 220,000 Pixel RGB+IR metering sensor. This works by exchanging high-resolution automatic exposure data with the AF sensor, which makes iTR AF faster, more responsive and accurate - perfect for capturing fast-paced sports, wary wildlife, and kids that won't sit still.
Shooting action using the 7fps burst rate, Auto Selection AF point selection, and AI Servo AF, with the EF-S 18-135mm lens in shutter priority mode at 1/500 sec (at f/5.6 and ISO 3200), the 850D did a reasonably good job of focusing on children running quickly towards us – one of the trickiest shots to capture, as the focusing distance is rapidly changing.
Out of the seven-shot sequence shown above, only one image didn't have our fast-running child in sharp focus, which is an impressive hit rate for this level of camera (and kit lens). In other action sequences, the hit rate was slightly lower with alternate images in focus.
Face+Tracking and Eye Detection AF
Canon says that thanks to the 850D's Intelligent Tracking (iTR) autofocus "This advanced technology makes automatic face tracking through the optical viewfinder possible." In testing, we found when shooting through the viewfinder the camera did a decent job of finding a face in the frame to focus on when using the Auto Selection AF settings.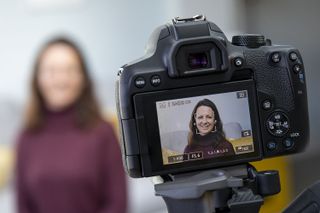 But it's really when shooting with Live View that iTR comes alive. Portraits can be captured with ease when shooting via Live View, as you get a Face Tracking target box that tracks and locks around faces, wherever that face is in your frame or regardless of how much we moved and re-positioned their face in frame. For even greater focusing precision, a smaller target box locks on to one of the eyes, and you can then even choose which eye to focus on. We simply couldn't fail to get sharp portraits when iTR was enabled - it's clever tech for this level of camera.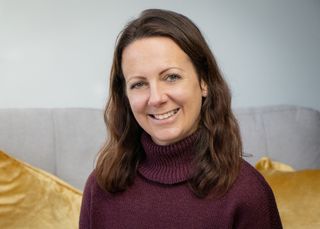 We found the 850D's 24.1Mp sensor produces high-resolution pictures without compromising on low-light performance. You can set the ISO sensitivity up to ISO 25600, but we found a clear loss in image quality at this setting in some lighting conditions – such as in a dark forest on a cloudy day. We'd say, generally, you'll get usable images up to ISO 6400, but it's best to not shoot at higher sensitivities unless absolutely necessary, such as handheld in very low light.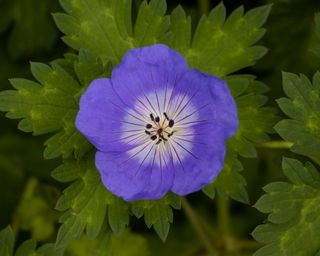 The 850D captures good, well-exposed images when we shot in aperture priority mode, with balanced exposures even in fairly high-contrast scenes like in a forest with strong highlights and shadows. Color accuracy is good, although vibrant red flowers appeared a little over-saturated in JPEGs straight out of camera. This was easily solved when editing our RAW version.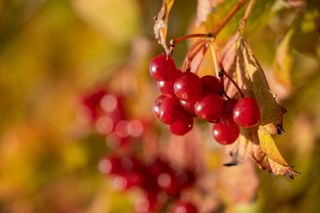 For the most part, JPEGs would suffice for most needs, but when we shot a scenic composition in high-contrast mixed lighting, it was far better to edit the RAW image to reveal the full potential of tones, colors, and shadow and highlight detail.
Performance: Video
When it comes to video, while the 850D is posited as a 4K camera, unfortunately the 4K shooting here is very compromised. The video quality itself is good, with lots of fine detail being resolved and the footage looking great when played back.
However, filming in 4K means suffering a 1.5x crop and losing the Dual Pixel AF – you're reduced instead to a nervous, pulsing, contrast-detect autofocus system. In anything but good lighting conditions it struggles to register subjects, with face and eye detect in particular being quite shaky, especially in backlit or low light situations.
Further compromising the 4K video is that employing either of the digital stabilization modes invokes even further cropping, reducing your frame to about 33% of its size with the strongest stabilization turned on – and it isn't even that stable! This obviously means that capturing wide-angle shots with the 850D is near impossible in 4K, as the 18-55mm kit lens becomes a 27-82.5mm by default (thanks to the 1.5x crop), which is only made worse if you activate stabilization.
All that said, however, for 1080p video the 850D is a confident and capable camera, benefiting from the brilliant Dual Pixel AF and a much larger shooting area (though you'll still notice a minor reduction in frame when switching from stills to video). The autofocus is uncannily honest and accurate, able to detect and track subjects with ease – and you can pull focus by tapping the screen without that 'forward and back' judder you get when contrast AF systems find their targets.
Shooting at up to 60p enables you to achieve 2x slow-motion, or to output at 30p for smoother-looking video, which is always a plus to add some creativity to your footage (4K video, by contrast, is limited to 24 / 25p).
Also worth noting is that the camera can film vertically – something that's becoming increasingly important, when shooting Stories for social media such as Facebook and Instagram. Canon's Camera Connect app is one of the best out there in terms of transferring files to and from your phone, making it a simple and straightforward process to get videos (and images) quickly uploaded.
Lab tests
We compared the EOS 850D to its main DSLR rival, the Nikon D5600, as well as two current mirrorless competitors: the Fujifilm X-T200, and Sony Alpha a6100.
Resolution: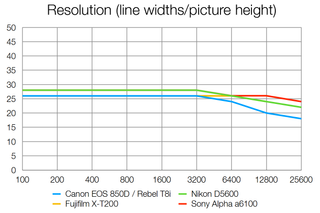 Resolution is measured in line widths/picture height, a widely used standard for resolution measurement that's independent of sensor size.
Even fitting our 850D with our super-sharp Sigma 50mm f/1.4 test lens and using both manual and autofocus, we just couldn't get it to produce images quite as crisp as those from the Nikon D5600 or Sony Alpha a6100. The 850D does at least equal the image sharpness of the X-T200, though at higher sensitivities images from the Canon become softer than those from the Fujifilm camera.
Dynamic range: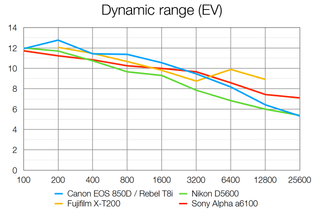 Dynamic range is measured in EV (exposure values, or 'stops'). It's a measure of the camera's ability to record detail in extremely bright and dark areas of the scene. The higher the value, the better.
The 850D scores well in this test, with a peak of 12.77 stops of dynamic range at ISO 200. However, at ISO 3200 and above, the a6100 is the camera to beat. We have reservations about the X-T200's illogical boost in dynamic range at ISO 6400 - this only makes sense if background Raw processing enhancements are artificially boosting its dynamic range on the sly.
Signal to noise ratio: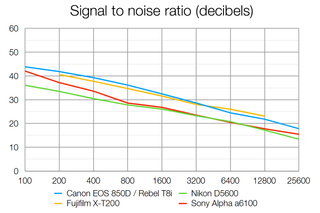 Our signal to noise test measures image clarity, specifically the ratio of the actual image 'data' you want to capture, versus the image noise that you don't want, but will inevitably be visible when shooting at higher ISO sensitivities. The higher the score at a given ISO sensitivity, the better.
A happy byproduct of the 850D's slightly soft images is that image noise is also softened, which makes it look less grainy and distracting. As such, the it produces the cleanest images of the bunch here, although its performance is almost identical to the X-T200.
Verdict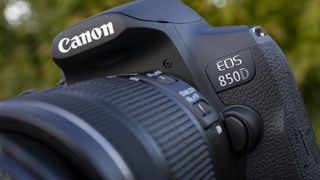 For Canon enthusiasts looking to take the next step in creative photography, and those with older entry-level EOS cameras looking to upgrade, the Canon EOS Rebel T8i is a lightweight yet powerful DSLR that captures detailed, colorful images.
Even with basic EF-S 18-55mm and 18-135mm kit lenses, we found the Rebel T8i responsive and easy to use. The Rebel T8i also has more than enough auto scene modes and other features to give both beginners and more advanced photographers plenty of creative control.
But while the Rebel T8i is a good camera when viewed in isolation, it's got some tough competition. It's positioned as an upper entry-level DSLR, but it's considerably more expensive than it's main DSLR rival, the Nikon D5600 (though the Nikon isn't 4K-capable). And if you're happy to go mirrorless, a camera like the Fujifilm X-T200 will give you superior uncropped 4K video and a 24Mp sensor, but in a considerably smaller and more stylish body, and for far less money than the Rebel T8i's launch price.
Make no mistake, the Rebel T8i is a good camera, but just being 'good' isn't enough. The DSLR as a camera genre is in decline, and it desperately needs innovation to stay alive. The Rebel T8i, however, is a prime case of evolution over revolution, and its evolution is disappointingly incremental. If the Rebel T8i is the best that Canon - the market leader - can come up with to fend off its APS-C mirrorless competition, then the DSLR's demise could be faster than expected.
Read more:
The best Canon camera: Canon's DSLR, mirrorless and compact cameras