The Fujifilm X-T200 is a kind of bridge between the company's basic mirrorless models and its more advanced cameras. Fujifilm is perhaps best known for its classically-designed X-series cameras, with external exposure controls and traditional handling. It also makes entry-level mirrorless cameras in its X-A range, designed for first-time users and smartphone upgraders. The X-T200 sits right in the middle between these two camera ranges, with simplified controls for novices but an electronic viewfinder like the more advanced models.
The X-T200 follows on from the Fujifilm X-T100, with a (much) better rear screen, faster processing, proper 4K video with a 'digital gimbal' feature and improved autofocus. It's so much better that Fujifilm might want to watch out that it doesn't start cannibalising sales from its more upmarket cameras, though after spending a bit of time with this camera we think the differences are pretty clear. On paper, the X-T200 looks a match for the X-T30, but in your hands it's clear its a cheaper, simpler camera. If you like the X-A7 but wish it had a viewfinder, get this. If you want an X-T30 but don't have quite enough money, we'd suggest saving up for a bit longer – the X-T200 is not a lot cheaper and might prove a disappointment.
The Fujifilm X-T200 would, however, make an ideal camera for beginners and it looks the perfect camera for instagram or vlogging.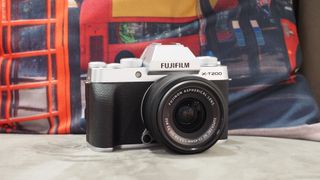 Specifications
Sensor: 24.2MP APS-C CMOS
Autofocus: Hybrid phase/contrast AF
ISO range: 200-12,800 (exp. 100-51,200)
Max image size: 6,000 x 4,000
Metering modes: 256-zone, multi, spot, average
Video: 4K UHD, 30/25/24p
Viewfinder: OLED EVF, 2.36m dots
Memory card: SD/SDHC/SDXC (UHS I)
Max burst: 8fps
Connectivity: Wi-Fi, Bluetooth
Size: 121.0 x 83.7 x 55.1mm
Weight: 370g (including battery and memory card)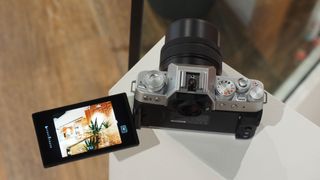 Key features
Fujifilm has been careful to keep the lower-end X-T200 one step behind its best X-series cameras. It does not have the 26.1-megapixel X-Trans sensor in the X-T3, X-T30, X-Pro3 and the new X100V compact, making do with a regular 24.2-megapixel CMOS sensor. This has proved a very good performer in its own right, so it's not the disadvantage it might sound.
Fujifilm has upgraded both the sensor and the processor in this camera to support 4K video at up to 30fps (unlikely the inadequate 15fps in the X-T100), with 3.5x faster processing that's claimed to reduce any 'rolling shutter' effect. This camera can also shoot 'HDR video' which combines videos at different exposures in some way we've yet to explore, and a 'digital gimbal' that uses an in-camera gyro and an electronic stabilization algorithm to smooth out your footage. This will reduce the field of view, however – presumably because the camera needs space to be able to adjust the framing.
The X-T200 can shoot continuously at 8 frames per second and has an improved hybrid AF system covering the whole frame, together with updated face and eye detection.
And despite the new 3.5-inch 16:9 vari-angle rear screen, the X-T200 is 80g lighter than the old X-T100, which was itself hardly a heavyweight. It will come in Silver, Dark Silver and Champagne, and will typically be bundlled with the Fujinon XC15-45mmF3.5-5.6 OIS PZ kit lens.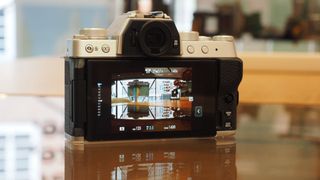 Build and handling
There are some between the X-T200 and more advanced Fujifilm cameras like the X-T30 and X-T3 that become obvious straight away. It's a lot lighter, for a start, with a more plasticky feel, and lacks the external shutter speed and lens aperture controls. Instead, it's laid out more like regular digital cameras – a deliberate decision, we're told, to make it more easily understood for novices.
It's a bit more than just a simple 'novice' camera, though. It has twin control dials, customisable function buttons and a 'Q' quick menu for common camera settings. It's part of Fujifilm's more basic mirrorless camera series, but it has features and controls to match most mid-range cameras.
The lightweight build and plastic construction feel a little cheap against higher-end X-series cameras, like the X-T30 upwards, but the X-T200 nevertheless feels like a well put together camera that's had a bit of thought put into its design. Interestingly, there's no four-way controller on the back; instead Fujifilm has added a small joystick for setting the AF point and menu navigation. It's good in some ways because it leaves the back of the camera relatively clear of buttons which might get pressed accidentally – and because that big flip-out screen doesn't leave a lot of room for controls anyway.
The joystick is good, but Fujifilm has added a central click 'OK' action which is a little too easy to activate accidentally. It's the perennial problem with multi-function controls – you 'click' when you meant to 'push'.
The star feature, however, is the big 3.5-inch vari-angle touchscreen. The only other Fujifilm camera to have this is the X-A7, and it's a shame you don't get this on the higher-end models too. The screen has a 16:9 ratio that's perfect for video and it flips round to the front for selfies and vlogging.
The X-T200's external controls are more sophisticated than they look. Most cameras in this sector have a single control dial, but the X-T200 has three. Two of these are on the right side of the camera, one around the shutter release and one behind it where your thumb rests, but there's a third, larger dial on the left side of the camera. By default, this cycles through the different Film Simulation modes, showing a split-screen rendition of the current style on the left and the alternative styles on the right. It's a brilliant idea, brilliantly implemented.
In general, we like the Fujinon XC15-45mmF3.5-5.6 OIS PZ kit lens too. It's very light, and its power-zoom mechanism means it retracts when the camera is powered off to make the camera/lens package quite compact. The zoom action isn't very fast, though, and we can never remember which way to turn the ring to zoom in/out. It also seems to shunt around for no obvious reason when switching between stills and video or starting recording – electronic zoom control from the camera body can be a mixed blessing.
The 15mm minimum focal length of this lens is usefully wider than the average kit lens, offering a 23.5mm equivalent focal length – not bad at all. On the other hand, the 45mm maximum (67.5mm effective) is pretty short for a kit lens.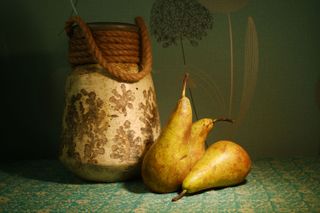 Performance
The image quality is everything we expect from Fujifilm cameras now. The detail rendition is very good, Fujifilm's extensive range of Film Simulations should suit all tastes, and the dynamic range expansion options can be genuinely useful for preserving highlight detail in high contrast scenes.
Current coronavirus lockdown restrictions have delayed our usual lab testing processes so we will update the review just as soon as those have been completed.
We found the autofocus experience somewhat mixed. For stills photography, the touch AF and touch shutter options are really useful. The AF modes are somewhat complicated, with three menu options were most cameras offer two (focus mode and focus point/area selection). The X-T200's focus mode options are straightforward enough (single AF, continuous AF), and the AF Mode options are clear enough – Single point, Zone, Wide/Tracking and All – but there's a third Focus Area menu where you can set the AF point position and size, and here there is some confusing crossover with the AF modes. With some AF modes this menu is disabled, with others you can change the focus point size and even the area (single point, zone, full) in a way that duplicates or contradicts the AF Mode menu.
It shouldn't take owners long to get all this figured out, but camera novices and newcomers might feel as if they've been thrown in the deep end.
The AF performance in burst and video modes seemed a little more hit and miss. We tested in on an active dog playing fetch with a lot of movement both around the frame and towards the camera while filming and got some pretty hit and miss results. Next time we'll try a slower dog (or a bit more practice).
The digital gimbal is a nice idea. It works, we presume, by shifting frames to keep subjects centered. It only works for Full HD video, though – the 4K option is disabled when you select this.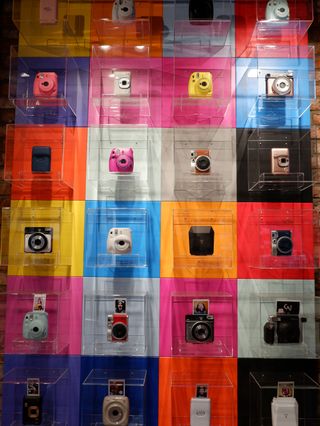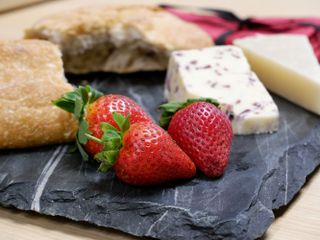 Below is a set of images of the same subject taken at ISO settings from 1600-12800, with the lighting adjusted to fall on the background to show the effect of the ISO noise reduction on defocused detail.
Inevitably, fine textural detail does start to smooth over eventually, but only becomes particularly visible at ISO 6400. Even then, hard-edged detail is still rendered very well. This is an amazing performance from a consumer APS-C camera, and owes a lot to the Fujifilm's in-camera JPEG processing. Adobe Camera Raw retains more fine detail but can't compete with the camera JPEGs for saturation and noise control.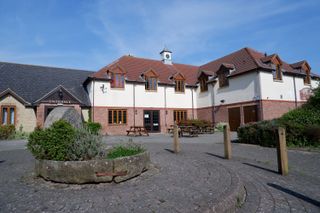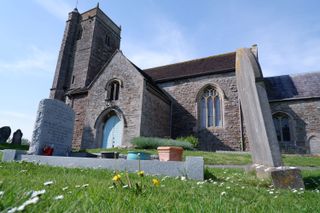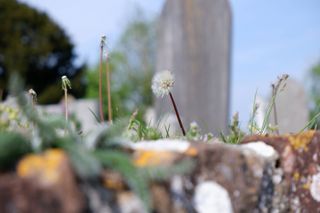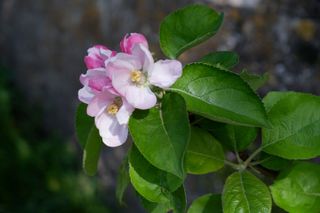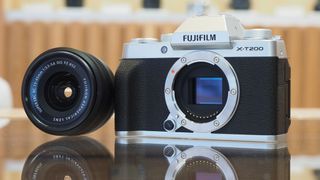 Lab data
Resolution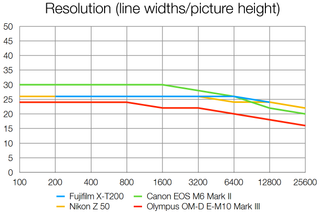 The X-T200 performs as we'd expect in our resolution test, with its 24.2MP sensor slotting in between the 16.1MP Olympus OM-D E-M10 III and the 32.5MP Canon EOS M6 II. No surprises here, apart from the Nikon Z 50, which produces exceptionally sharp shots from its 20.9MP sensor, enabling it to match the level of fine detail resolved by the 24.2MP X-T200.
Dynamic range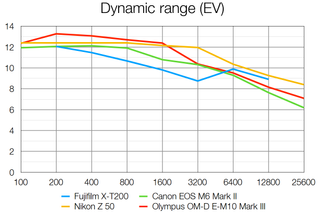 The X-T200 doesn't capture as much dynamic range as its rival cameras, except at ISO 200. We'd expect dynamic range to steadily reduce with each increase in ISO sensitivity, but for some reason the X-T200 gets somewhat of a second wind at ISO 6400. If we're to speculate, this could be due to behind-the-scenes in-camera dynamic range enhancement at high ISO settings, even in RAW files, though we can't yet be certain of this.
Signal to noise ratio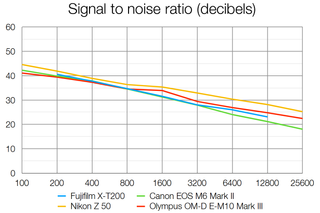 Our signal to noise test measures image clarity, specifically the ratio of the actual image 'data' you want to capture, versus the image noise that you don't want, but will inevitably be visible when shooting at higher ISO sensitivities. The higher the score at a given ISO sensitivity, the better.

In this test the X-T200 turns in a respectable performance - if nothing particularly special - level-pegging with the Canon EOS M6 II through most of its sensitivity range. However, considering the X-T200 has fewer pixels than the Canon, you might expect that to translate to greater light sensitivity from each photosite and in turn less image noise, but sadly that's not the case here.
Verdict
We liked the original X-T100 for its clean lines and user-friendly features, but the X-T200 ups the stakes with a big, vari-angle touchscreen, vastly better 4K video features and improved autofocus. Fujifilm is aiming this camera at first time users, but it's powerful enough to give mid-range DSLRs and mirrorless cameras plenty to think about.
The finish and feel isn't up to the same standard as the Fujifilm X-T30, but as long as you don't make that particular comparison, the X-T200 does feel like a well made and well designed camera for this price range. The XC 14-45mm kit lens is both useful and annoying at the same time – the wide-angle focal range is welcome, but the sluggish and sometimes unpredictable electrical zooming is not.
The X-T200 is a very compelling camera for photography novices or content creators, and it's technically far superior to the X-T100. It feels as if it has shifted away from low-cost stills photography and more towards video, however, which is no bad thing in itself but has pushed the price up to a different level.
We like the X-T200, and we especially like that big 3.5-inch 3.5-inch vari-angle touchscreen. If only the higher-end X-series cameras had that! We'd like it a lot more, though, if it didn't cost quite so much.
UK users, by the way, should look out for the X-T200 Vlogging Kit. This adds just £50 to the price, but includes a Rode VideoMic Go (worth the £50 difference on its own), Joby GorillaPod Kit 1K, Fujifilm 16GB (90MB/Sec) C10 UHS-I SDHC Memory Card and cabling. We have seen similar unofficial bundles in the US, but with differing accessories.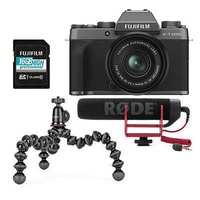 Fujifilm X-T200 Vlogger Kit, just £799 at Wex
Costing just £50 more than the standard X-T200 and kit lens combo, this Vlogger kit includes a Rode VideoMic Go (worth the £50 difference on its own), Joby GorillaPod Kit 1K, Fujifilm 16GB (90MB/Sec) C10 UHS-I SDHC Memory Card and cabling
UK deal
Read more:
• These are the best cameras for beginners right now
• We pick out the best Fujifilm cameras to buy
• Looking for the best mirrorless camera? These are the best buys right now
• The best cameras for vloggers