Sony's new A6100 APS-C mirrorless camera ($750/£748 body only, on sale October) has a hard act to follow. It's an upgrade on the half-a-million-selling A6000, which can now be had for an astonishingly low price (around $548/£429 body only - see A6000 deals for current best prices).
However, Sony staff at IFA told us that the A6100 – which sees some significant improvements, most notably 4K video – is not a replacement for the A6000, and that both will be on sale simultaneously. Armed with core quality and even a 1:1 aspect ratio option for Instagram, can the A6100 tempt vloggers and all-rounders after an upgrade?
Sony A6100: design
Little has changed on the A6100 compared to other cameras in Sony's Alpha line-up, with the same ergonomic handgrip, battery, SVGA electronic viewfinder and a near-identical button layout compared to the A6000. It weighs 396g to the A6000's 344g and the new A6600's 503g, which is down to the use of polycarbonate plastic, though we had no worries at all about build quality during our hands-on. However, note that it's not a weatherproof chassis.
The A6100's three-inch touchscreen seems a little clumsy in terms of its mechanical design, but it does now have a 180° front-facing angle and more downward tilt.
A key 'missing' feature for videographers is that the A6100 does not have a headphone jack for monitoring audio levels coming from its built-in microphone. For that, head to the all-new Sony A6600.
Spotted on Sony's IFA stand was the A6100 in silver as well as black. Silver won't sell as many, of course, but it's an attractive finish.
Sony A6100: features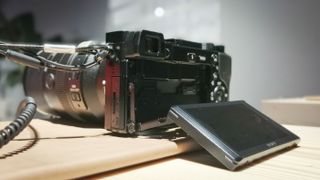 The A6100's key features include a 24MP APS-C sensor and a lightning-quick 0.02-second autofocus that tracks throughout the frame. It's called Real-Time Tracking Autofocus. That impressed us during our time with the A6100, as did Sony's new Real-Time Eye AF tracking technology, though they don't work simultaneously.
Designed for still shots and video, and around since the Sony A6400 and the Alpha A9, Real-Time Eye AF tracking automatically focuses on eyes wherever they move within the frame.
The A6100 also manages 11fps burst shooting, which works so well when combined with Real-Time Tracking Autofocus and makes it much more likely that you'll get a sharp shot. Note that the A6100 features a lower ISO range than the A6600 (the upper limit is ISO 51,200).
For video, the A6100 is enticing. As well as unlimited video recording time, the A6100 captures XAVC S format 4K video at 24fps and 30fps, and Full HD at 120fps for slo-mo.
Sony A6100: performance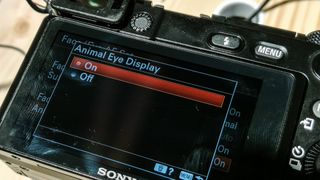 The A6100's Real-Time Tracking Autofocus and Eye AF tracking really impressed us during our test with the all-new Sony E 70-350mm lens. The latter makes focusing on eyes way simpler; instead of constantly refocusing to keep the eyes of a person or animal sharp, you touch the face you want to track, while the A6100 identifies the eyes for you, and keeps them focused throughout the entire frame.
Use the touchscreen rear panel and the A6100 will even follows your subject as they move around the frame. A major reason for it is to allow the photographer to forget about refocusing and instead concentrate on composition and/or interacting with their subject. It seemed pretty reliable during our test with a live model strutting around the Sony stand, and it definitely freed us up to think about composition.
You do have to toggle between human and animal in the onscreen menus, and also know that on the A6100 the Real Time Eye AF feature doesn't work when capturing video.
Sony A6100: early verdict
Designed for vloggers and anyone else wanting to jump up from a smartphone/point-and-shoot to get manual mode, zoom and better images on a serious – and seriously portable – camera without the expense of full-frame, Sony is hoping that the A6100 can continue the popularity of its APS-C line-up.
That pro-level real-time autofocus tracking is going to help a lot with that; tracking subjects throughout the frame and letting the camera look for faces and eyes, and focus automatically for them, is a genuinely effective way of making photography less arduous and more creative. Though users will have to reply on in-lens image stabilization because there's none in the camera.
However, if you're after a serious camera with core quality, but have no need for full-frame, the A6100 will be well worth checking out.
Read more:

• Sony A6000 vs A6100 vs A6300 vs A6400 vs A6500 vs A6600: how do you choose?
•These are the best mirrorless cameras you can buy right now
• How to choose the best Sony camera
• We pick the best cameras for vlogging