The OM-D E-M5 Mark III is lighter, sharper and better than the older Mark II version. It has 20 million pixels instead of 16, it has better autofocus, and an improved image stabilization system. That's a pretty good start!
It's arrived just after Olympus's 100-year anniversary and fits between the more novice-orientated Olympus PEN models and OM-D E-M10 Mark III, and the professional OM-D E-M1 Mark II and E-M1X models.
The existing E-M5 Mark II already offered a great set of features in a highly compact camera, but its ageing 16MP sensor held it back. The Mark III continues with that compact-yet-powerful theme, but with the latest, highest resolution 20MP MFT sensor.
It's aimed at real photo enthusiasts and semi-professional photographers, and goes head to head with cameras like the Fujifilm X-T30, Nikon Z 50 and Sony A6400. These are already among the best mirrorless cameras you can buy, so we have high hopes for this one.
• Read more: Olympus OM-D E-M10 III vs E-M5 III vs E-M1 II
Specifications
Sensor: 20.4MP MFT Live MOS
Image processor: TruPic VIII
AF points: 127 phase detection AF points, all cross-type
ISO range: 200-6,400 (exp. Low-25,600)
Max image size: 5184 × 3888
Metering modes: ESP multi-pattern, centre weighted, spot, highlight, shadow mode
Video: C4K, 4K UHD 30p, 1080p at 120fps
Viewfinder: EVF OLED, 2.36m dots
Memory card: 1x SD/SDHC/SDXC (UHS I)
Max burst: 10fps mechanical shutter, 15/30fps Pro Capture
Connectivity: Wi-Fi, Bluetooth
Size: 125.3 x 85.2 x 49.7mm
Weight: 414g
Key features
There's a lot of technology built into this camera, and a lot of features. Some you'll find in rival cameras, some you won't. This is not really designed to be a camera for professionals, and it's not going to qualify as one of the cheapest mirrorless cameras any time soon, but it's got a magic combination of features, price, performance and size that will instantly appeal to hobbyists and enthusiasts.
The E-M5 Mark III is lighter than its predecessor and yet its weather sealed construction means its dust, splash and freeze-proof. The autofocus system doesn't have the most AF points but the 121 phase detection on sensor AF points are all cross-type and cover most of the sensor area.
The E-M5 Mark III certainly ticks all the boxes for action photography, offering 10fps continuous shooting with the mechanical shutter, but an amazing 30fps in Pro Capture mode with focus locked on the first frame, or 15fps with continuous AF. This doesn't quite match the 60fps Pro Capture mode on the E-M1 Mark II, but it's mighty impressive nonetheless.
What makes this Pro Capture mode especially interesting is that it starts buffering images as soon as you half press the shutter release, then saves these 14 buffered shots and a further 85 (Olympus says) when you press the shutter release the rest of the way. It gives the uncanny impression of capturing action that starts before you've even pressed the shutter button.
Olympus says all parts have been miniaturised in this new camera to produce the smallest body possible. It also has a new and improved image stabilisation system offering up to 5.5EV shake compensation – or up to 6.5EV with one of Olympus's stabilized lenses.
This same stabilisation system is used for shooting video, either in C4K or UHD, and in the movie mode it's supplemented by digital stabilisation for even smoother footage. The E-M5 Mark III's video credentials are supplemented by a special 'Flat' mode for more effective grading later on, and a socket for an external microphone.
The E-M5 also offers Focus Bracketing (you can combine images later in the Olympus Workspace image editing software ) and in-camera Focus Stacking, where the camera automatically combines 8 separate images in-camera.
Olympus's Tripod High Res Shot makes an appearance again, combining eight images with half-pixel shifts between them – though as the name spells out, this is no a handheld mode.
You also get Olympus's clever Live Composite and Live Bulb modes. Live Composite mode overlaps multiple shots but records only brighter values, so it's perfect for capturing light trails with out overexposing the ambient light – and you can check progress in live view. Or you can simply use the Live Bulb mode to watch your long exposures slowly building on the screen.
Elsewhere, you get a maximum shutter speed of 1/8000sec, USB charging (very useful, especially given the modest battery life), 6 different scene modes and 16 of Olympus's rather good Art Filters.
Build and handling
Olympus's weight saving has certainly worked. The OM-D E-M5 Mark III is very light, though if you fit the Olympus Pro 12-40mm lens typically supplied with this camera as a kit, though, it loses a little of its advantage, as this is a pretty hefty lens by Micro Four Thirds standards.
It's also possible to get the E-M5 Mark III as a kit with the Olympus 14-42mm EZ 'pancake' zoom. This is ultra-compact, and while it doesn't have the zoom range, constant aperture or image quality of the 12-40mm Pro lens, it's quite superb for travel photography when you want to travel light.
In fact, the E-M5 III is an object lesson in how to design effective controls for a small camera body. The main mode dial is big and positive with a locking button in the centre, there are two large customisable control dials on the top plate and a clever lever on the back that switches them between two sets of functions.
The rear four way controller is small but effective enough and there's an 'OK' button in the center which activates a handy interactive touch sensitive settings screen.
The rear screen is a fully vari-angle type, not just a tilting screen, so you can easily flip it round to face forward, and white the EVF isn't the highest resolution, it still has a creditable 2.36 million dots, it's an OLED type with great clarity and contrast.
Olympus has given this new model a thumb rest on the back and a larger front grip – it really does handle very well for a camera of its size.
Performance
The autofocus feels fast and positive, and especially so if you use the touch shutter option with the rear screen – here, a tap of the finger is followed so closely by the focus 'beep' and the shutter release that it feels virtually instantaneous.
The AF kept up pretty well in our action tests too, though you may need to spend a little time trying out the different AF modes and area patterns to find the only that suits your subject best. The Pro Capture mode does not offer continuous AF at 30fps, but it's still ideal for action that takes place at a specific point in front of the camera.
Shots taken in daylight display vibrant but natural looking colours, and crisp, clear image detail – we were shooting mostly with the 12-40mm f/2.8 Pro lens, which is a terrific standard zoom with great edge-to-edge sharpness. The smaller Micro Four Thirds sensor starts to show noise and smudging a little lower in the ISO range than rival APS-C cameras, but the excellent in-body stabilization helps to make up for that – the smaller sensor format seems to help the stabilization performance, and the Olympus (and Panasonic) systems are almost uncannily steady.
Some quick tests of the image stabilization system show it's possible to capture sharp handheld shots at shutter speeds as low as 1/4sec, and we're impressed by the image stabilisation for 'run and gun' style handheld video.
Overall, our real-world tests confirmed the results of our lab tests, below – the OM-D E-M5 Mark III might be at a technical disadvantage on paper, due to its smaller sensor and lower megapixel count, but its results stand up extremely well against the best of its rivals.
Lab tests
We tested the Olympus OM-D E-M5 Mark III lab test results against those of three key rivals; the Sony A6400, Fujifilm X-T30 and Canon EOS RP. They're all in the same general ballpark for price, but have very different sensors and feature sets!
Resolution
The Olympus OM-D E-M5 Mark III came through this test very well, despite its smaller Micro Four Thirds sensor and lower 20-megapixel resolution. It matched the best of its rivals for detail rendition up to ISO 1600, even the full frame Canon EOS RP, but predictably enough it did start to fall away at higher ISO settings.
Signal to noise ratio
The smaller sensor in the Olympus OM-D E-M5 Mark III does tend to hurt it in our noise tests. The Fujifilm X-T30 and full frame Canon EOS RP both control noise more effectively – though interestingly the Olympus proved slightly better than the Sony A6400.
Dynamic range
This is another good result for the Olympus. The Fujifilm X-T30's dynamic range is just slightly better up to around ISO 1600, but then the Olympus takes the lead. The Sony A6400 is the poorest performer here (though still not bad) while the Canon EOS RP fails to exploit its larger sensor area and only manages third place.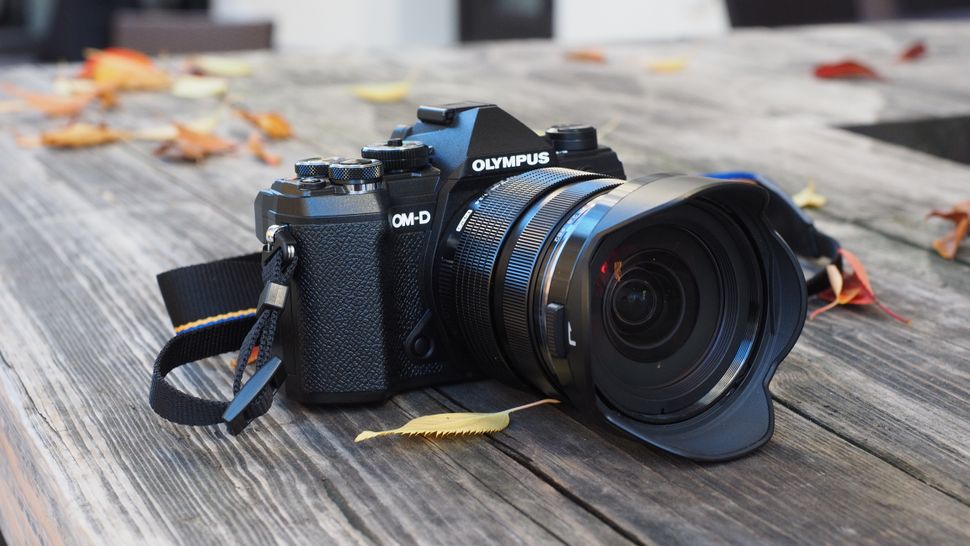 Verdict
Olympus has packed a lot of technology into a very small and affordable camera body, and some clever and genuinely useful long exposure and focus bracketing options too. Don't be fooled by this camera's size. It may be little larger than the smallest entry-level mirrorless cameras, but it has features and capabilities you won't find all in the same place even with the top enthusiast DSLRs and mirrorless models. And while the 20MP sensor is at a numerical disadvantage compared to most APS-C sensors, you're unlikely to see much difference in real world shooting.
After concentrating so much on its lower end PEN models and it's top-end pro cameras, Olympus has rather neglected its mid-range model, and the one that's potentially the most interesting of all to keen enthusiasts. Well now the OM-D E-M5 III puts that right, and looks set to reinvigorate the mid-range mirrorless camera market with some real competition for its APS-C rivals. Olympus has been in the news for all the wrong reasons recently, so we're very happy to report that the E-M5 Mark III is very good news indeed.
Read more:
• These are the best mirrorless cameras right now
• We list the ten cheapest mirrorless cameras on sale today
• Best Olympus cameras
• Best Micro Four Thirds cameras
• Best Micro Four Thirds lenses