The best cheap mirrorless cameras provide an incredibly cost-effective way to hop onto an exciting camera system. Looking at older and entry-level models from the likes of Canon, Sony and Panasonic allows you to get to grips with how a system works, and if it comes time o upgrade, you've got loads of even better cameras to choose from.
Of course, you may never need to upgrade. We've picked out the following cameras for these list because we believe they represent genuine value for money – you'll be able to use them and get value out of them for years to come. With competitively sized sensors and impressive megapixel counts, these aren't just good cheap cameras, but good cameras in their own right.
Many of them are great choices for vlogging, as well. With video content creation becoming ever more accessible, it's expected these days that cheap mirrorless cameras will have at the very least Full HD capability, and generally 4K is pretty mainstream now too. If you're looking to get into YouTube (opens in new tab), filmmaking or content creation on budget, cheap mirrorless cameras are the ideal place to start.
Prices do fluctuate, especially when it comes to older cameras. However, all the cameras we've included on this list are consistently available at prices significantly lower than the average for a mirrorless camera. Though one thing to always check is whether the camera is packaged body-only or with a lens
One more thing. When you're shopping for cheap mirrorless cameras, be sure to check whether the camera is 'body only' or comes with a lens. We'll give our thoughts on the best lenses to get below.
The best cheap mirrorless cameras in 2022
(opens in new tab)
The Panasonic Lumix G100 is a fantastic starter camera for vloggers, and has clearly been designed with that exact audience in mind. Unlike most consumer mirrorless cameras, it's got a fairly sophisticated built-in mic setup, meaning that while you can plug in an external mic with the 3.5mm jack, you don't have to, and that's hugely handy for casual vlogging.
Its approachable button layout makes it easy for pretty much anyone to pick up the Lumix G100 and start shooting high-quality 4K video. The tactile ergonomics make it a pleasure to use, and even though it's a relatively new model, the price has already come down a little. We appreciated a lot of features of the Lumix G100 when it came into our hands for a full review – with a bright electronic viewfinder and high-quality LCD screen, it's just an all-around pleasant shooting experience for stills and video.
Read more: Panasonic Lumix G100 review (opens in new tab)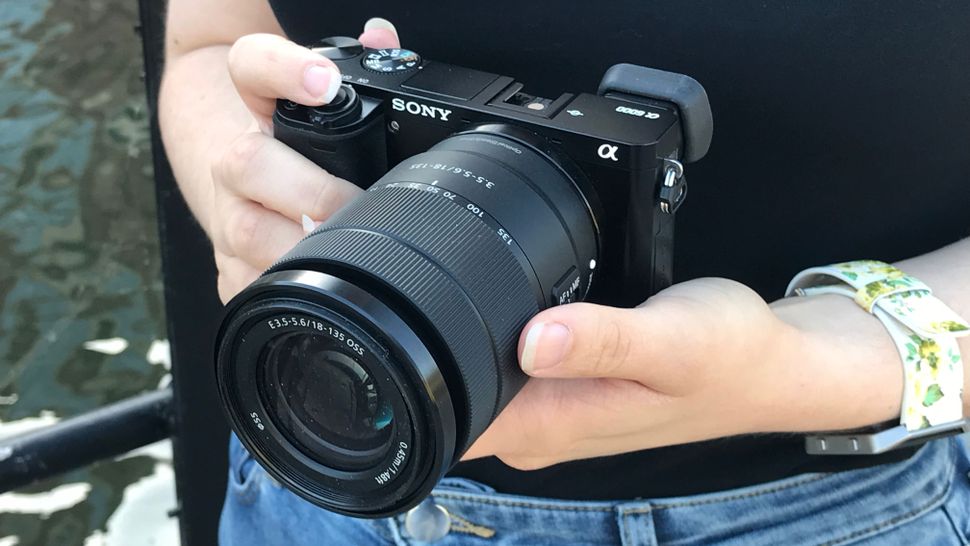 All the way back in 2014, Sony debuted the A6000, a camera that would kick off a whole series of enthusiast-oriented APS-C mirrorless models. Why are we still talking about it in 2022? First, because Sony is much better than a lot of other firms at keeping its older models in production, and second, because it's still a really good camera.
The fundamentals on the A6000 are incredibly solid, for photographers at least. With 11fps burst shooting, 24MP of resolution and a highly capable autofocus system, it's got pretty much everything most photographers are going to need. It's far more powerful than many similarly priced beginner camera, and its slimline body makes it perfect for travel.
There's a reason we kept saying "photographers" in the previous paragraph – as we noted in our Sony A6000 review, its video specs have aged. It predates the 4K boom, and the lack of a mic port really hurts it when it comes to vlogging. We wouldn't recommend buying the A6000 as a primary video camera, but for photographers, it's a bargain.
Read more: Sony A6000 review (opens in new tab)
(opens in new tab)
The Canon EOS M50 Mark II may seem like a fairly minor upgrade over the previous Canon EOS M50 (opens in new tab) – and that's because it is. However, the additions that have been made are quite sharp, with Canon clearly having listened to feedback on the previous camera, and that makes this one worth your buy, especially now the price has come down.
The autofocus has been improved, with the addition of eye detection in stills and video modes. Video shooters also get a clean HDMI out – perfect for streaming – as well as the option to shoot in vertical orientation for social media.
It's worth nothing, as we did in our review, that the EOS M50 Mark II is at its best when shooting in Full HD 1080p, as shooting in 4K causes it to lose the Dual Pixel AF in favour of slower contrast-detect autofocus. And that's not even talking about the vicious 1.6x crop incurred by 4K. Full HD is more than good enough for most purposes though, and having 24.1MP of resolution and 10fps burst shooting further rounds out this solid package.
Read more: Canon EOS M50 II review (opens in new tab)
(opens in new tab)
We love the Olympus OM-D E-M10 Mark IV. Its predecessor, the Mark III, was (and is) a perennial favourite around the DCW office, and we're full of admiration for how sensibly Olympus went about updating this beloved camera.
The addition of the 20.3MP sensor from the PEN-F was a great shout, and we were immensely glad to see improved Continuous Autofocus further expanding the Mark IV's burst shooting capabilities. After all, it's not much good being able to shoot at 15fps if you can't focus worth a damn!
The extra-tiltable screen impresses too, and the fact that it flips down 180° makes the Olympus OM-D E-M10 Mark IV a tempting proposition for YouTubers and vloggers. For the money, the Mark IV is absolutely stuffed with features, and the fact that it's so portable makes it a great choice for travel.
Read more: Olympus OM-D E-M10 Mark IV review (opens in new tab)
(opens in new tab)
The GX80 uses a 16-megapixel Micro Four Thirds sensor which sounds a old tech these days compared to the beefier 24MP plus APS-C sensors used by rivals, but what you lose in sensor size and megapixels, you gain in other areas, notably the built in electronic viewfinder, in-body image stabilisation, great 4K video and Panasonic's '4K Photo' mode, where you can capture 8-megapixel images at blisteringly fast 30fps, or if your a little lazy shoot first and focus later, using the 'Post Focus' mode. We especially like the retracting 12-32mm kit lens usually sold with this camera. Its slim profile makes the camera very pocketable when it's not in use, and while the effective focal range is 24-64mm it's an ideal lens for travel and street photography. Given the features you get with this camera, current prices are just plain silly. It's another cheap mirrorless camera that's actually rather good.
(opens in new tab)
The Lumix G7 was launched back in 2015, so it's a few years old now, and that shows in its styling and specs. It's the ideal choice for mirrorless camera buyers who prefer the heft and grippability of a DSLR style body, and it comes with a viewfinder, which is terrific in a mirrorless camera at this price. Bad points? The G7 was launched before Panasonic started including in-body stabilisation in its cameras, so you're reliant on any optical stabilisation in the lenses themselves. It also has a relatively old 16-megapixel Micro Four Thirds sensor, which knocks back the image quality ever so slightly compared to currently APS-C sensor offerings. Prices vary a lot, so keep your eyes peeled, we have seen some crazy twin-lens deals on this camera.
(opens in new tab)
Olympus specifically targeted "step-up" users with its Pen E-PL9, referring to users looking to make their first jump from a smartphone to a proper camera. Thus, it's incredibly easy to use, with intuitive controls and helpful guide modes to get the most novice users familiar with the camera very quickly. It doesn't hurt that it looks pretty snazzy as well, and it is light enough to slip into a small bag or even a large jacket pocket. There is no viewfinder, but the screen does tilt up and down and even flips out for selfie-shooting and vlogging, and it comes in a useful kit with Olympus's 14-42mm pancake lens. Images from the Pen E-PL9 look great immediately after you hit the button, making it easy and tempting to share them straight away with its built-in Wi-Fi function. If you can't get the E-PL9, try the E-PL10 instead – they are practically the same camera.
Read more: Olympus E-PL10 review (opens in new tab)
How we test cameras
We test cameras both in real-world shooting scenarios and in carefully controlled lab conditions. Our lab tests measure resolution, dynamic range and signal to noise ratio. Resolution is measured using ISO resolution charts, dynamic range is measured using DxO Analyzer test equipment and DxO Analyzer is also used for noise analysis across the camera's ISO range. We use both real-world testing and lab results to inform our comments in buying guides.
Read more:
Best cameras for beginners (opens in new tab)
Cheapest full frame cameras (opens in new tab)
Best mirrorless cameras (opens in new tab)
Best cheap camera deals (opens in new tab)