The Fujifilm X-S10 marks an interesting shift in Fujifilm's camera range. Until now its more advanced mirrorless cameras have all featured external shutter speed dials and (depending on the model) external lens aperture rings and sometimes ISO dials. Instead, the X-S10 reverts to a regular mode dial as seen on countless competitors.
Fujifilm's old-school approach to camera design and external exposure control has won it lots of fans and is featured on the Fujifilm X-T4 flagship model, the rangefinder-style X-Pro3 and super-compact X-T30.
Fujifilm also makes more beginner-orientated models with conventional mode dials an exposure controls, namely the Fujifilm X-A7 and X-T200.
The Fujifilm X-S10 also has a conventional mode dial and might at first seem like a 'bridge' between Fujifilm's beginner cameras and more advanced models. However, we are told that it is instead positioned between the Fujifilm X-H1 and the X-T4 and is, in fact, an advanced camera that's aimed at a broader audience of users who might previously have been put off by Fujifilm's external exposure controls.
See also: Fujifilm X-S10 vs X-T4 • Fujifilm X-S10 vs X-T30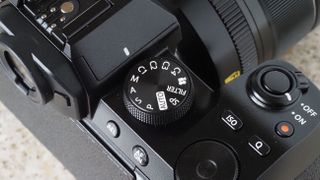 Specifications
Sensor: 26.1MP APS-C X-Trans BSI CMOS 4
Image processor: Quad-core X-Processor 4
AF points: 117/425/91 point hybrid contrast/phase AF
ISO range: 160 to 12,800 (exp 80-51,200)
Video: Uncropped 4K UHD up to 30p
Viewfinder: EVF, 2.36m dots, 0.62x magnification
Memory card: 1x SD/SDHC/SDXC
LCD: 3-inch vari-angle touchscreen, 1.04m dots
Max burst: 8fps mechanical shutter, 20 fps electronic shutter, 30fps & 1.29x crop
Connectivity: Wi-Fi
Size: 126 x 85.1 x 65.4mm
Weight: 465g (body only)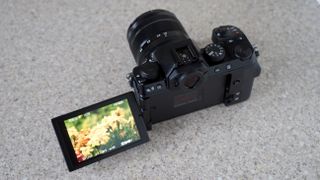 Key features
Apart from its physical design (more on that in the build & handling section below), The Fujifilm X-S10 has a lot of technology familiar from other Fujifilm models. The significance is largely in how it's been brought together and the price it will be sold for.
The sensor is, we presume, the same 26.1 megapixel X-Trans CMOS 4 sensor used in the Fujifilm X-T4. The quad-core X-Processor 4 processing engine appears the same too.
The autofocus system offers the same 100% phase detection AF frame coverage as the X-T4, with face and eye detection and, Fujifilm says, improved sensitivity down to light levels as low as -7EF, with a response time of as little as 0.02 seconds.
Like the X-T4, the Fujifilm X-S10 has built-in in-body stabilisation (IBIS). The stabilisation unit is around 30% smaller, and offers 6 stops of compensation versus the 6.5 stops of the X-T4. There is a difference, then, but a small one.
• See also Fujifilm X-S10 vs X-T4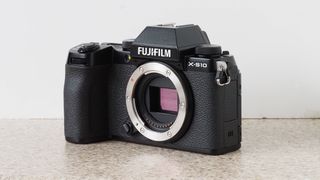 But there are larger differences elsewhere, notably in continuous shooting and video features.
Where the X-T4 can shoot at up to 15fps with its mechanical shutter, the X-S10 achieves 8fps – though that's still pretty good for a camera in this price bracket. The X-S10 can shoot at 20fps with its electronic shutter or 30fps in a 1.29x crop mode.
The Fujifilm X-T4 is renowned for its ability to capture 4K 60p video and 10-bit video internally, but the X-S10 takes a step back to a more conventional 4K 30p and 8-bit capture internally – though if you use an external recorder, the X-S10 and X-T4 can both record 10-bit 4:2:2 video.
In other areas, the Fujifilm X-S10 has a single card slot compared to the X-T4 and a slightly lower-resolution electronic viewfinder. The X-S10 delivers a lot of features for the money, but there are enough areas where the X-T4 is superior to justify the price difference.
Build and handling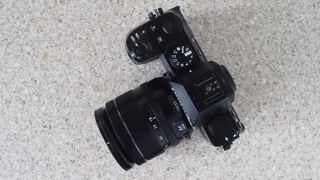 It's hard not to be impressed by the Fujifilm X-S10 when you first pick it up. The specs say it's not particularly heavy at just 465g body only, but it has a very solid feel and, thanks to the front grip, it's a small-ish camera that still delivers a very good hold.
The swap to a regular mode dial doesn't mean the X-S10 has a dumbed-down control layout. It has twin command dials; one inset into the top of the grip at the front and another on to top at the back. Over on the left side is a third, function (Fn) dial.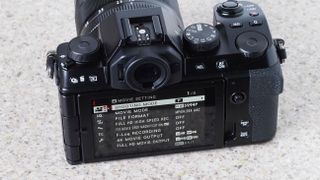 This means the X-S10 doesn't use one of those annoying spinning/clicking multi-controllers on the back. Instead, it just has a joystick for AF point and settings navigation – and there's an AF-ON button for photographers who like to separate the shutter and AF functions when they shoot.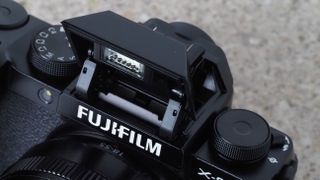 Fujifilm's regular Q (quick settings) button is found on the top of this camera, rather than its usual position on the back, and there's a movie record button on the top too.
The rear screen flips out and rotates easily – no complaints there – and the EVF is good too, though the resolution and especially the 0.62x magnification feel a little mean.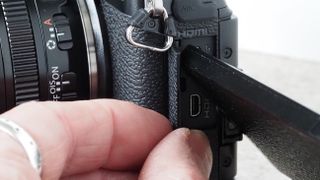 Performance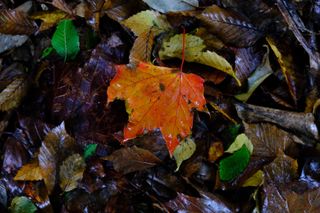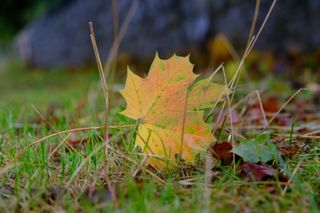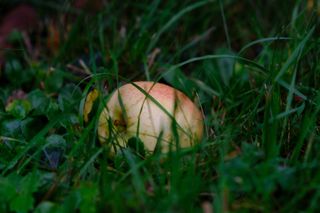 The Fujifilm X-S10 delivers exactly the kind of color and detail rendition we've become used to seeing on other Fujifilm cameras. Given the fact it uses the same sensor and processor, we wouldn't expect any different.
If you shoot JPEGs you can use Fujifilm's wide range of Film Simulation modes including Provia (the standard setting), Velvia, Classic Chrome, Astia, ACROS (black and white) and a whole lot more.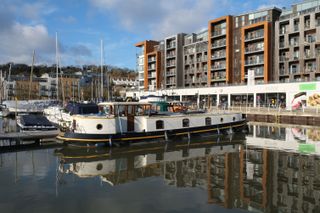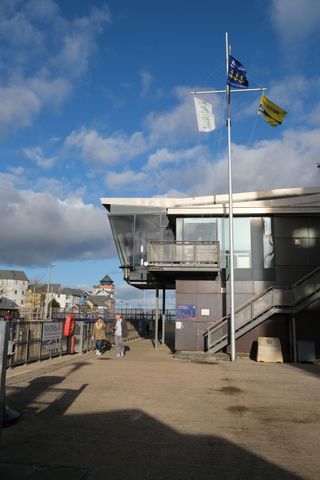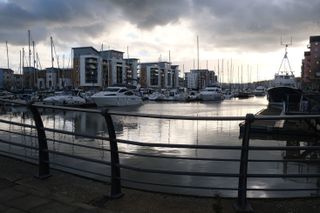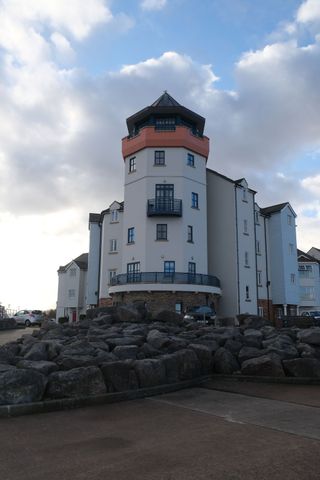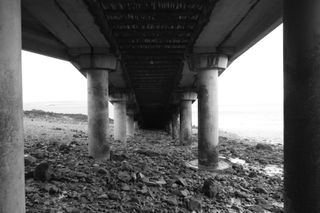 If you shoot RAW files, Capture One will automatically detect and assign the profile you chose in-camera (you can change it too), while Lightroom and Adobe Camera Raw will offer Film Simulation options amongst their Profiles.
Like other Fujifilm cameras, the X-S10 has a neat dynamic range expansion option with values of 200% and 400%. This adjusts the sensitivity and the tone curve to capture a higher dynamic range (and specifically more highlight detail), and it applies to raw files too, not just JPEGs. This gives the X-S10's raw files a good deal of processing flexibility.
The lens we used for our review was the Fujinon XF 18-55mm f2.8-4 R LM OIS. This is Fujifilm's standard mid-range kit lens and, while pricier than others, is 1-2 stops faster in maximum aperture, compact, well made and optically a cut above.
Lab Data
For our lab data comparison, we pitched the X-S10 against three other popular APS-C mirrorless cameras for vlogging: the Canon EOS M6 II, Nikon Z 50, and Sony Alpha a6600.
Resolution: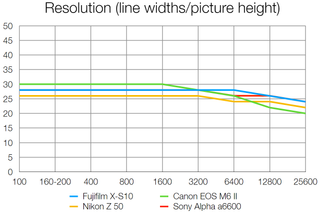 Resolution is measured in line widths/picture height, a widely used standard for resolution measurement that's independent of sensor size.
No surprises here - the 26.1MP X-S10 slots in neatly between the 32.5MP Canon M6 II and 20.9MP Nikon Z 50 when it comes to the amount of fine detail it can resolve. The Sony a6600 mostly matches the X-S10 in this test: its 24.2MP sensor creates images of a close dimensional size to those from the X-S10, and therefore similar detail levels.
Dynamic range: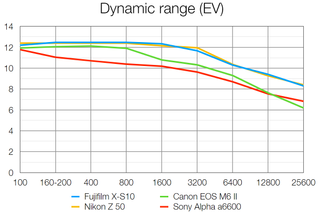 Dynamic range is measured in EV (exposure values, or 'stops'). It's a measure of the camera's ability to record detail in extremely bright and dark areas of the scene; the higher the value, the better.
Fujifilm's X-Trans sensors have a history of capturing excellent dynamic range, and the X-S10's X-Trans 4 sensor is a fine example of this. The X-S10 is capable of up to 2EV more dynamic range than the Sony a6600, and only the Nikon Z 50 can match the Fujifilm X-S10 here.
Signal to noise ratio: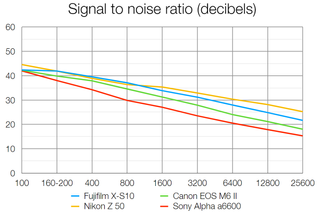 Our signal to noise test measures image clarity – specifically the ratio of the actual image 'data' you want to capture versus the image noise that you don't want, but will inevitably be visible when shooting at higher ISO sensitivities. The higher the score at a given ISO sensitivity, the better.
It's another strong performance from the X-S10, as we can see that despite its fairly high megapixel count, its images are cleaner and less noisy than those from the Canon and Sony cameras. The X-S10 is even able to match the Z 50 for image clarity at lower sensitivities, which is quite an achievement as the 20.9MP Nikon should have an advantage here due to its lower megapixel count increasing light sensitivity and therefore reducing image noise. However, the Nikon does finally stretch its legs at ISO 1600 and above, pushing the X-S10 into second place.
• Fujifilm X-S10 vs X-T30
• Fujifilm X-S10 vs X-T4
Video
The X-S10 does not offer the 4K 60p video capability of the more expensive X-T4, but this is a mid-range all-purpose camera and not a video specialist, and its video specs are easily good enough for amateur/enthusiast use.
The in-body stabilisation proved a mixed blessing in our tests, however. We forgot to disable it for some tripod shots taken in windy conditions, and the footage shows a high-frequency 'judder' in some sections. The stabilisation can be disabled in the IS MODE menu settings, but it's very easy to forget (as we did) when you swap between different shooting scenarios, especially if you are working quickly.
And while it's very useful for static handheld clips, where the IBIS really does even out small camera movements, it's less effective for run-and-gun style shooting (or walk-and-gun in our case). The sensor shift system inevitably has a limited range of movement and now and again it's as if it abruptly 'resets' or re-centers, which can give footage a somewhat jerky look.
The manual does explain how to disable the IS MODE BOOST option for panning shots (our bad) and how to enable DIS (digital image stabilisation). Our time with the X-S10 was limited so we weren't able to check all the permutations, but it will be interesting to test this in the future.
Shooting video handheld with camera movement is a risky business that takes a good deal of skill on the part of the operator. With the X-S10 you might be better off with a gimbal with the in-body stabilisation disengaged.
Verdict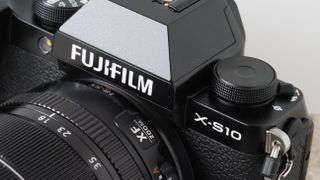 Fujifilm's swap to a regular control layout is not a signal that this is a simple camera for novices. It's immediately apparent when you pick it up and use it, that it's made to very high standards (though it's not weatherproofed, we're told) and has the quality feel of the more expensive X-T4.
The specs also confirm that this camera is aimed at enthusiasts and more advanced content creators, though Fujifilm has taken care to ensure that the X-T4 has sufficient advantages to maintain its higher price and flagship status.
The Fujifilm X-S10 might not trouble the X-T4 too much, but it immediately looks a more attractive proposition than Fujifilm's diminutive X-T30, because the X-S10 brings a more mass-market control layout and in-body stabilization. The build quality, features and handling mark this out as one of the best ASP-C mirrorless cameras to date for enthusiasts and beginners who want to upgrade to a better camera. It gives much of the feel and features of the X-T4, but without the X-T4's price.
Read more:
• Best Fujifilm cameras
• Best mirrorless cameras
• Best vlogging cameras
• Best Fujifilm lenses