The annual IFA tech exhibition in Berlin this year may have been smaller than usual due to the you-know-what, but it still hosted some notable photography and smartphone camera launches, demos and product showcases.
The International Funkausstellung 2020 was an invitation-only affair for journalists, buyers and exhibitors – and inevitably many key companies decided to give the show a miss.
Here are some of the top announcements and most exciting photography products that we've spotted so far:
1 – ShiftCam ProLens Deluxe Kit for iPhones
Showing-off its latest wares in the IFA NEXT zone was ShiftCam. Clip-on lenses for smartphones have been around for years, but have any really impressed? Cue this high-end attempt in the shape of ProLens, a collection of professional detachable lenses aimed at delivering closer-to-DSLR results on smartphones.
There are six in the ProLens Deluxe Kit ($399.99/£399.99), all of them using ShiftCam's S-Mount system to securely mount them on the back of an iPhone 11 or iPhone 11 Pro.
Guaranteed to be compatible with the next-generation of iPhones, the collection – which are all available separately – comprises a 60mm Telephoto Lens (US$79.99/UK£84.99), 18mm Wide Angle Lens ($79.99/£84.99), 10x 25mm Traditional Macro Lens ($79.99/£84.99), 75mm Long Range Macro Advance Lens ($99.99/£104.99) and Full Frame 230º Fisheye Advance Lens, ($99.99/£104.99). A 12mm Ultra-Wide-Angle Aspherical Lens ($129/£134.99) is also available only as a separate lens.
• See best lenses for iPhones and smartphones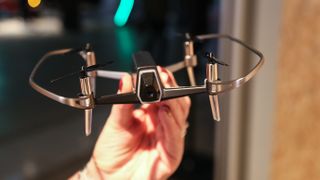 2 – Shift Red compact drone
Drones are becoming an accepted part of many content creator's backpack, yet size is everything. This dinky drone showing off at IFA 2020 but already on sale, the Shift Red ($299/£280) weighs a mere 93g. A quadcopter equipped with vision recognition, full HD video capture (at 30 frames per second) and real-time video transmission, Shift Red can be controlled using one hand – in fact, one thumb. It's auto-pilot modes, selected via an app, include orbiting, dolly-in/out, following, horizontal tracking, yaw tracking and hero. It's got four speeds and works for 17 minutes between charges. It saves content to a 32GB microSD card, but can transfer all content to a phone via the app.
• See Best drones for beginners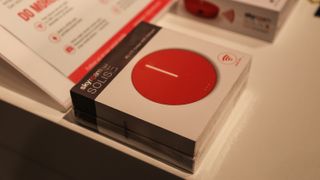 3 – Skyroam Solis Lite smartspot
If you're a travel photographer you'll know the pain of finding WiFi to post your latest creations to social media. Even if you've got roaming on your phone you're usually limited to one local network. Cue this basic 'smartspot', which creates WiFi in almost any country by using the strongest 4G LTE signal it can find regardless of network. That's unique, and is the result of its patented virtual SIM, which works in 130+ countries. It creates a WiFi network for up to 10 devices. Payment plans are easy; all-you-can eat day passes, monthly passes or by the gigabyte.
This 'lite' version is a slimmed-down version of the all-singing Skyroam Solis X, cutting-out the power bank and built-in camera, and coming in at a much lower price ($120/£120).
• See Skyroam Solis X review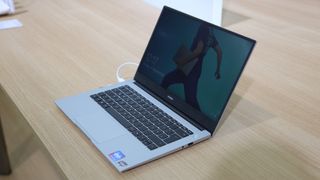 4 – Honor MagicBook Pro laptop
Huawei 'youth' spin-off brand Honor was one of the few majors to physically announce and show-off new products at IFA 2020. The highlight was its MagicBook Pro, a 16.1-inch laptop with a camera that not only pops up and down, but is placed in the keyboard itself.
"It being 2020, a lot of us are working from home, so we've put a pop-up camera in the keyboard so you can use it only when you need it," said Ali Qureshi, Product Manager, Honor UK.
Despite its massive size, Honor claims that it fits into the chassis of a typical 15.6-inch laptop and weighs 1.7kg, so it ought to be easy to travel with. Inside is a latest-gen AMD Ryzen 4000 H-series chip, a 16GB RAM, and displays 100% sRGB. It's on sale early September ($1,065/£803).
• See Best laptops for photo editing • Best laptops for video editing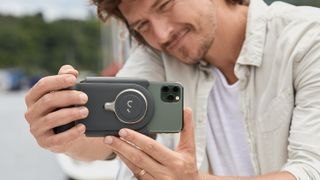 5 – ShiftCam ProGrip battery grip for smartphones
Fresh from a successful Kickstarter campaign and now in production, ShiftCam's ProGrip ($149.99/£113) has two separate kinds of photographers in mind for its battery grip. The first is the DSLR owners who yearns for the ergonomics of a larger camera when shooting with a smartphone. The second is any content creator since the ProGrip has a built-in 5,200mAh battery to keep any smartphone charged-up. To do that it uses Qi wireless tech, so there are no cables, while the ProGrip fits any smartphone (it's also useful as a hands-free dock for marathon video calls).
Other photography niceties include a Bluetooth shutter button, a built-in pivot rotation, a cold shoe mount and a standard 1/4-inch tripod screw for attaching it to a tripod. It's available in Charcoal and Putty.
• See Best smartphone tripods & supports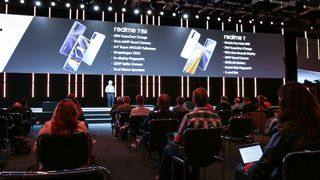 6 – Realme 7 Pro quad camera smartphone
A bit like Honor, China-based brand Realme is all about youth. Cue a bunch of cut-price phones? The seventh biggest smartphone brand in the world, Realme used its first IFA to announce – but not physically show – its Realme 7 Pro ($270/£203). A successor to Realme's XT – one of the first 64MP quad camera smartphones – the Realme 7 Pro comes with a 6.4-inch Super AMOLED display, 4,500mAh battery, Qualcomm Snapdragon 720G processor, up to 8GB RAM and 128GB storage with a microSD card.
On the front is a 32MP selfie camera while on the back is a quad camera array with a 64MP prime, an 8MP 119º ultra-wide lens, a 2MP macro lens and a 2MP depth sensor for portrait shots.
• See Best budget camera phones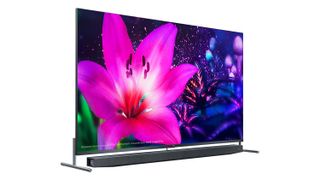 7 – TCL 75X915 QLED 8K TV with pop-up camera
With video calling becoming a way of life so far in 2020 it was no surprise that IFA saw the return to TVs of the pop-up camera. A feature that was prevalent a few years ago before being quietly dropped by the major brands, Chinese brand TCL equipped its flagship telly – a 75-inch 8K resolution QLED TV with the model number 75X915 (prices TBC) – with a small camera that ascends and descends when prompted. Since viewers will be sitting a good distance away from this behemoth, it's a widescreen camera designed for group video calling. Based around an Android OS, the 75X915 also boasts 'IMAX Enhanced' certification, Dolby Vision and Dolby Atmos audio.
• See Best webcams for home working
Read more