The best lenses for iPhones and Android smartphones allow you to completely expand your smartphone photography in all sorts of directions. From close-up macro work to far-reaching telephoto shooting, these lenses are a perfectly inexpensive way to get serious about taking pictures on your phone.
Smartphone cameras just get better and better. They've improved tremendously in recent years, to the point where today's flagships – like the brand new iPhone 11 Pro and Google Pixel 3 – are on par with some dedicated cameras.
The big changes have been new multi-camera arrays that include regular, ultra-wide and telephoto lenses, even zooms. So the latest and best camera phones may not need any add-on lenses. Some manufacturers have countered this by adding a second, third or even fourth lens to their phone camera systems, bringing 5x optical zoom, wide-angle photography and bokeh-style blurred images into the fray.
But if you've got an older camera phone, or you don't want to pay premium camera phone prices (the best budget camera phones right now are actually very good), add-on lenses are a simple solution. They can add greater magnification, wider angles, macro capabilities and more – and there are plenty of clip-on lenses available for different models of smartphone. Some are universal, while others are designed for specific models.
As you will see, prices can vary massively depending on the manufacturer. Olloclip is considered the market leader, however there are plenty of other options from different manufacturers, and sometimes different models are available in Europe and the US. Some are also more expensive than others.
However much you want to spend, we reckon you'll find the right lens for your phone in our guide to the best add-on lenses available for iPhones and Android smartphones.
1. Olloclip Multi-Device 3-in-1
Three compact, high-quality lenses compatible with most smartphones
Compatible with: Most Apple, Google and Samsung smartphones | Number of lenses: Three | Lens types: Fisheye (180°), super-wide and 15x macro zoom
Made by market leader
Fits most smartphones
Pricey
Clip obscures display
Olloclip is one of the market leaders when it comes to smartphone camera lenses, and as a result Multi-Device 3-in-1 is pricier than most other options on this list.
But try not to let that put you off, as these are high-quality lenses and mounts which could be worth in the investment if you use them a lot.
This particular set is designed to fit to almost any smartphone by clipping to it. Of course, this means the clip obscuring part of the display, but this shouldn't be too much of an issue for most users. Clips are available for a huge variety of phones, including recent models like the iPhone XS and XR.
The set comes with 15x macro, fisheye, and super-wide lenses, giving you a broad range of options for extending your phone camera's capabilities.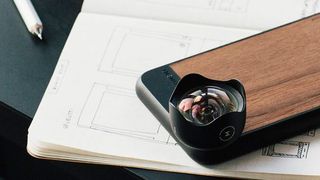 2. Moment Wide Lens for iPhone, Pixel and Samsung Galaxy
A high quality lens that requires a compatible phone case
Compatible with: iPhone 7, 7 Plus, 8, 8 Plus, X, XR, XS; Samsung Galaxy S8, S9, S9+; Google Pixel 1, 2, 3 | Number of lenses: One (fisheye available separately) | Lens type: 0.63x wide angle
High-quality lens
Fits to dedicated case
Expensive
Requires case sold separately
Moment produces a small range of high-quality, award-winning lenses for smartphones. Unlike most other options, these do not clip to the phone; instead, they attach to a case which is designed specifically for a range of smartphones from Apple, Google and Samsung.
As such, this means they fit securely but require you to purchase a new case to fit the lens to your phone. Moment lenses cannot be bought on the high street in the UK, but can be shipped over from the US via Amazon, which charges an extra $29 for the privilege, putting the total for this lens up to almost $150, plus the $35 case and any import taxes you may have to pay.
3. Aukey Ora Smartphone Camera Lens
2-in-1 lens set for iPhone 6, 7 and 8, Samsung Galaxy and others
Compatible with: iPhone 5, 6, 7, 8; Samsung S6, S7, S8; Google Pixel 1, 2, 3; iPad | Number of lenses: Two | Lens types: 120-degree wide angle and 15x macro
Aluminium construction
Simple clip-on design
Incompatible with dual rear cameras
Mostly for older phones
A highly regarded phone camera lens which has reviewed well and is sensibly priced, this offering by Aukey looks the business and attaches uses a spring-loaded clip. A 120-degree wide angle lens is included along with a 15x macro lens.
The only real downside here is that, due to a snug fit, the lens isn't suitable for smartphones which have two rear cameras, like the iPhone X and Samsung Galaxy S9.
That may be okay for some reader – we know consumers are now holding onto their smartphones for longer than ever – but it could be an issue for those who demand the newest handset every year.
The clip is made from soft rubber so it shouldn't leave any marks or scratches on the screen of your smartphone.
4. Nelomo Universal HD Camera Lens Kit
Compact design with three lenses and carry case
Compatible with: Most smartphones between 7mm and 10mm thick | Number of lenses: Three | Lens types: Super wide angle, 15x macro and 230° fisheye
Compact screw-fit system
Comes with a carry case
Expensive for what it is
Only fits certain phone sizes
Where most universal lens kits fit to phones with large clips, this solution from Nelomo employs a rubber-ended screw.
This means the lens mount can clamp to phones measuring between 7mm and 10mm thick, which caters for most recent handsets including the iPhone 8 and X, the Samsung Galaxy S9, and the Google Pixel 3.
The kit comes with three lenses, including a wide 230-degree fisheye, a 'super wide angle' lens, and a macro lens which offers the equivalent of a 15X zoom. There's also a microfibre cleaning cloth and bag, plus a protective carry case and hook for clipping it to your backpack.
The only drawback here is how the lens mount might not clamp around your phone if it's already wearing a thick case, given the 10mm thickness limit.
5. Olloclip Multi-Device Filmer's Kit
A one-stop-shop including five lenses and video grip
Compatible with: iPhone 7, 8, X+ | Number of lenses: Five | Lens types: Fisheye (180-degree), super-wide, ultra-wide, macro and 2x telephoto
An all-encompassing kit
Includes carry case and grip
Expensive
A bit much for casual users
Perhaps the ultimate kit for any smartphone photographer, this bundle includes macro, 2x telephoto, fisheye, super-wide and 'ultra-wide' lenses, which cover most circumstances.
The protective carry case also includes Olloclip's universal clip system for fitting lenses to almost any recent smartphone, and a grip mount for securing holding your smartphone while shooting landscape video.
This kit can also be purchased with dedicated lens mounts designed for the iPhone X, XS, XS Max, XR, and the iPhone 7, 7 Plus, 8 and 8 Plus.
It's not cheap, but if you're looking for the complete package this could well be it.
6. CamKix Universal 3-in-1 Lens kit
Remarkably cheap for a universal three-lens system
Compatible with: Most smartphones and tablets | Number of lenses: Three | Lens types: Fisheye, macro and wide-angle
Macro and wide screw together
Cheap
Doesn't feel too premium
This three-lens kit represents excellent value for money, as under £10. For that you get a fisheye lens, macro lens and wide-angle lens.
Conveniently, the lenses screw over the top of each other, making it quick and easy to switch between one and the other.
You'll want to make sure you keep these lenses clean and scratch-free though, as when using the wind lens you'll actually be shooting through both that and the macro lens underneath.
The kit comes with a carry pouch and the clip mechanism means the lens mount should fit most smartphones and tablets.
You could even fit it to the webcam above the screen of your laptop if you're ever feeling creative during a Skype chat.
7. Olloclip iPhone XR Macro Lens Kit
High-quality macro lens set for the latest iPhone
Compatible with: iPhone XR | Number of lenses: Three | Lens type: Macro 7x, 14x and 21x
Tailored to iPhone XR
Works with both cameras
Expensive
Macro requires steady hand
Another option from Olloclip, this lens kit is designed specifically for the new iPhone XR. However, it is worth point out that Olloclip also sells lenses for the iPhone XS, X, 8, 7 and SE, plus a universal range which fits to most smartphones.
This iPhone XR kit comes with comes with three macro lenses offering magnification of 7x, 14x and 21x - the latter being more like a microscope than anything you will have seen from a smartphone before.
The lenses come with a clip specifically made for the iPhone XR, into which other Olloclip lenses can be attached. That way, when you upgrade your phone you just need to buy the clip for that phone then continue using the lenses you already own.
8. Bamoer 22x Telephoto Lens and Tripod
Four-in-one universal lens kit with a huge telephoto zoom
Compatible with: Most smartphones | Number of lenses: Four | Lens type: 22x telephoto, wide angle, macro and fisheye
Massive zoom
Useful protective case
Large zoom of limited use
Tripod necessary for zoom
Going a step further than the previous kit, this Bamoer kit boasts a telephoto lens with a 22x zoom, plus a miniature tripod for keeping your phone steady, a Bluetooth shutter controller, and three extra lenses.
These three include wide-angle, macro and a fisheye, with the first two screwing into each other for each storage. There are also lens caps for protecting the glass, a cleaning cloth, two soft storage pouches and a hard case to keep everything safe.
While it may be tempting to always go for the telephoto lens with the largest magnification, you should also bear in mind how you'll go about taking such zoomed-in photos.
Your hands will likely shake too much, so the included tripod is crucial, and you may even want to invest in a more substantial alternative - which is possible, given the telephoto lens' universal screw mount.
9. Apexel 8 in 1 lens and accessory kit with 18x telephoto
A wide-ranging and affordable kit for all your photo needs
Compatible with: Most smartphones | Number of lenses: Six | Lens types: 18x telephoto, wide-angle, 15x macro, 198° fisheye, kaleidoscope and line star filter
Good selection of items
Well priced
Tripod could be sturdier
Remote not that useful
This eight-piece lens and filter kit from Apexel offers a great range of photographic accessories for very little money.
There's an 18x telephoto lens with manual focusing and a tripod to keep it stable, plus the usual collection of a 15x macro lens, wide angle lens, and a 198-degree fisheye.
As well as these, the kit comes with a star filter for creating lens flare when pointed at bright objects like lightbulbs, and a kaleidoscope lens for adding a new spin to your photos.
A Bluetooth shutter remote is also included, along with a cleaning cloth and the same click-style attachment as used by other kits, meaning the lenses will attach to most smartphones and tablets.
Read more:
• The best camera phone in 2019
• The best 5G phone for photographers in 2019
• The best add-on lenses for iPhone and Android
• The best gimbals for your iPhone, GoPro and camera