Sometimes this role isn't easy, how do you objectively compare a highly specialized camera aimed at the upper echelons of photography connoisseurs to the all bells-and-whistles best mirrorless cameras? Cameras like the Sony A7R V or Canon EOS R3 are technical marvels, the Leica M11 Monochrom is a rangefinder design, manual focus only, black and white sensor camera, that doesn't shoot video, and costs nearly the same as those two aforementioned cameras combined, on paper, it should be laughed out of the room.
But this is Leica, a company renowned for its prestige design and build that attract only the most well-heeled photography enthusiasts, who don't come seeking groundbreaking technology, but the image quality and the sheer joy of photography that Leica cameras provide. Leica cameras require you to be a "proper photographer" in the traditional sense more than any other camera on the market, this is the closest you can get to a film-like experience in digital, and all the frustrations and triumphs that come with that.
The Monochrom line was introduced by Leica in 2012, and what could have proven a niche too far has been a big success for the company. The M11 Monochrom is the fourth full version in the line. This time the camera returns with the same 60-megapixel sensor seen in the Leica M11, but with the color and low pass filters removed for added image clarity and reduced color noise, and a couple of design and build tweaks that take a step forward from the Leica M10 Monochrom.
Specifications
Sensor: Monochrome BSI CMOS sensor
Image processor: Maestro III
AF: None. Manual focus only via rangefinder triangulation and focus peaking in live view
ISO range: 125 to 200,000
Max image size: DNG - 60.4MP - 9536x6336 pixels / JPG - 60.1MP - 9504x6320 pixels
Mech. shutter: 60min to 1/4000
Electronic shutter: 60s to 1/16000
Exposure metering: TTL
Metering modes: Multi-field, center-weighted, spot
Video: None
Memory: 256GB internal, UHS-II 1x SD / SDHC / SDXC
LCD: 3-inch fixed touchscreen, 1,036,800 dots
Max burst: 3GB, DNG: 15 shots, JPG: >100 shots
Size (WxHxD): 147x80x38 mm
Weight: 542g / 461g (with / without battery)
Key Features
The M11 Monochrom is equipped with a full frame monochrome multi-resolution full-format sensor, the color version of which was exclusively developed for Leica's new M generation of cameras and was previously featured in the Leica M11 camera. With its multi-resolution technology, the M11 Monochrom can create DNG format and JPEG files with resolutions of 60, 36, or 18 megapixels. Additionally, it has an impressive ISO range of 125 to 200,000, providing photographers with greater creative freedom in low-light situations.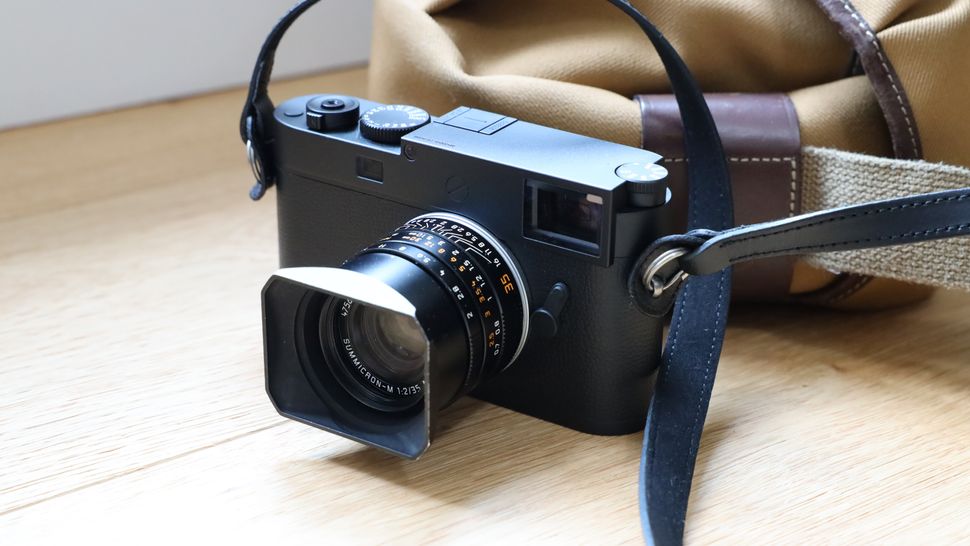 The camera has an internal 256GB memory, which can be accessed via the Leica FOTOS app through either the USB-C connection or wireless connectivity with Bluetooth. This enables photographers to maintain an optimal mobile workflow while out on the streets or on the move. Furthermore, the tethered preview feature allows users to control the camera directly from the FOTOS app, with captured photos immediately available for assessment and downloading on a smartphone or tablet. The camera's dedicated Leica FOTOS cable is a certified Apple "Made for iPhone and iPad" accessory, offering greater flexibility and compatibility when used with Apple devices.
The M11 Monochrom is built in the classic style of previous Leica M-series cameras, featuring an all-metal body and a top plate made of high-quality aluminum. This design choice results in a lighter weight than previous models. The camera has a sapphire glass display for scratch resistance and solid leather covering, while the metal is finished with a black scratch-resistant paint that produces the timeless design that is the signature of Leica rangefinder cameras. For the Monochrom version, the signature red dot logo has been omitted, and the optical viewfinder has been coated with a dark chrome plating to underscore its more discreet design.
Build & Handling
The M11 Monochrom is distinctly Leica, as the design has barely changed from the previous M10 Monochrom, although when cameras are this beautiful, that is no bad thing. The M11 design features a sturdy, metallic body that exudes precision and craftsmanship, the body is made of aluminum and magnesium, not heavier brass like the silver Leica M11, so it is much lighter to carry but still feels satisfactorily dense.
From my cynical perspective, one of the biggest draws of a Leica camera is to be seen, however, I am informed by Leica that photographers appreciate being discreet with the M11 Monochrom. For this reason, the M11 Monochrom eschews the infamous Leica red dot, with only the subtlest of Leica branding engraved on the top plate and shoe. However, any photographer worth their salt will recognize the rangefinder design as classically Leica.
Thankfully a quirk from the previous generation requiring you to remove the baseplate entirely to access the single SD card slot or battery is gone! There is a new latch that will pop the battery from the base, a gentle push will then give it the final release, and hidden below the battery is an SD card slot. Again, Leica's design shines through, the battery still blends in beautifully with the base of the camera, and the little latch level looks very sophisticated. However, you might find yourself not needing to access the SD card frequently as the M11 Monochrom comes with 256GB internal memory that can be accessed via USB-C, or you can transfer photos directly from the camera to your iOS or Android phone with the new Leica Fotos app.
The controls are a mix of touch screen and directional pad to navigate the menus, which are some of the best in the business. There are a healthy amount of settings to get stuck into if you want to fine-tune the camera and your photographs, but you don't need to get too familiar with the menus as the manual simplicity of the M11 Monochrom puts all the main controls front and center.
The camera's dials are all mechanical, allowing for manual adjustment of ISO, aperture, and shutter speed even before turning it on, evoking nostalgia for the simplicity of old film cameras. Although you can flip all these dials to auto if you just want to sit back and let the camera take care of the settings while you concentrate on focusing. The dials all turn easily but offer enough resistance that you can rest assured they will stay put as you move around. To be extra secure, the ISO dial needs to be popped up from the camera to be manually set.
The focusing is fully manual, requiring the use of the rangefinder focusing viewfinder, which may take some getting used to. It works by lining up a ghost image with the true image in a little box in the viewfinder, it is precise and enjoyable, but it is not a particularly quick process. You can focus on the fly using Leica's M-mount prime lenses, with detailed focus scales and depth of field index markers, although this does require some practice and knowledge to get perfect, but does make you feel like a pro when you nail the shot.
Alternatively, the rear LCD in LiveView mode can be used to adjust focus, but I found this more cumbersome and imprecise than using the viewfinder. The focus peaking in LiveView was too unreliable, often highlighting areas that were clearly out of focus, or just highlighting too much of the scene, it is not something I would rely on for consistent and critical results.
Performance
The headline feature of the latest Monochrom is the 60-megapixel sensor, which in practice provided exceptional image quality when everything went well. Designed specifically for black and white photography, the M11 Monochrom doesn't require the use of color filters or demosaicing algorithms to produce its images. This direct correspondence between each photosite and the resulting pixel should result in an increase in effective resolution compared to color sensors. Additionally, the camera does not feature an anti-aliasing filter, which should enhance the sharpness of images straight out of the camera.
Photos are incredibly sharp and detailed, but with increased clarity, it is much easier to spot imperfections in your images, and when shooting on a manual focus camera, this becomes more crucial. Very slight misses in focus might have gone unnoticed in lesser resolutions, but when blown up one hundred percent in editing, these mistakes become startlingly clear. For the use case of this camera, mostly reportage street photography, 60 megapixels might well be overkill, although it does give more room to crop images tighter.
Handily the sensor can also be switched into 30 megapixels or 18 megapixels, which Leica claims offers an increased stop of dynamic range. I tried this out, and the results were not immediately obvious in real-world tests, but for street scenes with lots of light and shadow, any increase in dynamic range is a very welcome addition when it comes to editing.
I can't say for certain that the Leica M11 Monochrom produces images that are better than any other color camera converted to (or shot in) black and white. When compared to a Canon mirrorless camera, images converted through Adobe Lightroom to black and white were fairly indistinguishable next to the M11 Monochrom on screen. Alternatively, Fujifilm's black and white Acros film simulation provided more 'ready to share' JPEG images, as I found myself wanting to perform minor tweaks on the majority of the Leica JPEGs.
Editing images from the M11 Monochrom can also be less precise, as it does not have access to the RGB data from a color sensor, so individual colors like blue skies or skin tones cannot be edited independently from other colors. This is easily fixed by selecting areas of the image using editing software tools but adds an additional and otherwise unnecessary step over color sensor cameras.
However, for those in the know, there is a 'look' to Leica images from its astoundingly good range of M lenses. And this is what it comes back to, Leica cameras are just exceptionally good to shoot with. I found myself enjoying shooting much more with the M11 Monochrom than with other cameras. As a keen film photographer who cannot keep up with the expense of film, shooting with the M11 gave me the film photography experience I crave with none of the anxiety about wasted frames.
I had become unaware of how much I relied on the automatic functions of my digital cameras, and using the M11 Monochrom was a huge breath of fresh air. Can I use it for all my critical photo work, absolutely not, but for its intended purpose it is a fantastic photography experience and produces excellent results.
Sample Images
Below is a series of representative images shot on the Leica M11 Monochrom throughout the cities of London and Bath in the UK. All the images in this review were shot as in camera JPEGs and only edited for basic corrections.
Lab results
The M11 Monochrom is a niche variant of an already boutique camera, and as such has no obvious direct rivals. Its M11 sibling is its closest comparable camera, but if you're spending this much cash, why not go medium format and try the excellent GFX 100S or Hasselblad X2D 100C?
We test resolution using Imatest charts and software, and dynamic range and signal-to-noise ratio with DxO Analyzer.
Resolution (line widths/picture height):
The M11 and M11 Mono both share 60.3MP sensor resolutions, therefore they resolve comparable amounts of fine detail. The Monochrom's slightly better noise handling at higher sensitivities means fine detail is preserved a little better at high ISOs, but the difference is negligible. Unsurprisingly the 100+MP sensors in the Fujifilm and Hasselblad cameras are unbeatable here - the GFX 100S is the current record-holder in this test.
Dynamic range (EV):
Dynamic range is one of the performance metrics where the Monochrom is supposed to excel, however we didn't find that to be the case. We test images straight from the camera with no additional dynamic range processing. It's possible that the Monochom's black and white images respond better to highlight and shadow recovery in post production than an equivalent color image, but by default it seems image contrast has been prioritised.
Signal to noise ratio (decibels):
This test compares the amount of random noise generated by the camera at different ISO settings as a proportion of the actual image information (the 'signal'). Higher values are better and we expect to see the signal to ratio fall as the ISO is increased.
When it comes to image noise, the Monochrom's lack of color data does have a beneficial impact on image quality. The caveat being that the difference is very slight. Thought the M11 Mono's images are technically the cleanest of the bunch, shots from the GFX 100S are pretty much identically clear.
Verdict
The Leica M11 Monochrom is a problematic camera to recommend, it is an exclusive camera that caters to a very specific audience. It features a black and white sensor, is manual focus only, lacks the ability to shoot video, and has a hefty price tag of over $9000. However, these precise limitations are what makes this camera so unique and desirable, as it requires a thoughtful approach to each shot and evokes the nostalgic feel of film photography. In fact, using this camera has been one of the most enjoyable photography experiences I have had in a while.
Leica designed this camera specifically for a very targeted audience, and for those photographers, it is probably the best version of this camera ever made. Leica M cameras demand skill, attention, and precision, but once mastered, they offer a unique way of seeing and capturing the world. Despite being expensive, this camera's design and functionality make it a worthwhile investment for those who appreciate the Leica experience.
You might also like...
The Leica M11 Monochrom is such a unique camera that is nearly impossible to find anything to directly recommend as an alternative, with the closest suggestion being the standard Leica M11. The Leica M11 has the exact same photographic experience and same technology as the M11 Monochrom, but with the choice to shoot in color if you wish, which can always be converted to black and white in processing.
If you like a rangefinder design, then the Fujifilm GFX 50R is a great choice, with a big medium format color sensor, however, Fujifilm offers excellent film simulations, with Fujifilm Acros being a very pleasing black and white option.
Read More: Find out more about Leica with our guides to the best Leica camera and the best Leica M lenses.