The best webcam doesn't cost that much, but it will make you look much more organised and professional on video calls. Whether you're using Zoom, Microsoft Teams or Skype, you'll present a higher quality picture to others, and sound clearer, too. So from the point of view of your career, the best webcam is a great investment indeed.
For the highest image quality, you'll need one of the best 4K webcams. But if you can't stretch to one of those, any of the webcams on our list will almost certainly have better resolution than the one built into your laptop. Perhaps more importantly, an external webcam also gives you more opportunity to position your camera to show you and your home office in the best light, if you're being interviewed, giving a presentation, or hosting an online talk.
Maybe your laptop doesn't have a webcam at all, or you're using your phone or tablet for work calls. In which case, one of the best budget webcams might be all you need to raise your game. If you're focused on meeting room use, take a look at our guide to the best conference room webcams. Or if you're a Mac user, see our roundup of the best Mac webcams.
If you're not sure what you need, first read our section on what to consider when buying a webcam. Otherwise, keep scrolling to discover the best webcams for home working right now.
The best webcams in 2023
Why you can trust Digital Camera World Our expert reviewers spend hours testing and comparing products and services so you can choose the best for you. Find out how we test.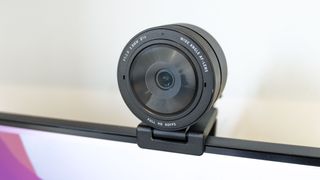 The Razer Kiyo Pro is our pick as the best webcam for home working overall. It offers Full HD at 60 frames per second, which means the video quality this webcam will provide is much better than an internal laptop cam. If you're willing to turn down the frame rate to a still-high 30fps, you can also get HDR. The field-of-view ranges from 80 to 103 degrees, and autofocus is on the menu too.
All in all, this is a premium camera that will help home workers look their best in meetings, conferences, interviews and more. However, it's pretty expensive, and so if you're low on funds, you may prefer one of the more affordable webcams on our list below. Alternatively, if you need 4K then our top pick is at number 4 on our list. For more details, read our full Razer Kiyo Pro review.
See also: Best Mac webcams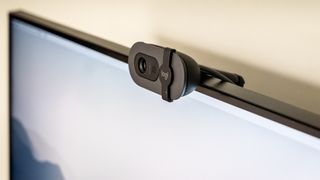 Short of money? The Logitech Brio 100 isn't as highly specced as the first webcam on our list. But it is a lot cheaper, and will still improve markedly on your laptop's internal webcam.
Its Full HD video footage is sharp and accurate, with good exposure and color balance, and the universal monitor mount is nicely versatile. Audio quality is acceptable, and while we would have like to see a detachable USB cable, for this price you'll be getting everything most people need out of a webcam. For more details, see our full Logitech Brio 100 review.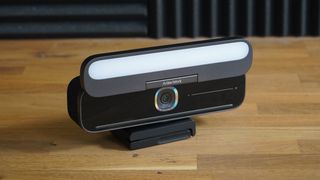 If your home office is on the dark and gloomy side, the AnkerWork B600 is a premium 2K webcam that's very much worth a look. Because rather than maxing-out pixel resolution, it's built around a light that large enough and soft enough to make video practical even in the dark.
The AI noise cancellation is also excellent and the software advanced overall. AI subject tracking and switching between three fields of view are handily accessible. For more details, see our full AnkerWork B600 review.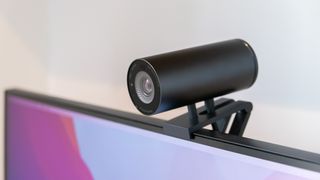 If you want the ultimate in picture quality, you'll want a 4K webcam, and here's the one we recommend right now for home working. Boasting a large, 1/2.8-inch Sony Starvis CMOS sensor with an 8.2-megapixel resolution, F2.7 aperture and HDR, this webcam offers superb video quality. Bear in mind, though, that you'll need a fast and stable internet connection to make the most of it on video calls. For more details, see our full Dell UltraSharp Webcam review.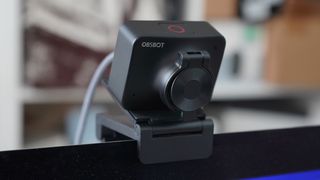 If you want 4K resolution, here's another great webcam for home working. Aside from the super-high picture quality, it also comes with clever AI that allows it to track a subject without the camera needing to move.
Looking like a tiny GoPro, it boasts USB-C connectivity and is compatible with both Windows and Mac, with a companion app allowing to operate its more advanced features, such as a Video Preview window from which you can record to-camera pieces. For more details, read our Obsbot Meet 4K webcam review.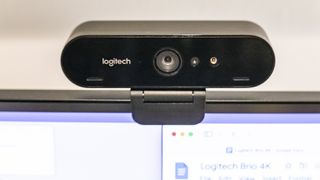 The Logitech Brio Ultra HD Pro can record in Ultra HD 4K resolution, and stream in 1080p Full HD at 60 frames per second. The lens has different angles of view (65, 78 and 90 degrees), ensuring everything stays in frame and can be tweaked to suit your office layout. And with 5x digital zoom, you can crop a 4K image to 1080p with minimal image quality degradation.
There's also a 90fps option at 720p resolution if you want the ultimate super-smooth video, and the camera can record HDR (High Dynamic Range) video for improved contrast. Two omni-directional microphones and a PC monitor clip complete this brilliant webcam package.
All that might be overkill for many users, but if you're looking for high quality picture and audio quality, this is what you need. For more info, read our full Logitech Brio Ultra HD Pro review.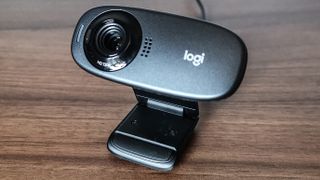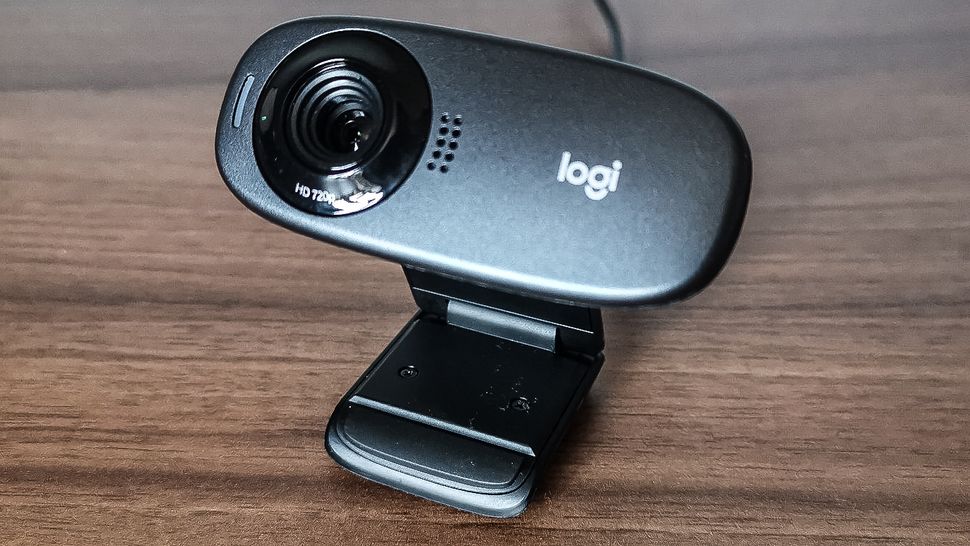 The Logitech HD C310 is even cheaper than our number 2 budget pick. What you're sacrificing here is Full HD, but it's 720p resolution still looks nicer than most in-built webcams.
It's a beautifully simple webcam to set up, even if you've never used an external webcam before. The microphone is good , too, with built-in proprietary noise-reducing technology for cleaner audio and an overall better experience for anyone fortunate enough to be on the other end of your broadcast.
Seamlessly integrating with any mainstream video-conferencing software, this is a cost-effective choice for anyone looking for the best webcam at a low price. For more details, read our full Logitech C310 webcam review.
See also Best Logitech webcams.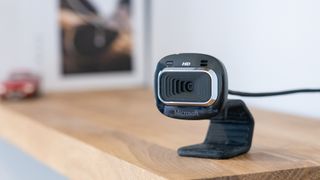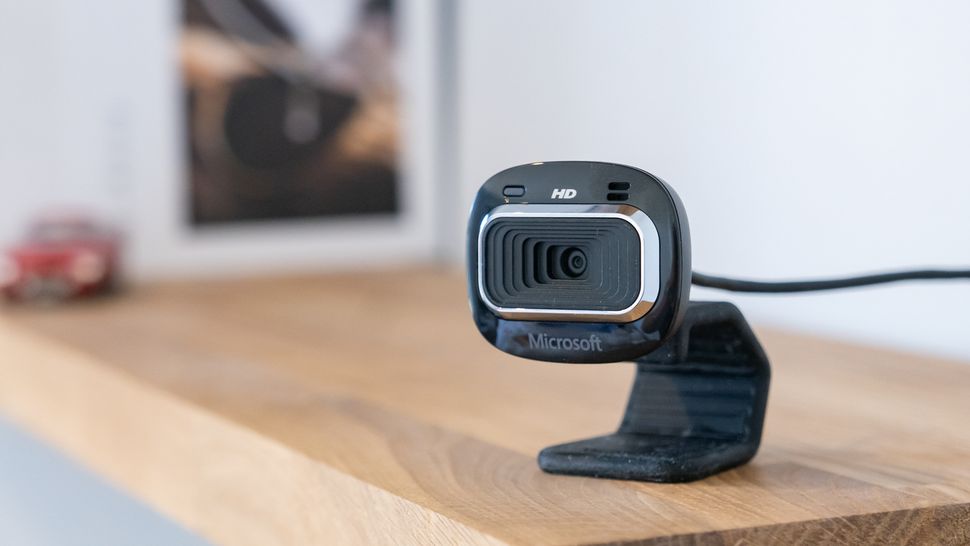 If you're watching the pennies, then the Microsoft LifeCam HD-3000 offers a significantly cheaper alternative to the LifeCam Cinema, featured above. In fact, at the time of writing, it's the cheapest webcam we can recommend today (as long as you have a Windows computer to use it with).
Like the former, you still get 720p resolution, a noise-reducing microphone, and TrueColor technology. The main things you're compromising on are the lack of autofocus, a narrower viewing angle, a less powerful (4MP) sensor, and a more limited digital zoom (4x). But given the current price differential, you may well find that acceptable.
For more details, see our Microsoft LifeCam HD-3000 review.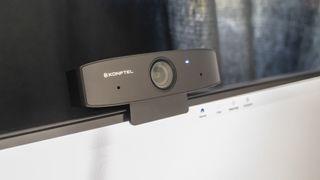 Konftel makes some of the best conference room webcams, but the Cam10 is designed for more personal use; offering a well-built, if high price webcam for the home worker. You'll get a 1080p (Full HD) picture at 30fps, as well as a built-in privacy cover, and a connector to allow you to mount this on a tripod. But probably the best feature is the 4x digital zoom. That way, you can go in close when you want people to see the whites of your eyes (or not to see what is going on behind you). For more info, read our full Konftel Cam10 review.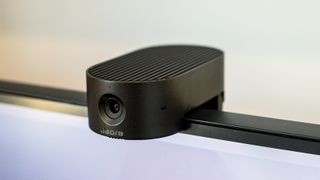 No-one actually needs to spend $300 on a webcam. But as video calls and meetings continue to be a part of our lives in a way they weren't pre-Covid, we're pleased to see Jabra up the ante. Throughout the pandemic we all managed with the grainy quality and lackluster audio of our laptop's own webcam, or the $25 camera we bought when no other was available. So does it make sense to splash out on an expensive, premium, high-quality webcam?
We really like the hardware, from the metal body to the integrated lens cover, while the video and audio quality are both excellent. A smart stand, USB-C connectivity and included hard-sided case all go some way to justify the price. Ultimately, this is a top-tier webcam, aimed at those who demand the very best and will pay a hefty premium for it. For more info, read our full Jabra Panacast 20 webcam review.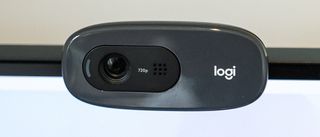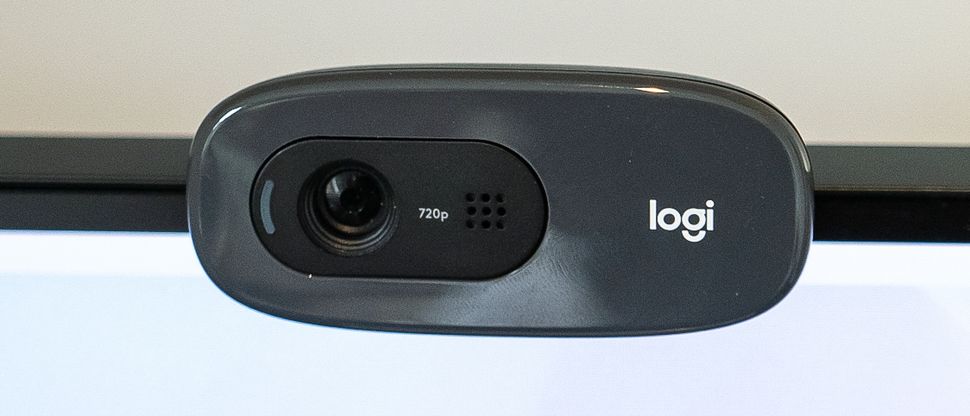 At the time of writing, the C270 is the cheapest Logitech webcam on our list, despite being very similar to the C310 (number 4 on our list). That said, you do get a less powerful sensor (3MP to the C310's 5MP) and the field of view is slightly narrower (55 degrees, to the C310's 60 degrees). Also, note that the C310 is a bit bulkier.
On the whole, though, both webcams offer 780p resolution at 30fps, both are around the same weight, and both are compatible with Windows, Mac, and ChromeOS. So if every penny counts to you, the C270 is definitely worth considering.
For more details, see our Logitech C270 HD review.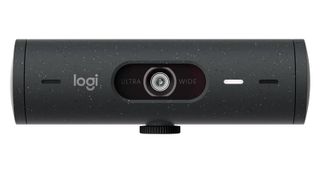 If you're looking for a little more professionalism from your webcam, the Logitech Brio 505 has a number of advanced features, including a USB-C connection, a privacy shutter and a magnetic attachment for your computer monitor. Although the resolution goes up to "only" 1080p, there are lots of ways to customise the picture that may be more useful to you than mere extra pixels.
For example, Show Mode inverts the camera when tilted downwards, allowing others on the call to read notes, sketches or diagrams on your desk. With up to a 90-degree field of view, you can fit in a few colleagues into the picture, and you can change the viewing angle on the fly too. Audio is superior, too, with clever software highlighting nearby voices and filters out background noise. For more details, see our Logitech Brio 505 webcam review.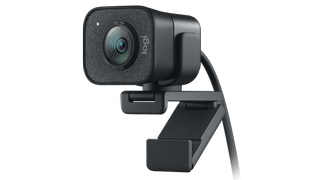 If you're interested streaming via YouTube, Twitch, Instagram or FaceBook Live, Logitech's StreamCam is for you. This webcam is capable of live streaming 1080p Full HD footage at a super-smooth 60fps, while automatic face tracking keeps autofocus reliably locked on to you and nothing else.
The same AI trickery keeps exposure metering in check, ensuring you're always lit to look at your best. The camera's docking holder also lets you easily rotate the camera into portrait orientation to perfectly suit the 9:16 aspect ratio for Instagram Stories. And the StreamCam doesn't let audio take a back seat, either, with dual front-facing microphones that ensure you sound crystal clear. For more info, read our full Logitech StreamCam webcam review.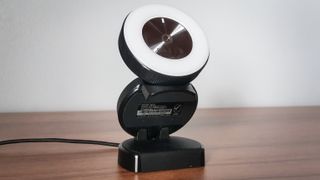 The Razer Kiyo had one USP that put it up above the competition: a built-in ringlight that has turned it into one of the most popular models around. The concept has now been widely copied, but this type of light favored by YouTubers and TikTokers, a ringlight provides an even and balanced illumination that's made to be flattering to the face. The intensity of the twelve LEDs, set in a circle, is adjustable, and the color temperature is daylight-balanced, so you can be sure it will match the environment.
Of course, none of this would mean much if the camera itself wasn't any good. Fortunately, the Razer Kiyo is an impressive webcam, able to capture video at an impressive Full HD 1080p resolution with30 fames per second. Lower the resolution to HD 720p, and you've got the option of a silky-smooth 60 frames per second. Across the board, this is an impressive camera for home workers, and well worth the asking price. See our full Razer Kiyo review.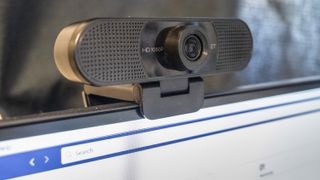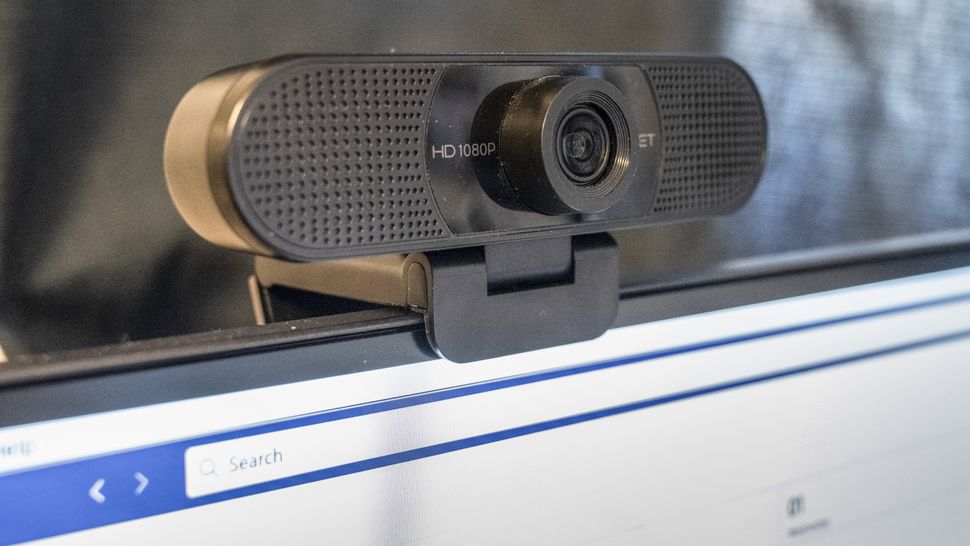 Want HD quality for a low price? This budget webcam meets both those criteria, and also provides you with a wide angle view. The 90° wide-angle lens has a fixed focus that keeps everything up to 5m in sharp relief, with your video being transmitted at 1080p HD at 30 frames per second.
This plug-and-play device is as comfortable with Macbooks as with Windows laptops, and features two in-built microphones. The hinge-type attachment is reasonably sturdy, but if you want a more interesting camera angle the eMeet has a handy tripod attachment. For more info, read our full eMeet C960 webcam review.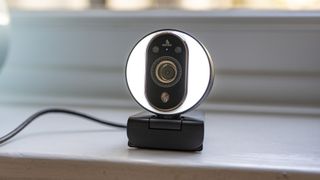 The neat trick of the Nexigo webcam is that it has a built-in ringlight; one that helps to illuminate your face as you talk over Zoom or Teams. The LED illumination is relatively subtle, and in many cases your will already be well illuminated by the room lighting or your laptop screen. But in some situations it will definitely give overall image quality a boost.
You do get the option of three different lighting intensities, and the abiliity to turn it off if you want to stay in the dark. This is standard 1080P model with a built-in microphone and a 30fps frame rate. In our full Nexigo N680E review we remarked that webcam produces crisp and sharp results, while also autofocusing quickly and generally accurately.
What to consider when buying a webcam
Below we've listed out some of the key factors to think about when selecting the best webcam:
• Resolution. While a resolution of 720p is basic high definition, if your laptop is a cheaper or older model you may well be surprised at the jump in quality. In any case, 720p is Standard HD, while 1080p is Full HD, and beyond that you're getting into 4K territory (see Best 4K webcams). While it might seem like a no-brainer that more resolution is better, in practice, you may find that your internet connection struggles to broadcast a 4K or even Full HD image without stuttering. Ideally, a webcam with multiple resolution options is the best buy.
• Audio is probably even more important than video when it comes to conferencing. If you find you are tinny and difficult to understand when talking into your laptop, it's worth knowing that most webcams have a better microphone to help improve sound recording. Some will even offer stereo, allowing your voice to come through nice and clearly, with background noise filtered out.
• Do check compatibility with your laptop - as not all have the same connection sockets. And if you are an Apple user, do check our guide to the best Mac webcams.
• Controlling your background, as well as how your head is framed, is key to setting a good impression at home. This means that being able to angle/position the camera is really useful, as is the option to zoom in and out.
Guides to other home working and small office products:
Best monitors with webcams
The best headsets
Best wireless earbuds
The best ring lights
Best conference room webcams
The best cameras for streaming
The best all-in-one printer for home working
The best face masks ever
The best monitor for photo editing
The best photo-editing laptop
The best video-editing laptop
The best doorbell camera
Best drawing tablets for photo editing
Best tablets for photographers
Best VPN
Best website builders for photographers
The best laptop stands
The best desks for home working
The best microphone for vlogging