The Tamron 150-500mm f/5-6.7 Di III VC VXD has now been officially announced, and it's Tamron's first ultra-telephoto for Sony full frame mirrorless cameras. In fact, Tamron has been on quite a roll lately releasing a host of new E-mount lenses for Sony full-frame mirrorless cameras, including the 70-300mm F/4.5-6.3 Di III RXD, 28-200mm f2.8-5.6 Di III RXD and 70-180mm f/2.8 Di III VXD. Also announced today is the Tamron 11-20mm in this Di III lens range.
Tamron says that the new 150-500mm F5-6.7 has a compact design, even when shooting at 500mm telephoto end, that makes handheld shooting practical. Not surprisingly for a 150-500mm. it's pretty heavy at 1,725g, but it does come with a tripod collar for mounting on a tripod or monopod. It's 209.6mm long, and has a maximum diameter of 93mm.
• Read more: Tamron 28-75mm f/2.8 Di III RXD review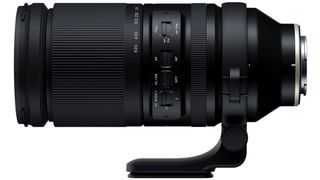 The 'VXD' in the name stands for Tamron's Voice-coil eXtreme-torque Drive, a linear motor focussing mechanism that's both fast and quiet. At the 150mm end this is also particularly important as the lens offers an MOD (Minimum Object Distance) of 0.6m for powerful and dramatic close-ups.
It also has Tamron's VC (Vibration Compensation) image stabilization system, with Standard, Panning, and Framing Priority modes.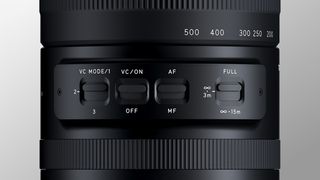 The optical construction consists of 25 elements arranged in 16 groups, and includes one one XLD (eXtra Low Dispersion) element, five LD (Low Dispersion), and two Hybrid Aspherical lens elements to control aberration, including axial chromatic aberration. The aim is for the 150-500mm F5-6.7 to be compact and usable without any compromises in image quality.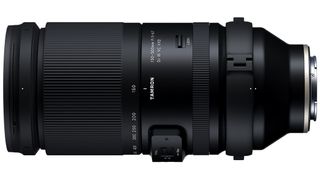 Other features include a minimum focusing distance of 0.6m and a maximum magnification ratio of 1:3.1, depending on the zoom setting, so this is a lens designed for close-range nature shots, not just distant wildlife.
Tamron's BBAR-G2 Coating is used to minimize ghosting and flare, and the lens has a moisture-resistant construction and fluorine coating to protect against the elements.
Tamron 150-500mm F/5-6.7 Di III VC VXD specifications
Model number: A057
Full frame: Yes
Autofocus: Yes
Image stabilization: Yes
Focal Length: 150-500mm
Optical Construction: 25 elements in 16 groups
Aperture Blades: 7 (circular diaphragm)
Max. Aperture: F5-6.7
Min. Aperture: F22-32
Angle of View (diagonal): 16°25'- 4°57' (for full-frame mirrorless format)
MOD: 0.6m (23.6 in) (WIDE) / 1.8m (70.9 in) (TELE)
Max. Mag. Ratio: 1:3.1(WIDE) / 1:3.7(TELE)
Filter Size: 82mm
Max. Diameter: 93mm
Length: 209.6mm
Weight: 1,725g, tripod mount 155g
Tamron 150-500mm F/5-6.7 Di III VC VXD price
Interestingly, the Tamron 150-500mm F/5-6.7 Di III VC VXD is significantly smaller than Sony's existing FE 200-600mm F5.6-6.3 G OSS lens. In fact, it is very nearly as compact as the Sony FE 100-400mm G Master super-telephoto zoom lens, while offering appreciable more zoom reach.
Even more importantly, the Tamron 150-500mm F/5-6.7 Di III VC VXD significantly undercuts the Sony lenses at an expected price of $1,399/£1,380, and expected to go on sale in June 2021.
Read more: