Photographic manufacturers have been turning out budget-friendly 70-300mm zooms for decades, stretching back to the 35mm film era. They've been equally popular in the digital age, both for full-frame cameras and for APS-C format bodies, on which they give a mighty zoom range of 105-450mm (112-480mm for Canon). They're typically fairly basic lenses, with an eye on cost-effectiveness rather than lavish thrills or sophisticated handling extras. Compared with Sony's own-brand FE 70-300mm f/4.5-5.6 G OSS lens, which boasts optical stabilization, an autofocus limiter switch and a customisable function button, the Tamron certainly looks very basic fare but, then again, it only costs about half as much to buy.
• Read more: Tamron 28-75mm f/2.8 Di III RXD review
Specs
Mount: Sony E, Nikon Z
Autofocus: Yes
Lens construction: 15 elements in 10 groups
Angle of view: 8.3-34.3 degrees
Diaphragm blades: 7
Minimum aperture: f/22-32
Minimum focusing distance: 0.8m (W) 1.5m (T)
Maximum magnification ratio: 0.11x (W) 0.2x (T)
Filter size: 67mm
Dimensions: 77x148mm
Weight: 545g
Key features
Tamron has been heavily majoring on creating E-mount lenses for Sony mirrorless cameras recently, and most of them have been rather fabulous, from the 20mm, 24mm and 35mm f/2.8 primes to the 17-28mm, 28-75mm and 70-180mm f/2.8 zooms. All of these lenses, plus the Tamron 28-200mm superzoom, feature RXD (Rapid eXtra-silent stepping drive) autofocus, and this 70-300mm follow suit. That's no bad thing as it's a reliable, accurate, fast and virtually silent system, and is also compatible with the Fast Hybrid AF and Eye AF modes of Sony's more recent E-mount cameras, as well as enabling Direct Manual Focus.
A feature that's universally lacking in all of these lenses is optical image stabilization. You could argue that, because all but the first generation of Sony A7 series cameras have IBIS (In Body Image Stabilization), Tamron's proprietary in-lens VC (Vibration Compensation) isn't really needed. However, IBIS can struggle at longer focal lengths and many manufacturers add optical stabilization to their telephoto lenses, that can then work in conjunction with IBIS systems to great effect.
The optical path includes 15 elements in 10 groups, with an LD (Low Dispersion) element at the front. Tamron's acclaimed BBAR coating is employed to minimize ghosting and flare. As with all the other lenses in Tamron's E-mount stable, the 70-300mm has a 67mm filter thread, enabling you to use the same screw-in filters across the range.
Build and handling
Weighing in at 545g, the lens feels remarkably lightweight for a telephoto zoom. Indeed, Tamron points out that it's the world's smallest and lightest full-frame compatible 70-300mm lens. Even so, build quality feels pretty robust and includes weather-seals.
The lightweight construction is a bonus from a handling point of view, especially for long periods of handheld shooting and simply for carrying the lens around. The electronically coupled manual focus ring and mechanical zoom ring both operate with smooth efficiency and, as usual for this class of lens, the inner barrel extends at longer zoom settings. With fully internal focusing, however, the front element and filter ring don't rotate, which is another handling advantage. That's really all we can say about handling, as there are no other switches or control rings to play with apart from the zoom and focus rings.
Performance
The fast and virtually silent RXD autofocus system lives up to its billing and proved consistently accurate in our tests. Image quality is more of a mixed bag. Centre-sharpness is outstanding in the short half of the zoom range and still very good in the 200-300mm sector. Further out from the centre, sharpness is a little lacklustre at wide apertures, and is relatively disappointing towards the edges and corners of the frame.
Colour fringing is very negligible at the short end of the zoom range but creeps up in the 200-300mm sector. Pincushion distortion can also be quite noticeable in the 100-300mm section of the zoom range but, on the plus side, in-camera corrections are available for both of these aberrations.
Sample images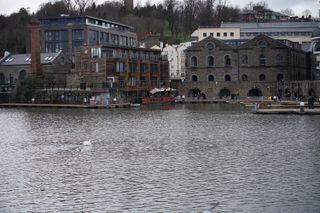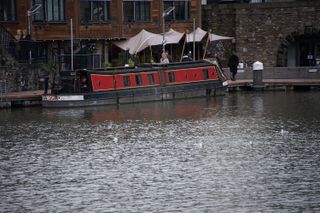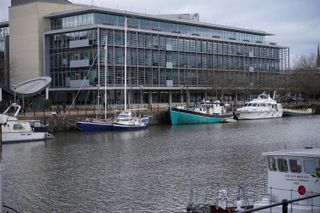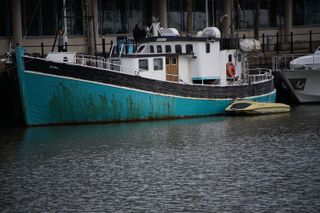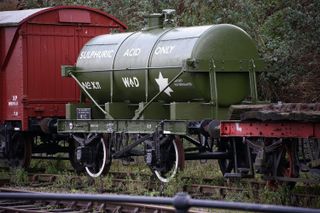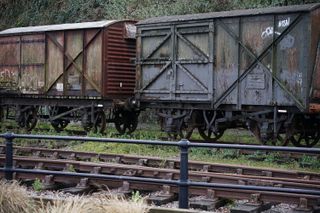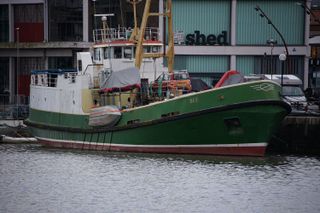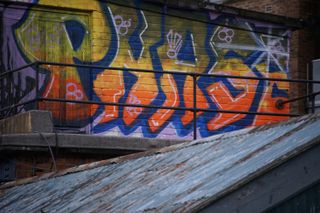 Lab tests
We run a range of lab tests under controlled conditions, using the Imatest Master testing suite. Photos of test charts are taken across the range of apertures and zooms (where available), then analyzed for sharpness, distortion and chromatic aberrations.
We use Imatest SFR (spatial frequency response) charts and analysis software to plot lens resolution at the centre of the image frame, corners and mid-point distances, across the range of aperture settings and, with zoom lenses, at four different focal lengths. The tests also measure distortion and color fringing (chromatic aberration).
Sharpness: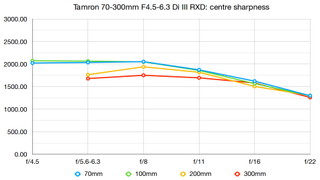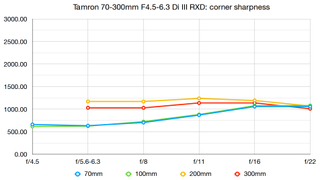 Centre-sharpness is exceptional in the 70-100mm sector of the zoom range, especially for this class of telephoto zoom. Long-range centre-sharpness is still very good but middle-sharpness is less impressive and edge-sharpness is lacklustre, especially at shorter focal lengths.
Fringing: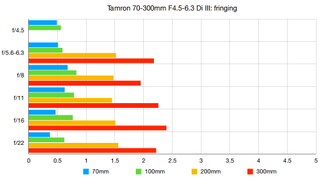 There's very little colour fringing at short to medium zoom settings, even at the extreme edges of the frame, but it creeps up at longer focal lengths between 200-300mm.
Distortion: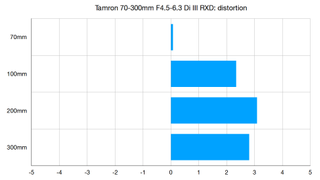 Negative scores indicate barrel distortion, positive scores indicate pincushion. A score of zero signifies no distortion.
There's practically zero distortion at 70mm but pincushion can be quite noticeable at longer focal lengths between 100-300mm. As with colour fringing, in-camera corrections are available.
Verdict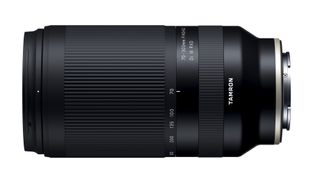 A travel-friendly lens that also makes a good lightweight walkabout zoom, the Tamron 70-300mm is remarkably lightweight as well as being very simple to use. It pairs well with all but the earliest full-frame Sony E-mount full-frame cameras, as later models feature IBIS. The lens would also be worthy of consideration for Sony's APS-C format E-mount bodies, but relatively few of these have IBIS, making consistently sharp handheld shooting difficult to achieve. Sharpness itself is mostly excellent in the centre of the frame but drops off towards the edges and corners. On balance, it's a good lens that's well worth the asking price, but it's less impressive than other recent Tamron E-mount optics.
Read more: