There are still a few weeks to go until Amazon Prime Day 2019 - but we have just spotted this great lens deal at Amazon UK.
It's the perfect time of year to get out there with a telephoto lens, and it's the perfect time to buy one of the best Nikon telephotos on the market, as the Nikon AF-P Nikkor 70-300mm f/4.5-5.6E ED VR Lens is down to just £474!
This offers a huge saving on the £809.99 price tag, with a £335.99 discount knocking a whopping 41% off the recommended retail price.
Whether you're shooting sport, capturing some animal action, or perhaps you like the length for shooting portraits with great subject separation, the Nikon AF-P Nikkor 70-300mm is the perfect tool – it's so good that we named it the best 70-300mm optic in our best telephoto lenses for Nikon guide.
This full-frame F-mount lens boasts great image quality and superb optical stabilisation (Vibration Reduction), with 4.5 stops of compensation along with a Sport VR mode that's ideal for keeping track of erratic subjects.
The autofocus system is snappy and near-silent, thanks to the 'Pulse' stepping motor. The lens also employs an electromagnetically controlled diaphragm (though this tag team of formidable features means that it's not compatible with some older Nikon DSLRs).
As well as being a relatively compact and lightweight lens, at 84 x 146mm and 680g, it also packs enviable weather resistance – making it perfect for the kind of summer we've had so far!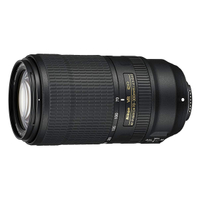 Nikon AF-P Nikkor 70-300 mm f/4.5-5.6E ED VR: £474 (was £809.99)
Save £335.99 (41%): The Nikon AF-P Nikkor 70-300 mm f/4.5-5.6E ED VR Lens is a fantastic all-round, all-weather, outdoor performer. With a stunning 4.5 stops of image stabilisation and great image quality, this is the ideal optic for shooting sports, animals and wildlife, and even taking portraits with great subject separation.
Read more: