Rokinon is the US brand name for Samyang lenses, which have a worldwide reputation for value and performance. The company makes both manual focus and autofocus prime lenses, and these are two are old-school manual focus ultra-wide lenses for everything from architecture to landscapes, travel and interiors.
The Rokinon 14mm f/2.8 IF ED UMC is an ultra-wide-angle lens available in mounts for Canon and Nikon DSLRs (make sure you order the correct mount) with a manual aperture ring and a minimum focus distance of just 10.8 inches. It's a great way to get into ultra-wide photography at a fraction of the cost of a full frame wide-angle zoom.
The Rokinon 12mm F2.0 NCS CS is an APS-C ultra-wide lens which comes in three versions for Fujifilm X-mount cameras, Sony E and Canon EF-M. It gives an effective focal length of 18mm and the f/2.0 maximum aperture is exceptionally fast for a lens this wide.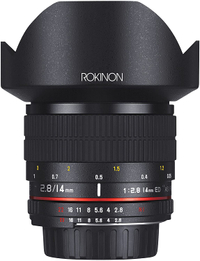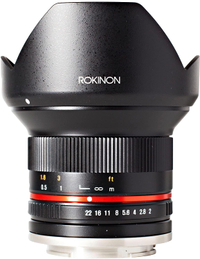 Read more:
• Best wide-angle lenses
• Best Canon lenses
• Best Nikon lenses
• Best lenses for Sony A6000
• Best Canon EF-M lenses
• Best Fujifilm lenses