Sometimes the world doesn't fit into a 35mm frame... at least that's Fujifilm's explanation on promoting its medium format cameras. And while that might be true, large sensor cameras have typically been too expensive to be mainstream.
That is until the Fujifilm GFX50S II arrived on the scene. It's currently one of the cheapest medium format cameras available today with a body-only price equalling that of most high-res full-frame mirrorless cameras – AU$6,499.
To make the camera more enticing to anyone who's never indulged in the GFX series before, Fujifilm released the GFX50S II as a kit as well, for only a marginally higher price of AU$6,799.
While the GFX50S II might be one of the most affordable medium format cameras yet, it's not 'cheap', so a AU$1,000 discount on the 35-70mm kit is definitely worth considering if you're keen on medium format photography.
This offer is available via DigiDirect's eBay store with the use of the checkout code DDIRECT20, and the money saved could go into investing in a GFX lens (or two) as Fujifilm is offering up to AU$700 cashback on select lenses purchased from authorised retailers (available via redemption).
The GFX50S II isn't the only camera discounted on the DigiDirect eBay store – there's a whole plethora of great cameras to choose from, with 20% off all of them as long you use the aforementioned code at checkout. eBay hasn't mentioned when this sale will end, but you'd better get a wriggle on as stocks are likely not going to last long.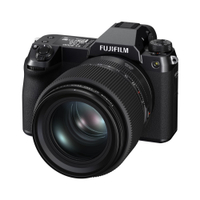 Fujifilm GFX50S II + 35-70mm kit | AU$6,799 AU$5,799 on eBay (save AU$1,000)
For a medium format camera that was announced not that long ago, this is a seriously good price, particularly since it comes with a GF lens as well. So if you've wondered what the fuss was all about, take a look at our five-star review to find out why this camera is worth every penny.
You can pile on the savings with Fujifilm's current cashback offer on select GF lenses, which are truly some of the best optics money can buy. There's up to AU$700 cashback available on GF lenses purchased between February 17 and March 31 from authorised Aussie dealers.
All claims must be made by 11:59pm AEST on April 14, 2022. For more information, head to Fujifilm Australia's promotions page.
Read more:
• Best Fujifilm cameras
• Best Fujifilm GF lenses
• Best medium format cameras
• Best professional cameras