Still no word about when the delayed Amazon Prime Day 2020 (opens in new tab) will officially take place - but for now it is all about the UK's Amazon End of Summer sale (opens in new tab). There are some great one-day deals popping up in this - and the great advantage is that you don't even need to be a Prime member. This one we have just spotted is about as good as it gets... dropping the price of the DJI Osmo Mobile 3 down to just £75 (opens in new tab) (from £99). But you do need to hurry - as this deal is only going to be around until midnight.
The Osmo Mobile 3 is one of the best gimbal stabilizers that you can buy – and although the newer DJI OM4 (opens in new tab) has now been announced, this model is still well worth considering – and particularly so at this price.
This gimbal is designed to give you smooth video footage when shooting with any camera phone – and without the need for a video tripod. This means you are free to follow your subject, or to track alongside a subject for more dynamic filming. A key feature of this model is that it folds up when not in use - making it much easier to carry around than many of its rivals. It has a running time of up to 15 hours.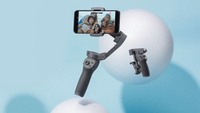 (opens in new tab)
DJI Osmo Mobile 3 save £24 now £75 (opens in new tab)
Three-axis gimbal stabilizer that ensure you can get steady video footage with your smartphone. The folding design communicates with your phone over Bluetooth, and gives you access to a range of different shooting settings.
UK deal - ends midnight 01 September 2020 (BST)
• See other Amazon End of Summer sale deals (opens in new tab)

Read more
• Best gimbals for your iPhone, GoPro, mirrorless camera or DSLR (opens in new tab)
• Best camera phones all round (opens in new tab)
• Best budget camera phones (opens in new tab)
• Best iPhone for photography (opens in new tab)
• Best 5G phone (opens in new tab)
• Best selfie sticks (opens in new tab)
• Best phone tripods and supports (opens in new tab)