Best iPhone for photography: Jump list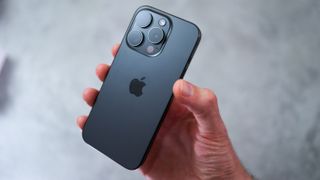 The quick list ↵
1. Best iPhone overall
2. Next best iPhone
3. Best regular iPhone Pro
4. Best standard iPhone
5. Best last-gen Pro
6. Best older iPhone
7. Best older iPhone
8. Best mini iPhone
9. Best budget iPhone
How we test
FAQs
The best iPhone for photography lets you to take high-quality photographs and videos, quickly and easily, all with a device that fits in your pocket. We'll help you to find the best iPhone for photography whether you want to spend big on the very latest iPhone 15 or are happy with an older and more affordable model.
Apple is one of the biggest and best camera phone manufacturers, and it offers many different devices in its lineup. If you've got an unlimited budget and want the best that money can buy, the best iPhone for photography overall has to be either the iPhone 15 Pro or the iPhone 15 Pro Max.
Older iPhone models still have decent cameras but tend to be cheaper. This increased affordability continues as you go back through the range – though you'll also start to compromise on camera functionality.
For instance, the iPhone 11 only has two rear-facing cameras. There's also the recently revamped iPhone SE (2022), an iPhone with an iconic design and a far lower price than flagship iPhones. Essentially, then, it's about balancing your needs and your budget. Find out more in our iPhone generations guide.
To help you find the right balance, we've listed the best iPhones for photography, and the best prices you can get them for right now.
The best iPhone for photography: The Quick List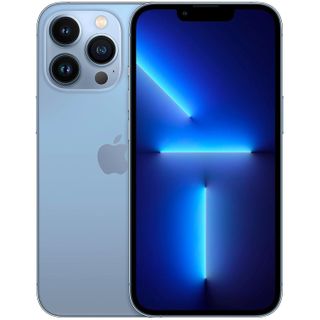 Best older Pro
This is a slightly older version of the Pro that still is great for photography, but can be picked up for a bargain price compared to the latest models. Read more below...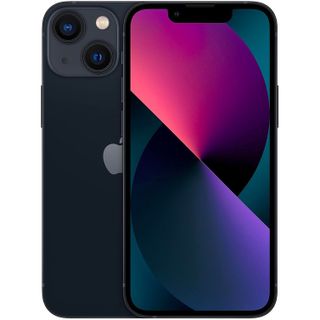 Best iPhone Mini
Apple might have discontinued its Mini series of phones, but if you are fan of smaller phones, then you can still pick up the last of Apple's little phones from a few places. Read more below...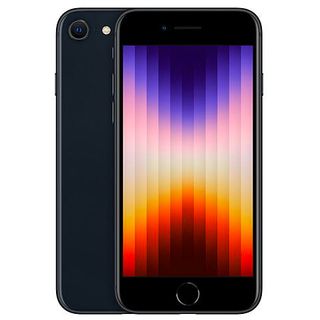 Best budget iPhone
9. Apple iPhone SE (2022)
Best budget iPhone
This is the 2022 version of the iPhone SE. This packs some of Apple's best technology including its in-house processors and latest operating system to power through photo tasks. The screen and cameras are lacking when it comes to the competition, but there is no beating it on price (for iPhones anyway).
The best iPhone for photography in 2023
Why you can trust Digital Camera World Our expert reviewers spend hours testing and comparing products and services so you can choose the best for you. Find out how we test.
The best iPhone overall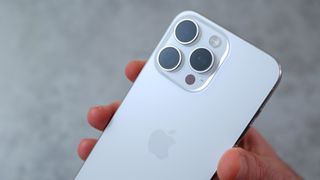 The iPhone 15 Pro Max is a serious, pocketable powerhouse. Yes, it's thick, but its relatively compact footprint and ample camera and power mix make it an enticing option, especially for photographers.
While it's a shame there's no pro mode for manual photography, the 15 Pro's 48MP RAW photos capture excellent results, while the video can be captured in ProRes Log format to give great dynamic range. The automatic mode's photo processing is also one of the best if not the best, we've seen on a phone.
Additionally, the iPhone Pro Max now offers up a new 5x telephoto camera, reaching further can ever before in higher quality, and offering even more beautiful natural blur on portraits.
The iPhone 15 range has also added a tremendous amount of functionality and convenience by finally adopting the USB-C port, making it even more compatible with monitors and camera accessories.
So while the new iPhone 15 Pro is very expensive, it's a mighty phone with a brilliant camera, that's powerful and lasts a full day. If you're an Apple fan who likes more compact phones, the iPhone 15 Pro is a no-brainer, but you will be bumped down to a still very impressive 3x optical camera. But if you like big phones and the best photography experience, the Pro Max is for you.
Read more: iPhone 15 Pro Max review
The next best iPhone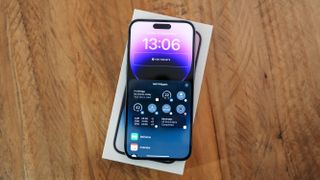 2022's iPhone 14 Pro Max checks all the boxes you'd expect from an Apple smartphone. A big, immersive screen. Fancy styling. Stacks of power. A large, 1/1.28-inch, 48MP sensor, and a front camera with autofocus. So even though it's last year's model, it still has a lot to offer.
Yes, if you really want 5x zoom and a USB-C port, you'll need the latest Pro Max. And this older model has a slightly less fast processor, in the form of the A16 Bionic chip. But otherwise, the differences between the two models are slight, so if you can find this one at a significant lower price, we'd still be tempted.
The main difference between the iPhone 14 Pro and the iPhone 14 Pro Max is the screen size. If you need the larger 6.7-inch screen for reviewing and editing images, shooting videos, or even playing games, then the Pro Max is definitely one to go for – as long as you can afford the high price point, that is.
Read more: iPhone 14 Pro Max review
The best regular sized iPhone Pro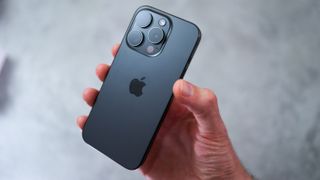 The iPhone 15 Pro is a relatively compact smartphone with a mighty camera mix. In short, it's the best iPhone you can buy for photography if you want something manageable in size. It doesn't have the size of screen of the 15 Pro Max - nor does it get the 5x zoom - but this is still a great phone for photography.
The big appeal is that this titanium model costs significantly less than the Max - and despite only have a 3x zoom, you do get lots of the new features, including the about-time-too USB-C charging port!
Read more: iPhone 15 Pro review
The best regular iPhone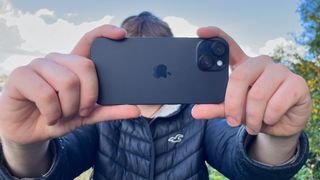 From a photography point of view, the iPhone 14 is a great piece of kit, especially if you just want to point, shoot and share great-looking shots via social media without doing much post-processing. However, the more serious photographer will miss the ability to shoot in RAW (.dng) format so that they can enjoy fine-tuning the look of their images in a digital darkroom such as Adobe Camera Raw.
The Pro and Pro Max versions of the iPhone are largely aimed at two specific types of user: those who want to create content with their phone and those who are focused on gaming. For everyone else, there's the standard iPhone.
The iPhone 15 is a little cheaper than the Pro, because it's not quite as sophisticated. That's because it doesn't always-on functionality, the Action Button or the telephoto lens. Also, the processor's slightly less fast and the battery life slightly shorter. However, unless you're doing advanced stuff, most people won't notice the difference. Plus it's lighter than the Pro, which many will see as a positive.
Read more: iPhone 15 review
The best last-gen iPhone Pro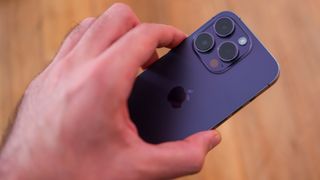 The main difference between the iPhone 14 Pro and the iPhone 14 Pro Max is the screen size. If you prefer a larger 6.7-inch screen for reviewing and editing images, shooting videos, or even playing games, then the Pro Max is definitely one to go for – as long as you can afford it. However, if you want something more compact and portable, then the 14 Pro is the one to choose.
Read more: Apple iPhone 14 Pro review
The best older-gen iPhone Pro Max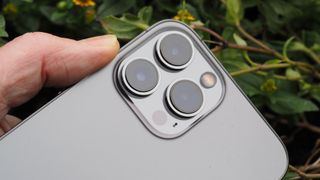 The iPhone 13 Pro Max is the biggest and best of Apple's new-generation iPhones, with the same cameras and tech as the iPhone 13 Pro, but with a bigger screen (6.7 inches versus 6.1 inches). The Pro Max also boasts a slightly longer battery life of up to 28hrs video playback versus up to 22 hours on the smaller '13 Pro.
It might be tempting, then, to pick the Pro Max over the regular Pro model just to get the best of everything. The regular Pro costs enough, so why not take that last step and get the bigger screen? Some may simply find it too big to be comfortable to use every day. So it's really a judgment call based on what you want to spend.
Overall, there's no doubt the iPhone 13 Pro Max is a truly stunning camera phone, whether you shoot stills or video. However, the regular iPhone 13 Pro boasts the same photographic performance in a more ergonomic and cheaper package, hence why it's higher up this list.
If you do choose this super-sized model, make sure you've got an iPhone 13 Pro Max case to protect it.
Read more: iPhone 13 Pro Max review
The best older-gen iPhone Pro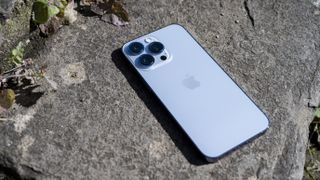 The iPhone 13 Pro is not just the latest and great iPhone, it's also the best iPhone for photographers right now. Its triple-lens setup boasts a standard, ultra-wide, and telephoto configuration, with 26mm, 13mm, and 78mm equivalent focal lengths respectively. In terms of improvements over the iPhone 12 Pro, there's a new Cinematic video mode for movie shooters, as well as a new macro mode and improvements to the camera's low-light capabilities. The telephoto module is also improved, with a 3x range rather than 2x.
While the iPhone 13 Pro Max (number 2 on our list) is technically the best phone Apple offers right now, there's no real difference in camera tech between it and the 13 Pro; the main advantage of the Max is its better battery life.
This means, for us, the iPhone 13 Pro is the best iPhone for photographers as it doesn't cost quite the astronomical price tag of the Pro Max. Note that if you've already got a 12 Pro then it's probably not enough of a jump to be worth an instant upgrade, but it is better. Head to our iPhone 12 Pro vs iPhone 13 Pro comparison article to make the right buying decision.
Read more: Apple iPhone 13 Pro review
The best little iPhone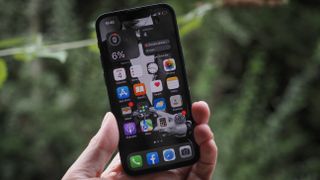 The iPhone 13 Mini does exactly what it says on the tin: gives you the same functions and firepower as the iPhone 13, in a more svelte form factor and with a smaller price tag to match.
The iPhone 13 Mini squeezes the raw power of the standard 6.1-inch iPhone 13 into a 5.4-inch handset. If a small phone is important to you, this is the one to go for. It takes superb photos, 4K 60p video, up to 240fps slow-mo (in 1080p), and its portrait functions now power the brilliant Cinematic mode for shallow depth of field in video. If you own the 12 Mini, there's not much reason to upgrade, but if you've skipped a generation, you'll fall in love with it!
Read more: Apple iPhone 13 Mini review
The best budget iPhone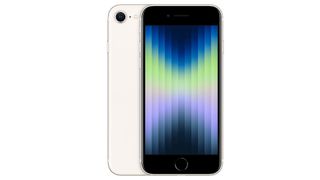 Want the photography smarts of a modern iPhone, but on a tight budget? Then we recommend the latest update to the iPhone SE. At a surprisingly affordable price, you get an impressive camera setup, with a 12MP f/1.8 aperture wide camera on the rear. The new, fast A15 Bionic chip makes everything works smoothly and beautifully, with AI-enhanced software such as Portrait mode and the same Smart HDR 4 tech as the iPhone 13 giving you lots of great shooting options. The rear camera (7 MP, f/2.2) is pretty decent too.
Elsewhere, the iPhone SE (2022) offers 5G, longer battery life, and improved durability. It's rated IP67 for water and dust resistance, features the Home button, and supports Touch ID and Apple Pay.
On the downside, the screen is pretty small, at 4.7 inches, you're not getting zoom or ultra-wide lenses, and it's not as powerful as the iPhone 13 series. But overall you're getting a very nice phone indeed, for not a lot of money.
How we test iPhones
As a photography website, we pay special attention to the photo and video quality of camera phones. We rate resolution, noise and color rendition in the context of what rival cameras can do, and where there are any special features, such as 'night modes' or 'portrait modes', we check that these perform as the makers describe.
Camera phones are all-round digital assistants too, of course, so we also check general handling, usability, and practicality – such as battery life.
FAQs
What are the best iPhone accessories for photography?
If you want to create with your iPhone, then there are plenty of brilliant accessories to improve your photography and video. The microphones in the iPhone are great, but you can't beat one of these best microphones for iPhone for even better external audio recording. You will really notice the difference in quality. If you want to expand beyond the cameras on your phone, the best add-on lenses for phones give you more options for wide, telephoto, and macro photography.
Is iOS better than Android?
Well, depends on who you ask! The real truth of the matter is – both operating systems are excellent, and there is really not a huge amount between them. Both systems provide nearly all of the exact same features but just function in slightly different ways. Both have all the major apps you are likely to use. The OS to pick is just the one that you enjoy using more on a day-to-day basis.