The unlimited data SIM only deal from Three has been one of the best deals ever for some time. At £18 a month it is still a great plan for those that want to binge on downloads. But Three has just introduced an alternative £6/m plan which may be more tempting for those looking for a budget-priced tariff to keep their finances in control... and could be a perfect for those planning to head back to college this September
The £6 per month option only keeps you tied into the network for 12 months (making your total commitment for the year just £72). But with this you get unlimited calls, unlimited texts, and a very reasonable 4 gigabyte helping of data.
With both options you can use your data and calls in 71 countries around the world without paying a bean - and that includes places like United States, Australia, Cyprus, Ireland, Hong Kong, Spain and France - using Three's Go Roam service.. So you can post to Instagram without worrying about the bills as you tease everyone back home about your latest trip.
Three also say that there SIMs are already 5G ready at no extra cost - a useful bonus if you are considering buying upgrading to one of the best 5G phones now that Three is rolling out its superfast 5G network.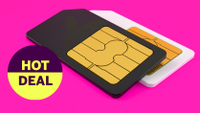 4GB 4G Three SIM-only deal
12GB 4G mobile data | Unlimited calls | Unlimited texts |
£6 a month for a 12-month contract.
This is easily one of the best budget SIM-only deals around at the moment in the UK. You can chat to your heart's content, text until your fingers go numb, and have 4 gigabyte data allocation to boot!
UK deal - limited time offer

Big data alternatives
Of course, some people will want more data - and if you fall into that category, then Three has amazingly priced unlimited and 30GB for you to consider
The Unlimited option is a great all-inclusive tariff who have found they are using their data more in lockdown - or have found their mobile bills creeping upwards. This tariff keeps you connected for just £18 a month for unlimited calls, unlimited text messages, AND unlimited 4G data, with a 12 month contract. That is great for anyone who likes to share lots of images from their camera phone.
But if you are not intending on going quite so wild with the downloads, then the new £15 option could be for you. This gives you a generous 30GB of data each month - and you still just commit to 12 months.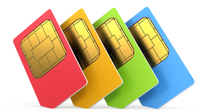 30GB Three Advanced SIM-only deal
30GB 4G mobile data | Unlimited calls | Unlimited texts |
£15 a month for a 12-month contract.
This is a brand new SIM only deal for those who don't quite need limitless data. For £15 a month and 30GB of data this is a great alternative plan for the cash conscious.
UK deal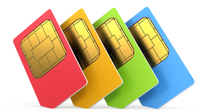 Unlimited Everything Three SIM-only deal
Unlimited 4G mobile data | Unlimited calls | Unlimited texts |
£18 a month for a 12-month contract.
This is easily one of the best SIM-only deals around at the moment in the UK. You can chat to your heart's content, text until your fingers go numb, or keep downloading those Netflix boxsets until your phone's memory bursts.
UK deal

Other SIM Only deals…
• The best camera phone in 2020
• Best budget camera phone
• The best 5G phones
• The best power banks
• Best selfie sticks for your smartphone
• The best iPhone tripods
• The best gimbals for your iPhone, GoPro and camera
• The best phone cases to protect your camera phone