If you're a Micro Four Thirds user, 2018 is a very noteworthy year. It marks the tenth anniversary of the standard, which began in earnest in October 2008 when Panasonic released the Lumix DMC-G1. As big a milestone as that is, however, its overshadowed somewhat by next year's centenary celebrations of Olympus's formation.
By fate or fortune, the Tokyo company's 100th birthday coincides with the anticipated launch of the OM-D E-M5 Mark III, the third iteration of the original, trailblazing OM-D model. With Photokina on our doorstep and long-running rumours that Olympus plans to launch a camera for its anniversary, it's easy to join the dots and expect an announcement before long.
The big question, though, is exactly what the latest and greatest OM-D E-M5 model will be packing under its hood, and how it will balance its position within the OM-D hierarchy. After all, it has the entry-level OM-D E-M10 series on one side, its own Mark III configuration having been released last year, and the professional-level OM-D E-M1 series on the other, with 2016's Mark II model as its current offering.
This puts the OM-D E-M5 Mark III in the tricky position of being the middle brother of the OM-D family, but releasing after the latest version of its bigger brother. This means that it has to be significantly better than the OM-D E-M5 Mark II while not outperforming the OM-D E-M1 Mark II (which, as the flagship camera, is set to retain exclusive rights to certain pro-grade features, making them off limits to the non-pro OM-D E-M5 Mark III).
Read more: Olympus OM-D E-M1 Mark II review
So how will all this affect the specs, and what should (and shouldn't) we expect to see in the new model? Here's our rundown of what the Olympus OM-D E-M5 Mark III will look like.
1. No full-frame sensor
With Canon and Nikon seemingly ready to join the mirrorless arms race with full-frame sensors, many have questioned whether Olympus will follow suit. Eyebrows were raised even further when reports came from Japan that Leica's new full-frame mirrorless SL camera is being made by Panasonic. So, if its fellow Four Thirds flag bearer is dipping its toe into the full frame waters, do we expect Olympus's next OM-D camera to bear a bigger sensor?
Read more: The 10 cheapest full-frame cameras right now
While it would certainly be a dramatic way to mark Olympus's 100th birthday, the answer is no. When directly asked whether increased development of full frame mirrorless sensors had affected the company's strategy, Shigemi Sugimoto, head of Olympus's Imaging division, reaffirmed the corporation's commitment to the smaller sensor and form factor.
"The key features of our products are that they are compact, lightweight and have good ability," he told Imaging Resource. "For a full-frame mirrorless camera, even if they have a smaller body, its overall size will be increased when putting on the lenses. For that reason, we can say that our product is smaller as an overall system, among the mirrorless products in the market."
Sugimoto-san also noted that much of the company's sales growth had come from users of rival brands, and that he expected significant growth in photographers adding a Micro Four Thirds camera to their existing full frame system. In short, it will be business as usual.
2. Same 20.4MP sensor resolution as OM-D E-M1 Mark II
So the sensor will still be a Micro Four Thirds one, but the big question is how many megapixels will it boast. We've heard rumblings for years that the smaller sensor probably maxes out at 24MP, though no one has yet achieved that with the format (the OM-D E-M1 Mark II bears a 20.4MP sensor, while Panasonic offers a 20.3MP alternative inside the GH5, G9 and GX8 models).
Read more: Panasonic G9 review
That said, Olympus R&D has redoubled efforts on sensor development in recent years, researching technologies like multi-storied photodiode CMOS sensors. The question is: would the executives be willing to put, say, a 22MP sensor in the OM-D E-M5 Mark III when it sits below the OM-D E-M1 Mark II in the the product lineup?
As noted earlier, the OM-D E-M1 rules the OM-D roost because it's the professional-level model. While the new E-M5 model would obviously have access to the same, as well as superior, technology to the E-M1 Mark II, the nature of the product line has traditionally prevented junior models possessing more advanced specs than their seniors.
In all likelihood, then, the OM-D E-M5 Mark III will benefit from a similar, if not identical, 20.4MP sensor to that of the E-M1 Mark II – unless Olympus does a Panasonic and zigs where everybody expects it to zag.
The GH5S came to the party this year bearing a humble (even by Micro Four Thirds terms) 10.2MP sensor. Of course, Panasonic did this for a specific reason: the GH5S, as a specialist video-oriented camera, sacrificed pixel count for larger photo sites, resulting in dramatically improved low-light performance at the expense of photographic resolution.
We don't expect Olympus to do anything quite so dramatic. The company has stated that it's dedicated to the stills market, so there's no chance of the OM-D E-M5 Mark III becoming the 'video OM-D'. Then again, the Micro Four Thirds format is built on thinking outside the box, so the corporation may pull something out of left field.
3. Dual Native ISO
One longstanding criticism of Micro Four Thirds cameras has concerned high-ISO performance, and many have seen them as unable to compete with full-frame systems. Panasonic managed to sidestep these criticisms on the GH5S by not only using a sensor with larger photosites than the ones inside other Lumix models, but also by incorporating a Dual Native ISO option.
This latter feature is made possible through the use of two read-out circuits per pixel, rather than the usual one. This gives the camera more flexibility when amplifying the signal, which, in turn, helps to deliver cleaner footage at higher sensitivities.
We're confident that Olympus has been eyeing this technology with great interest, and we think it would make a great addition to the OM-D E-M5 Mark III's spec sheet.
4. Single card slot, contrast-detect AF and no Pro Capture mode
Remember that recurring theme about the enthusiast OM-D E-M5 line being "big brothered" out of having the professional features of the OM-D E-M1 series? Well, that rules out a few key specs that consumers have been clamouring for.
Pro Capture, certainly, will remain exclusive to the flagship body (the clue is in the word 'pro'). Sadly this means that Olympus's brilliant burst technology, which captures 35 frames before you fully depress the shutter-release button, in addition to all the frames you take afterwards, won't be available to the OM-D E-M5 Mark III. Nor will phase-detect autofocus, which has always been exclusive to the OM-D E-M1 line.
That said, we don't think it's outside the realm of possibility that the next OM-D E-M5 model could have a second memory card slot. We would be very surprised to see this, but certainly not shocked – especially if Olympus pushes the boat out in terms of video capabilities.
5. 6K video with Log
While 4K video has become the demanded (if not actually used) video requirement, Olympus's video-oriented counterparts at Panasonic have already got 6K functionality.
Indeed, water cooler gossip is that a forthcoming Panasonic GH6 is targeting 8K video. While that may be realistic feature on the GH6, don't expect Olympus – focused as it is on stills – to be looking at 8K any time soon.
That said, the OM-D E-M5 Mark II was launched with a lot of fanfare about its lineup-leading video specs, which weren't, and aren't, considered the E-M1's domain. So it would be reasonable to expect some degree of 6K performance. In particular, the GH5's 6K PHOTO Mode, which allows you to shoot 6K video clips and then extract a 18MP still frames, would be a very tempting feature that doesn't tread on the OM-D E-M1 II's toes.
Regardless of whether we get the 6K garnishing, we certainly hope that Olympus finally gives us 4K video with a Log profile. While the Flat Picture Mode was a nice compromise on the last OM-D E-M5 Mark II and E-M1 Mark II models, and though we appreciate that the company doesn't see videographers as its key demographic, Olympus needs to at least keep pace with the market and deliver a true flat video profile.
Oh, and a headphone jack wouldn't go amiss this time. This was only available to the OM-D E-M5 Mark II via the HLD-8G grip.
6. No optional paid-for Log mode
Following Panasonic's lead in offering log modes is something that Olympus needs to do, but charging consumers for the privilege of using it is something it definitely doesn't. Indeed, Panasonic's decision to make its V-log an additional in-body purchase opens a troubling can of worms; rumour and innuendo says that the optional "license" for the GH5's V-log was a litmus test to see how consumers would react to paying for other camera features that come locked as standard.
On one hand, this could be seen as a modular and future-proof design. New features could be introduced with firmware updates that enable users to purchase additional functionality, prolonging the lifespan of their devices. It also suggests that, for instance, a next-generation E-M10 could come with all the same features of a next-gen E-M1, but with most of them locked as standard; consumers could thus purchase the base camera for a much cheaper price, and buy additional features ad hoc.
On the other hand, this could also be seen as selling consumers a product that strongarms them into paying extra to access features that it already possesses. We can't see Olympus adopting this approach, as the OM-D (and PEN) line has always been about offering premium products rather than penny pinching or competing on price. Consider this a bullet dodged for the E-M5 Mark III… though perhaps not for the GH6.
7. 50MP Hi Res Shot… handheld?
Hi Res Shot mode debuted on the OM-D E-M5 Mark II, enabling the 16.1MP camera to output a 40MP image. This was possible thanks to the stellar in-body stabilisation, which enables the camera to take eight separate images by shifting the sensor half a pixel each time, before stitching them together to create a single, high-resolution 40MP composite. With its 20.4MP sensor, the OM-D E-M1 Mark II pushed this to a 50MP Hi Res Shot, so we fully expect the new OM-D E-M5 Mark III to at least match it.
The mode proved perfect for shooting still life, architecture and other stationary subjects with the use of a tripod – but even the minutest movement of either subject or camera was enough to interfere with the process and ruin images. It was with great excitement, therefore, that consumers greeted the Pentax K-1 Mark II, as the camera's Dynamic Pixel Shift Resolution promised handheld sensor-shift shots.
Read more: Pentax K-1 Mark II review
When this news hit the message boards, talk quickly turned to whether Olympus would implement a similar handheld Hi Res Shot in a future model. Sadly, Pentax's (admittedly muddied) claims about the tech were too good to be true. Sensor-shift images still require absolute stability in order to work, so expect the OM-D E-M5 Mark III to offer the same sort of Hi Res Shot performance as the OM-D E-M1 Mark II.
8. Hybrid tilting and articulating screen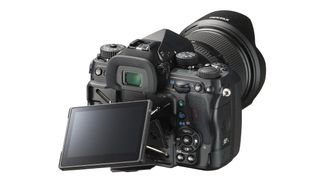 The Fujifilm X-T100 boasts a three-direction tilting LCD, which combines the fully articulated design with levered tilting to offer the best of both worlds. The Pentax K-1 and K-1 Mark II, meanwhile, boast an incredibly inventive Flexible Tilt-type screen armature that offers innovation, if not necessarily practicality. We can definitely see Olympus having spent a few R&D pennies on developing its own take on Fujifilm's hybrid design.
Brand loyalties notwithstanding, photographers fall into one of two categories: tilting screen or fully articulated screen. Sometimes specs are completely secondary when choosing a new camera, as street photography purists demand tilting LCDs while vloggers can't live without a flip-out screen. The original OM-D E-M5 had the former, while the Mark II model had the latter.
So what will we get on the OM-D E-M5 Mark III? We reckon it will have the same fully articulated screen as its predecessor (along with the OM-D E-M1 Mark II and PEN-F). Of course, there's a possibility that Olympus will attempt a third option, with an industrious new design along the same lines as those seen on Fujifilm's and Pentax's most recent models.
9. Similar price tag to the PEN-F
The original OM-D E-M5 was priced £999.99/$1299.99 at its 2012 launch, while the OM-D E-M5 Mark II launched at £899.99/$10.99.99 three years later – a price it has held ever since. While a similar price point would therefore seem par for the course, the pricing of the OM-D E-M1 line may have upset the scales a little bit.
When the OM-D E-M1 Mark II launched in December 2016, Olympus came under a lot of fire for its £1,849.99/$1,999.99 price tag. Though the price has since dropped to £1,499.99/$1599.99, even with a £400/$400 price cut it's still considerably higher than that of the original OM-D E-M1, which released at £1,299.99/$1,399.99 in 2013. So it's clear that the cost of the company's higher end models has gone up quite a bit – and that's before any potential Brexit considerations come into play.
While Olympus would no doubt prefer to keep a comma out of the price of the OM-D E-M5 Mark III, it seems likely that we're looking at a similar £1,099.99 RRP as the broadly comparable PEN-F.
Read more: The 10 best mirrorless camera right now