Olympus has two lines of Micro Four Thirds compact system camera: Pen and OM-D, with the latter the more 'serious' of the pair. The Pen-F comes in at the top of the current Pen line-up and has a 20-million-pixel Four Thirds type sensor – that's four million more pixels than previous Pen models.
Until now, one of the key distinctions between the two lines has been that the OM-D cameras have a built-in viewfinder, while the Pen models don't. The Pen-F changes that, integrating an OLED electronic viewfinder with 2.36 million dots into its body. It also has Olympus's excellent five-axis image stabilisation built-in. This is claimed to extend the safe hand-holding shutter speed by up to 5EV – that's the difference between 1/500 sec and 1/15 sec.

• The best lenses for your Olympus camera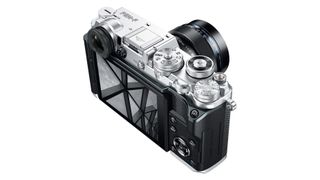 Other highlights include a maximum continuous shooting speed of five frames per second with full AF and metering operation (or 10fps without); an 81-point contrast detection autofocus system; Full HD (1,920 x 1,080) at a range of frame rates; 28 Art Filter effects; Wi-Fi connectivity; and the High Res Shot mode first seen on the OM-D E-M5 Mark II.
This system makes use of the Pen-F's stabilisation system to shift the sensor between shots as it captures eight 20MP images. These files are then merged into a single high-resolution image. On the E-M5 II, High Res Shot mode delivers 40MP JPEG images or 64MP raw files; but on the Pen-F, the JPEG image size has been increased to 50MP, while the raw files are a whopping 80.6MP. However, the maximum shutter speed available is 8 sec, while the minimum aperture is f/8 and the highest available sensitivity setting is ISO 1,600.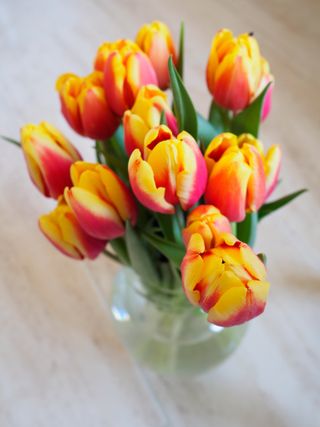 Build and handling
The Pen-F has the type of build that makes you smile when you pick it up – solid and made from metal. But while the body and milled metal dials are of high quality, the buttons on the back of the camera are the small plastic affairs that drew some criticism in the Olympus Pen and OM-D ranges.
The 2.36-million-dot electronic viewfinder is very good, with a high refresh rate so you can pan with moving subjects, and it shows lots of detail in good light. When the EVF Auto Luminance option was turned on in the menu, however, I found that the viewfinder sometimes showed the scene brighter than the recorded image, which tricked me into underexposing. I recommend setting the EVF brightness manually.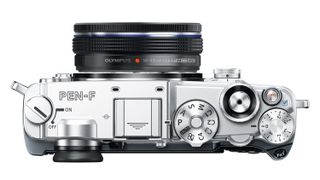 The 3-inch, 1,037k-dot LCD on the back of the camera is also very good, responding quickly to a touch and displaying lots of detail. It's a shame that it's not possible to make main menu selections and adjustments using touch control, but it is possible with the Super Control Panel.
On the whole, the Pen-F is pleasant to use, but it has some of the quirks that we've seen with other Olympus cameras. For example, it's sometimes necessary to turn the camera off and on again to get the electronic level to activate when the appropriate button is pressed.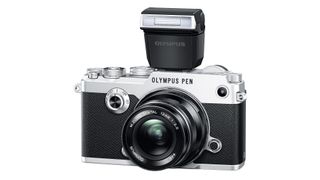 The Pen-F's sensor has 20.3 million effective pixels, which is roughly 25% more than on any other current Olympus Pen or OM-D cameras. Our lab tests reveal that, in comparison with the Pen E-P5, this brings a significant hike in the amount of detail in images at lower sensitivity settings. However, above ISO 3,200 the level of detail in Pen-F images is a little lower than in the E-P5's shots. Also, JPEGs viewed at 100% lack the 'bite' or sharpness of files from some other cameras, but they look good when sized to make prints.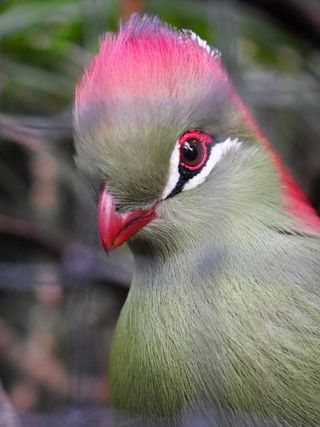 Noise is controlled well for most of the Pen-F's sensitivity range. As usual, in the default noise-reduction setting you can expect to see some fine details lost from JPEGs at the upper sensitivity settings. Nevertheless ISO 6,400 images (both raw and JPEG) look good at A3 size.
Switching to the High-Res Shot mode slows shooting down considerably, with each image taking nine seconds or more to clear the buffer – but the results are impressive. Detail levels are increased markedly, enabling much bigger prints (larger than A1) to be made. The downside is that it's a 'tripod-only' option, and is unsuitable for shooting subjects with moving elements such as flowing water.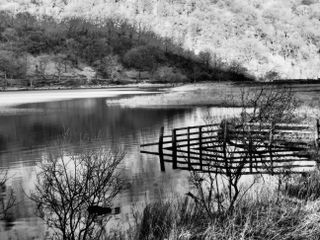 There seems to be an near-infinite number of ways to tweak the colour of JPEGs to suit your preferences, so if you don't like the results from the Pen-F, you probably just need to find the right setting. The Natural Picture Mode makes a good starting point and produces natural, if slightly muted, colours and contrast. If you want a bit more punch, switch to the Vivid or I-Enhance mode.
Although the Pen-F has a contrast-detection system, rather than a hybrid solution that combines contrast detection with a phase system, it's fast and accurate in many situations. It works well in quite low light, but you can expect a bit of hunting as contrast levels drop further. Provided that you keep the active AF point over the subject, it's also pretty good at keeping moving subjects sharp in continuous AF mode, but the Tracking AF mode is more hit-and-miss.
Olympus's stabilisation system is well regarded, and it doesn't disappoint in the Pen-F. When shooting with the popular 12-50mm f/3.5-6.3 EZ ED MSC lens at 50mm (100mm equivalent), for example, I found I was able to get a high hit rate at 1/6 sec, producing close-range images that look acceptable at 100%. That's a compensation factor of around 4EV.
Olympus PEN-F specifications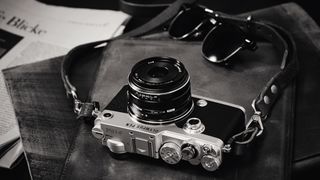 Sensor Four Thirds (17.4 x 13mm) LiveMOS sensor with 20.3 million effective pixels
Lens mount Micro Four Thirds (MFT)
Focal length conversion or lens 2x
Memory SD/SDHC/SDXC
Viewfinder Electronic viewfinder with 2,3600,000 dots
Max video resolution Full HD (1,920 x 1,080), 30fps
ISO range 200-25,600 (expandable to 80-25,600)
Autofocus points 81
Max Burst rate 5fps with AF (10fps with AF locked at start)
Screen 3-inch 1,037,000-dot TFT
Shutter speeds 1/8,000-60 sec plus Bulb
Weight 373g (body only)
Dimensions 125 x 72 x 37mm
Power supply Lithium-ion BLN-1 (supplied)
Olympus PEN-F lab tests
We use Imatest and DxO Analyzer hardware and software to test cameras for their colour accuracy (colour error) signal to noise ratio (the amount of noise in the images) and dynamic range (their ability to capture detail in very bright and dark areas). We also pick three rival cameras to test them against.
Colour error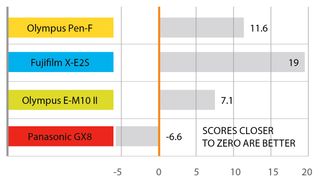 We tested the PEN-F against three of its main rivals: the Fujifilm X-E2S, Olympus OM-D E-M10 II and Panasonic GX8. In the colour error test, the Pen-F tends to produce quite saturated colours in its Natural Picture mode, although the Fujifilm X-E2S JPEGs are more vibrant.
Signal to noise ratio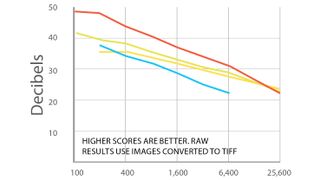 Although the Pen-F scores well, it can't match the heights of the Panasonic GX8. In High Res Shot mode, the results are better than in the standard mode.
Dynamic range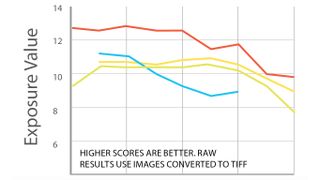 The Pen-F's raw files are quite similar to the JPEGs and don't match the high scores of the competing cameras. However, they have good scope for post-capture adjustment.
Olympus PEN-F verdict
The Pen-F is an excellent camera with bags of features, plus lots of scope for customisation of both the controls and the appearance of the images it produces. It may take you a while to work through the various options and optimise it for the way you want to shoot, but it's worth taking the time to explore and experiment.
Olympus PEN-F: the rivals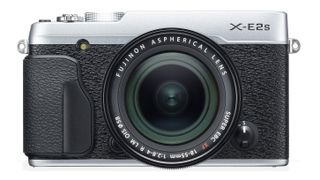 Fujifilm X-E2S
Built with rangefinder-like styling, this 16.3MP CSC uses Fujifilm's impressive APS-C format X-Trans CMOS II sensor, and has a superb electronic viewfinder.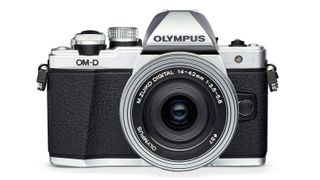 This dinky 16MP Micro Four Thirds CSC has an excellent electronic viewfinder, lots of customisation options, and a tilting touchscreen.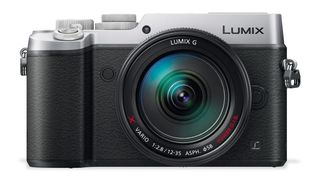 Panasonic GX8
It's bigger than many mirrorless cameras, but this 20MP model has a tilting electronic viewfinder and a fully articulating screen, along with Panasonic's 4K Photo feature.
Read more:
• The best lenses for your Olympus camera