The best Bluetooth tracker does something that's kind of magical. Attach it to your most important items, such as your car keys, passport, bag or wallet. And then if you lose them around the house, your phone can help you find them, by showing you how far away it is, prompting the tracker to make a sound, or both.
Bluetooth trackers are in the news in 2021 because Apple and Samsung have launched bespoke models that are optimized for their phones and tablets. But other brands have been around for a while longer, including Tile and Chipolo, which work across most iOS and Android devices. There are number of models within these ranges to consider too. So how do you choose?
Firstly, it's worth considering how much range each Bluetooth tracker offers, which is typically between 150m and 400m. Of course, manufacturers' estimates don't always translate perfectly to the real world, as it's an inexact science and the number of physical obstacles in your way can make a big difference. But it does give you a fair idea of how your device is likely to work in practice.
Beyond that, you'll want to think about phone compatibility, battery life, level of water resistance, options for signaling where your tracker is, whether you can use your tracker to find your phone, and if you can save money by buying multiple packs. In this article, we'll give you all that information and more, to help you pick the best Bluetooth tracker for your needs.
The best Bluetooth trackers in 2021
Why you can trust Digital Camera World Our expert reviewers spend hours testing and comparing products and services so you can choose the best for you. Find out how we test.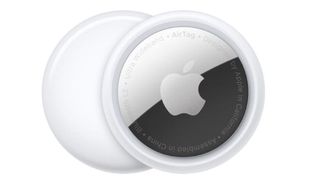 If you're an iOS user, then Apple has a Bluetooth tracker created especially for you. For a start, this button-like device is typically stylish and its minimalist black-and-white design fits nicely with all your other i-things. Also, if you wish, each AirTag can be engraved with up to four letters or emoji characters, for free.
In practice, the AirTag couldn't be easier to use. It works seamlessly with the Find My app, which is already pre-installed on Apple devices, so you don't have to download anything. It connects to your iPhone or iPad over Bluetooth, and is displayed on a map so you can see its location, if it's nearby, or its last-known location if not. To make it easier to find, you can use the app to make the Airtag play a sound.
And that's not all. If you have an iPhone 11 or 12, you can use the Precise Finding feature (except in a few countries listed here), which harnesses ultrawideband (UWB) tech to point to the exact location of your AirTag. The app will then give you on-screen directions, your current distance away, and haptic feedback when you get close to locating it.
Unlike other makers of Bluetooth trackers, Apple doesn't promise a specific range of operation, but we'd estimate it will work for the iPhone 12 across up to 240m (800 feet). Meanwhile, if you're worried about lose your AirTagged item away from your home, you can put it into 'Lost mode'. This means if another device in Apple's network passes it and it has Bluetooth turned on, you'll get an anonymous update on its location.
There's only one drawback: the basic AirTag itself doesn't feature any way of attaching it to an item: however, you can opt for versions with a key fob or loop, or buy these as an accessory, but this does add to the cost..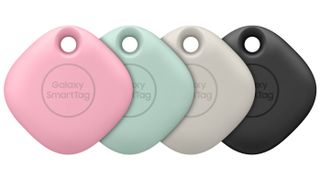 Do you have a Samsung Galaxy phone or tablet? Then the Samsung SmartTag has been specially crafted for you. Like Apple's Airtag (see above), it uses Bluetooth to estimate how far away the SmartTag is (but does not have the UWB functionality that you get with the AirTag or the SmartTag+).
Using the SmartThings Find app, you can make it play one of 10 ringtones to help you find it, and also get details of how far away it is. The app has some nice touches to personalise your experience, such as allowing you to increase or decrease the volume of the ringtone. The system also works in reverse, in that if you lose your Samsung phone, you can use the SmartTag to locate it.
As you can see from the picture, the SmartTag comes with a hole for attaching it to items via a key ring, clip, dog collar, etc. The main thing it's missing compared to the AirTag is precision finding. If you want that, you need one of the newest Samsung phones, and a different Bluetooth tracker altogether, which we detail below.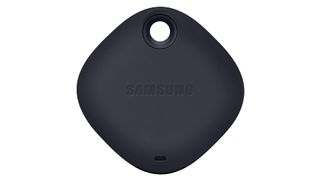 Got a Galaxy Note 20 Ultra, Galaxy S21 Plus or Galaxy S21 Ultra phone? Then you'll wish to take advantage of the Samsung SmartTag+, which offers similar functionality to the Samsung SmartTag (number two on our list) but with one big addition that makes this the closest rival to the Apple AirTag. Because these phones have a UWB (Ultra Wideband) chip, you can get precise tracking of your item. That means you can find it easier using the on-screen map, and you can even choose to trigger a loud ring once you're close to the tag's location.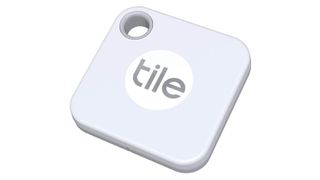 So far, we've covered smart tags designed for very specific devices. But maybe you don't have an iPhone or Samsung phone. Or perhaps you do, but you want a tracker you can use with other devices as well. Or you're just looking for something a little cheaper than the first three models on our list. For all of these reasons and more, it's worth taking a look at the Tile Mate.
Tile is the company that first pioneered smart tags, and they remain very popular; they've sold over 30 million in total. That means there's a worldwide community you can draw on, through the Community Find feature, if you ever lose your item away from home. Tile is also built into a number of well known devices, from Skullcandy headphones to HP's Elite Dragonfly laptop, widening the number of items you can find with the system.
But what of the Tile Mate itself? Well, it's a very decent key tracker indeed. The standard Bluetooth tracker from Tile (you'll find other models below), it has a decent range of 200 feet, works with most iOS and Android phones, comes in a range of colours, and is super-light.
It connects to your phone over Bluetooth, and using a free app you can find out how close it is, and/or make it ring. There's a handy hole to help you to attach it to things, the battery is replaceable, and you can press a button to find your phone. Basically, it has everything you need, at an affordable price.
If you're willing to spend more, however, Tile also offers a subscription service to unlock more sophisticated features. The Premium plan ($2.99/month) lets you set smart alerts if you leave home without your chosen item, and you also get a free battery replacement, the ability to share a Tile location with others, a 30-day location history similar to what you get with Google Maps, and more. Premium Protect, for $99.99 a year, adds to that a $1,000 item insurance policy.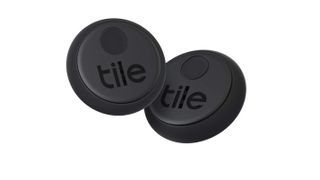 Rather than hook your Bluetooth tracker on to things, you might prefer to stick it on. That's exactly what the Tile Sticker offers, with an adhesive backing you can stick to pretty much anything. It's very small, light and unobtrusive, plus it's waterproof, rather than just water-resistant. Like all Tile devices, it offers a 'find your phone' feature and you can unlock special features with the same subscription services detailed above.
On the downside, its range is the shortest on our list, at just 150 feet. And because it's so slim, it doesn't have a replaceable battery. However, under the ReTile program you are eligible for a replacement tile at the end of your battery period, as long as you send them the old one for recycling.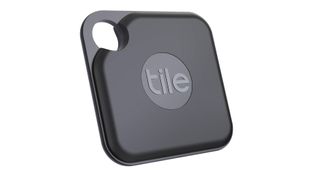 Like the cross-platform nature of the Tile series, but want something with real range? Then you'd best turn to the Tile Pro, the top-of-the-range model with an impressive 400 feet field of operation. It also offers a 'find your phone' feature, comes with optional subscription services, and while battery life is only one year, that (CR2032) battery is replaceable, and widely available.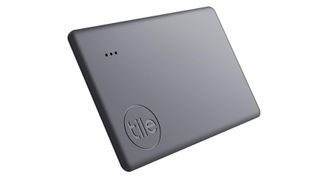 Looking for a thin device you can slip into your wallet or purse, to help keep track of it? Then let us introduce Tile Slim, is the best Bluetooth tracker for these purposes. Slip this credit-card sized device inside, and then when you can't find it, use the Tile app on your phone to find out how close it is, and/or make it ring.
Like the Tile Sticker (see 5 on our list), the Tile Slim doesn't have a replaceable battery. However, under the ReTile program you are eligible for a replacement tile at the end of your battery period, as long as you send them the old one for recycling.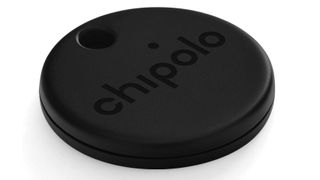 Another good Bluetooth tracker brand that's cross-platform and not tied to a particular device, Chipolo has a lot going for it. Firstly, it sells for a pleasantly low price. And secondly, it features out-of-range alerts as standard.
In other words, if you leave the house with your phone but not your wallet, say, you'll get a handy reminder. That compares admirably with Tile, which makes you pay for that as part of a subscription service.
The battery lasts two years, and is replaceable. You can use the Chipolo One to find a lost phone. And while it's maybe not the most stylish of Bluetooth trackers, it functions well, and comes with a suitable hole to attach it to items easily.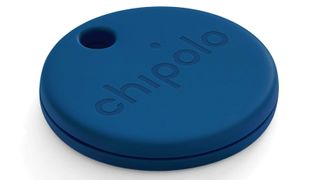 Chipolo also produces the Bluetooth tracker on this list that makes an effort at environmental sustainability. It offers the same features as the Chipolo One (above) but it's made from recycled plastic fished out of the ocean. Also, the company promises to donate a dollar to Oceanic Global, an ocean conservation charity, for every sale made.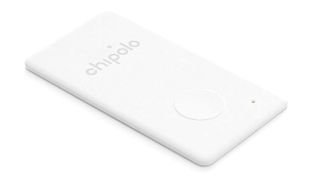 Finally, the Chipolo Card offers a direct alternative to the Tile Slim, if you want a Bluetooth tracker to help find your wallet or purse. To be honest, the two devices are pretty similar, but Chipolo's is very slightly smaller and thinner. Plus, at time of writing, it was a little cheaper too. On the downside, its battery is non-replaceable, and when it runs out, you're offered only a 50 per cent discount on a replacement card, rather than a free one as promised with the Tile Slim.
• The best add-on lenses for iPhone and Android phones
• Best selfie sticks
• The best iPhone tripods
• The best gimbals for your iPhone, GoPro and camera
• The best phone
• The best budget camera phones
• The best camera backpacks