Best wireless charger: Quick menu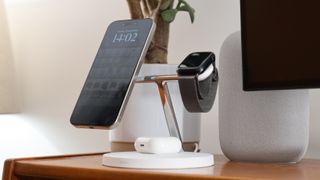 Our top picks ↵
1. Best for travel
2. Best MagSafe puck
3. Best for budget
4. Best stand for design
5. Best with ports
6. Best wireless power bank
7. Best compact stand
8. Best for cleanliness
How to choose
How we test
The best wireless phone chargers mean that you no longer have to mess around with USB or lightning ports. All you have to do is place your smartphone on a charging pad or wireless charging stand and it will charge.
Many of the best camera phones are now compatible with wireless charging. If you're not sure, generally, if a device is Qi-compatible (most iPhone and Android phones) it can be charged wirelessly. Charging speeds are generally slower than if you use a good old cable, but if you've got an iPhone 12, 13, or 14, or the shiny new iPhone 15, then Apple's MagSafe charger will supply an impressive 15W of wireless power – that's not far off the 20W supplied by a cable connection.
Some of the chargers on this list are specific to Apple's devices only, with MagSafe chargers only suitable for Apple phones without using a special MagSafe charging case on your Android phone from third-party companies, but these vary in quality. Some of these chargers can also simultaneously charge multiple Apple devices including the Apple Watch, which has its own proprietary charger.
A few things to keep in mind: while most wireless chargers will charge through a phone case, don't leave a credit card or other RFID card in a card slot on your case, as the wireless charging circuitry could damage the card.
Finally, some wireless chargers don't include the power brick in the box. That's fine if your phone comes with a high-output fast charger, but if you've only got a basic USB charging adapter, wireless charging will be much slower. So you might need to also invest in one of the best iPhone chargers.
Best wireless charger: Our top picks
Best wireless phone chargers in 2023
Why you can trust Digital Camera World Our expert reviewers spend hours testing and comparing products and services so you can choose the best for you. Find out how we test.
Best wireless charger for travel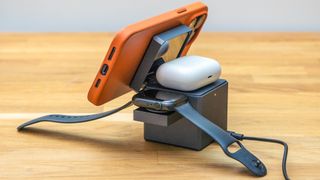 If you want to charge multiple devices and prefer to get Apple-approved products, this is our top pick of the best quality, but one of the most expensive options for you.
The Anker Cube supports MagSafe charging of the iPhone, Apple Watch, and AirPods at the same time, all from a compact foldable box. If you need the speed, there is support for fast charging. It can handle up to 30W total, which means it'll do as well as Apple's standard chargers.
Better yet, not only does it fold away neatly into a cube, but when open the MagSafe lid supports the phone as a stand at up to 60˚ making it a handy stand, able to support any MagSafe-charged iPhone horizontally or vertically.
That it's weighty enough to counterbalance the device might be the only downside to this elegant cube. It's lighter than others, but it is still more than the jumble of cables it might replace; that's a choice you need to make when you pack your bag – in one spot it is neat and functional.
Read more: Anker 3-in-1 Cube with Magsafe review
Best MagSafe charging puck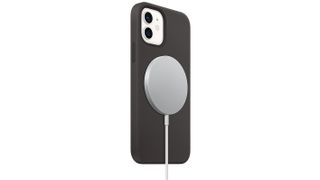 If you're using an iPhone 14, the MagSafe charger is the wireless charger for you. It snaps effortlessly to the back of any iPhone 14 model thanks to a ring of magnets built into the phone, and there's no careful aligning required. Once in place, it juices up your iPhone with 15W of power, resulting in impressively quick charging times. However, while MagSafe will work with the iPhone 8 and up, expect significantly slower charging speeds with older models. The iPhone 12 Mini is also restricted to 12W.
In order to charge your phone while in a case, you'll need to chose from one of Apple's MagSafe compatible. The charger also works with AirPods Pro and the AirPods with wireless charging case. You will need one of Apple's 20W USB-C wall adapters to get the most out of the MagSafe chargers, so if you don't already own one, factor an extra $19 into the total price.
Best budget wireless charger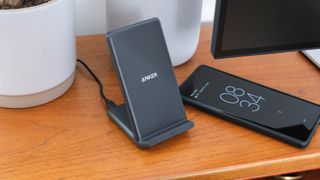 Using the Anker wireless charging stand, I appreciate its exceptional affordability. It's one of the most budget-friendly options I've found for charging my phone wirelessly. While it may not offer the wireless charging speeds or build quality of other chargers, I understand that opting for these features would inevitably make the charger much more expensive.
The Anker is a cheap and cheerful option that performs well, provided I manage my expectations accordingly. It had no trouble charging my phone overnight, ensuring I started the day with a fully charged battery. If you're like me, seeking an entry-level wireless charging solution, or wishing to add a few additional chargers to your home or office setup, I find Anker's wireless charger to be a dependable choice.
Read more: Anker 313 Wireless Charging Stand review
Best wireless charging stand for design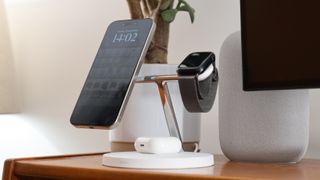 The Belkin Wireless charging stand, with its unique design, added a touch of flair to my workspace, although I acknowledge that it may not appeal to everyone. When devoid of devices, its unusual appearance was more noticeable, but once it accommodated three gadgets, it transformed back into a very good looking device.
The MagSafe connection was robust and reliable, making it effortless to position my iPhone. It also delivered the highest wireless charging speeds for my compatible devices, which left me very happy with the rapid battery recharge times for my iPhone 15 Pro Max, Apple Watch 8, and AirPods. The convenience of simultaneously charging all three devices on a single stand also enhanced my sense of efficiency and organization.
Read more: Belkin BoostCharge Pro 3-in-1 Wireless Charger with MagSafe review
Best wireless charger with extra ports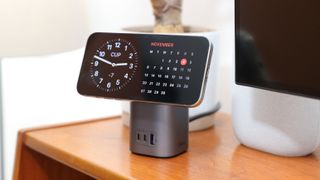 The Ugreen Nexode 100W GaN charger is a delightful addition to my meticulously arranged desktop setup, thanks to its 15W MagSafe feature that brings a touch of elegance. The charger's design is visually appealing and enhances the overall look of my workspace. Moreover, when I place my iPhone on the MagSafe charger in landscape mode, it transforms into a beautiful desktop clock, merging functionality with style.
The charger's robust 100-watt output provides ample power to charge my MacBook and other laptops through a single port, as well as a variety of peripheral devices.
The only feature I find missing is a second wireless charger beneath the top surface, which would have been ideal for charging my AirPods or Apple Watch, thereby increasing its versatility. Nevertheless, given the rarity of chargers that offer both wireless charging and a powerful desktop charger combination, this is one of the best desktop chargers I've used.
Read more: Ugreen Nexode 100W GaN with 15W MagSafe Charging Station review
Best MagSafe wireless power bank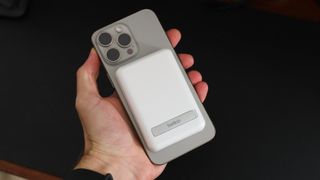 While power banks might not traditionally be seen as chargers, I believe this one deserves a mention. The Belkin magnetic power bank is more than just a mobile power source. It's also equipped with a built-in stand, making video viewing, notification checking, and video calling a breeze. It magnetically attaches to the back of my phone, eliminating the need for cables or plugs. Its slim, compact, and lightweight design ensures it doesn't add unnecessary weight to my phone.
While its battery capacity isn't the highest, it's sufficient to fully charge my phone when required. In my opinion, this is a reasonable compromise for its sleek design and the stand's versatility. I'm aware there are less expensive power banks with stands available, or with higher battery capacity, but I value the style, convenience, and power of this one. For these reasons, the Belkin magnetic power bank is an excellent choice.
Read more: Belkin BoostCharge Magnetic Wireless Power Bank 5K + Stand review
Best compact wireless stand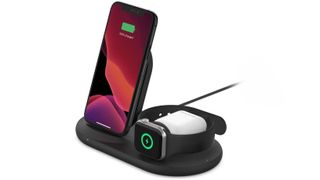 Want to wirelessly charge your iPhone, Apple Watch and Airpods, all at the same time? That's exactly what the Belkin 3-in-1 wireless charger lets you do. It's not the fastest charger out there, providing only 7.5W of power to your iPhone and 5W to your watch and AirPods – some way short of the 15W that Apple's MagSafe charger gives an iPhone 12 – but that might not be a deal-breaker if you're charging overnight anyway. Plus, if you need to charge an Android device, the charger is compatible with any phone supporting Qi wireless charging.
Best wireless charger for cleanliness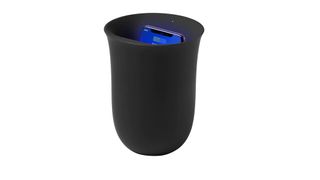 The Oblio is a truly innovative wireless charger, and one that is perfect for the world as it is today. As well as charging your phone, the Oblio can actually disinfect it at the same time. With a UV-C LED located on its front interior, it can eradicate the DNA of microorganisms found in viruses, mould and germs. The LED disinfects a single side of your phone at a time, and has been proven to kill 99.9% of viruses in 20 minutes. You'll just need to remember to flip your phone mid-charge to disinfect the other side.
10W Qi-certified wireless charging gets your phone juiced up quickly, and you can charge any compatible phone up to 8.3cm wide and 1.05cm thick. You will however need to supply your own Quick Charge 3.0 power adapter.
How to choose the best wireless charger
The most important two questions to ask yourself are how many devices do you want to charge? If you are only looking to charge a single iPhone, then there are chargers on this list that are small and compact and offer just a single wireless pad to charge one device, these are also the cheapest options available.
However, if you would like to be able to charge a couple of devices at the same time, things are a little more complicated. There are a range of options for differing combinations of iPhones, Apple Watches, or AirPods. There is only one device on our list that powers wireless devices and wired devices like an iPad or a MacBook, which is the Ugreen Nexode 100W.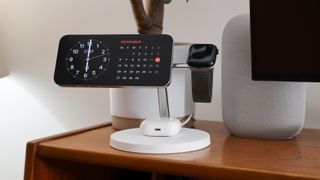 How fast can my iPhone charge?
Likely if you have an iPhone 12 and up (excluding the Minis) and you are charging with MagSafe then your phone can charge using a maximum of 15W of power. The iPhone Mini is capable of 12W.
If you are charging in a device that is not MagSafe approved and is on the Qi Wireless standard then it is likely that you might get somewhere between 7.5W-10W although each charger has its own rating.
If you are not sure if your charger supports MagSafe 15W charging, then chances are it doesn't as charger manufacturers usually make a big deal out of this.
Is wired or wireless charging better?
Well wireless charging is certainly more convenient, as you don't have to have trailing wires, or fumble to connect devices. However the downside is wireless charging is slower. Apple's MagSafe charging is rated at 15W, which is slower than the 27W you can get through a USB-C connection on the latest iPhone 15 models. On older models though the wired speed has been held back and makes MagSafe speeds more competitive.
How we test wireless chargers
We test iPhone chargers both for their physical attributes and also how they perform in use. Firstly we compare the size and weight of iPhone chargers to competitors, taking into account the amount of power each charger produces as well as the number of devices it can support charging simultaneously.
To test the power of the charger we will test how fast it charges our iPhones in a range of situations, and record the time, usually to a 50 percent charge and then a 100 percent charge. We will repeat these same tests several times to ensure that there is consistency between ratings.
Looking for more accessories? Check out the best add-on lenses for iPhone and Android phones, the best phone cases and the best power bank for your phone or laptop.