Smartphone photography is here to stay, but few get the most out of even the best camera phone out there. Why? They don't keep their phone still. Cue Joby's StandPoint, an innovative case for iPhone 11/11 Pro/X/Xs and Google Pixel 4/4XL smartphones that has flip-out aluminium tripod legs.
Sure, you could go all-out and get yourself one of the best iPhone tripods and smartphone supports, but this all-in-one case is as fuss-free as it gets. Useful for creative and long exposure photography such as milky waterfall shots, low light photography or long exposure night photography, the StandPoint is also useful for producing stable video content and hands-free vlogging.
Specifications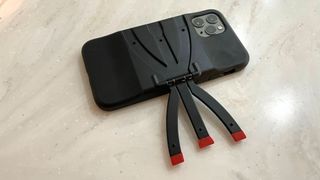 Weight: 60g
Dimensions: 147x824x156 mm
Materials: case – polycarbonate and silicone, tripod legs – aluminium
Wireless charging: Qi compatible (with legs extended)
Phone compatibility: iPhone 11/11 Pro/X/Xs, Google Pixel 4/4XL
Key features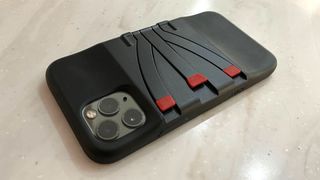 The tripod legs on the StandPoint aren't extendable and nor is there much to them. Each one has a flat profile, and together they're sunken into the rear of the case. However, even when they're tucked-in they cause the centre of the StandPoint's rear to bulge out slightly.
The case includes moulded-in covers for buttons on the various models of smartphones it's compatible with, though on the sample we had for the iPhone 11 the design encouraged a lot of 'ghost presses'.
Build, handling and performance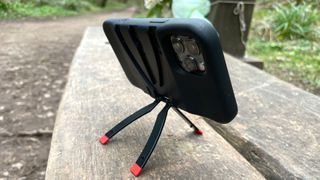 Considering that its tripod legs are only millimetres thick, they supported an iPhone 11 well in our tests. It's essentially a one-leg operation; you unfurl all three legs through 180º, bring the outer legs even further back, then adjust the middle leg to change the angle of the phone. The aluminium used in the legs proves essential, with the kind of stability that plastic wouldn't offer – though only on flat surfaces – while rubber caps on the ends add plenty of grip. It's also possible to use the tripod legs to get some stability on a railing or somesuch.
However, the StandPoint isn't perfect. You don't get much of a range to play with; the StandPoint stands your phone up, but that's about it for wide-angle photography. However, the middle tripod leg does have a decent range so can flexibly position a phone for close-up macro photography. Sadly there's no chance to do anything in portrait orientation.
The only other issue we encountered in our test was that although the tripod legs lie pretty flat when tucked-up, they did occasionally catch when we tried to yank it out of a pocket.
As a bonus, when you're not being creative with your smartphone's camera the StandPoint works really well as a simple kickstand on any flat surface for watching movies.
Verdict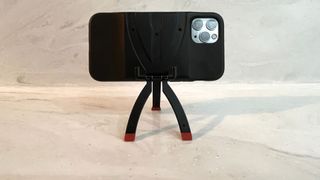 A tripod for carrying around permanently with your smartphone, Joby's StandPoint is a well-made product that works well on flat surfaces. With just enough range and grip, it adds some useful and fuss-free stability for creative photography and hands-free video. However, it's also a great accessory for the commute and for travel since it works well as a kickstand on desktops, and on train and airline tray-tables.
Read more:
• Best smartphone supports
• Best selfie sticks
• Best gimbals for video
• Best add-on lenses for phones
• Best portable power banks
• Best wireless chargers
• Best phone cases