Picking the best lenses for the Nikon Z6 II is a balancing act between getting glassware good enough to get the most out this excellent mid-range mirrorless camera, but also not blowing the budget on some of Nikon's more wildly specced pro lenses, which come with price tags to match.
The Nikon Z6 II is one of the best mirrorless cameras around, certainly one of the best Nikon cameras and also one of the best cameras for enthusiasts. But while we have a big guide to the best Nikon Z lenses all round, we wouldn't necessarily suggest all of them for the Nikon Z6 II.
So we've picked a set of lenses which cover a wide range of uses and user types but, for the most part, stay at reasonable price levels. Some, such as Nikon's prime lenses, can be very reasonable indeed.
There is one fly in the ointment. Nikon Z-mount telephotos quickly become very expensive indeed. Very good, yes, but very expensive too. The one consolation is that while cameras come and go, lenses are for life – or they can at least do good service with several cameras in succession. And if you decide to swap your Z6 II for a Z7 II or even a Nikon Z9, you might well be glad that you invested seriously in some top lenses right at the start.
So anyway, and whatever your budget, here are what we think are the best lenses for the Nikon Z6 II right now.
Best lenses for the Nikon Z6 II in 2023
Why you can trust Digital Camera World Our expert reviewers spend hours testing and comparing products and services so you can choose the best for you. Find out how we test.
The Nikon Nikkor Z 28-75mm f/2.8 might have an odd focal range, but it is an absolutely stunning lens. If you bought your Z6 II with the retracting Nikkor Z 24-70mm f/4 lens, you already have a great standard zoom but with a more restricted f/4 maximum aperture, so this lens does represent an interesting upgrade (or 'sidegrade'). What you're getting here is a small, lightweight, super sharp (centrally, at least) optic that gives you a precious bit of extra reach at the expense of less width. The pro-spec Nikkor Z 24-70mm S lens boasts slightly better corner sharpness, but otherwise we'd put the two on a par optically. So if the slightly quirky focal length works for you, we would recommend the 28-75mm f/2.8 without hesitation – especially at virtually half the price!
Read more: Nikkor Z 28-75mm f/2.8 review
If you would like even more zoom range than the 24-70mm f/4 kit lens, this one goes all the way to 120mm with a 5x zoom range. This does make it somewhat heavier and more expensive, but more versatile too. The Nikon Z 24-120mm f/4 S is a mirrorless version of a somewhat classic 5x standard zoom for F-mount DSLRs. It makes the most of optical enhancements afforded by the Z system's larger mount circumference and closer proximity to the image sensor. The net result is enhanced sharpness and all-around image quality, across the whole frame and throughout the entire zoom range, along with a reasonably compact and lightweight build.
Read more: Nikkor Z 24-120mm f/4 S review
Nikon has released two more ultra-wide zooms since this one – the Nikkor Z 14-24mm f/2.8 S and the Nikkor Z 17-28mm f/2.8, but we think the Nikkor Z 14-30mm f/4 S is still the best match for the Nikon Z6 II despite its smaller maximum aperture, thanks to its compact retracting design, longer focal range and its relatively affordable price for a lens of this type. Image quality and performance are absolutely excellent. Corner-to-corner sharpness is on point, especially for such a wide-angle lens, and it also comes with a removable hood that makes it easy to attach filters via the 82mm attachment thread. This is important for a wide-angle, as many simply can't take filters due to their bulbous front elements.
Read more: Nikkor Z 14-30mm f/4 S review
Big zooms are all well and good, but sometimes its a small and portable prime lens that you want, and the Nikkor Z 40mm f/2 fits the bill perfectly – and at the right price! The slimline benefit of a mirrorless camera is rather lost when you mount a big, hefty lens. By contrast, this compact and very lightweight prime is a perfect fit, bridging the gap between 35mm and 50mm focal lengths, combining a versatile viewing angle with a respectably fast f/2 aperture rating. The net result is useful and affordable optic that delivers good sharpness and smooth bokeh, along with quick and virtually silent autofocus, making it eminently suitable for shooting both stills and movies. Its light weight will also make it much easier to balance your Z6 II on a gimbal.
Read more: Nikkor Z 40mm f/2 review
As with other full frame cameras, the full frame sensor in the Z6 II makes it ideal for blurring backgrounds in portraiture, and the affordable price tag of Nikon's 85mm f/1.8 makes this an appealing combination. This focal length is ideal for head-and-shoulders and half-length shots from a natural shooting distance. Even faster 85mm f/1.4 lenses are often preferred for their tighter depth of field, which can blur the background a little more effectively and make the main subject really stand out, but based on our tests the bokeh (the pictorial quality of defocused areas) produced by this lens is easily on par with f/1.4 lenses, and better than some. As with other Z-mount f/1.8 S-line primes, the build quality is very good and features weather seals.
Read more: Nikkor Z 85mm f/1.8 S review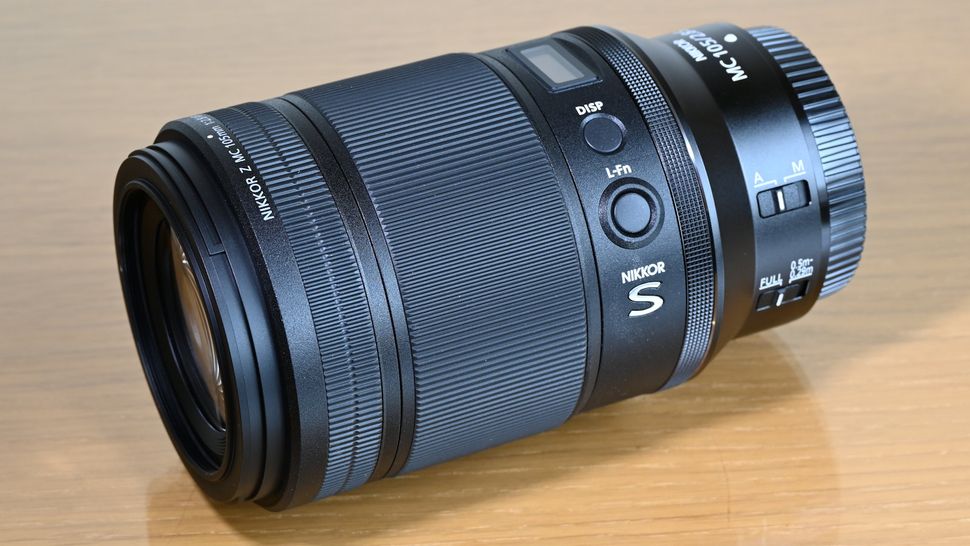 There is a cheaper Nikkor Z MC 50mm macro lens which we recommend for the more modest Nikon Z5, but if you can afford the extra – and we think the Nikon Z6 II is worth it – the Nikkor Z MC 105mm is something special. Sublime image quality for both general shooting and extreme close-ups is backed up by a super-fast and highly accurate autofocus system, along with highly effective optical VR (Vibration Reduction) that can work in tandem with the in-body stabilizers of Nikon's full-frame Z-series cameras. It also has a multi-function OLED display, a customizable lens-function button and control ring, plus an autofocus range limiter, along with an electronically coupled focus ring that enables ultra-fine adjustments. Everything's wrapped up in a tough, weather-sealed construction. Image quality, all-round performance, and handling are simply sensational.
Read our full Nikkor Z MC 105mm f/2.8 VR S review for more details
Sadly, things get expensive from here on in as we explore Nikon's telephoto lenses. Nikon's top quality 70-200mm f/2.8 telephoto zoom will cost as much as your Z6 II body, but it does set new standards for image quality and all-around performance. It's a fabulous lens that delivers spectacular performance in every respect. The autofocus system is super-fast and unerringly accurate, while lens-shift VR delivers 5-stop effectiveness right out to the longest focal length. Throughout most of the zoom range, levels of sharpness are absolutely stunning, right across the entire image frame and into the extreme corners, even when shooting wide-open at f/2.8. Of course, all this doesn't come cheap, but the price is certainly justified if you want the best quality – and a lens you can happily carry forward to future Nikon cameras!
Read our full Nikkor Z 70-200mm f/2.8 VR S review for more details
Nikon has yet to produce any affordable telephotos for its full frame Z mount cameras like the Z6 II, and that's pretty much the only remaining gap in the lens line-up. It does mean that while there are some great Nikkor Z telephotos, they come with a hefty price tag, so they' really only for the keenest wildlife and sports fans. However, this is a fabulous lens that combines rapid autofocus and highly effective 5.5-stop VR with superb image quality. All-round performance is top-drawer, while handling is enhanced by customizable function buttons and an additional 'de-clicked' control ring, along with a multi-function OLED display. It's a weighty lens with a hefty price tag, but a worthy Z-mount successor to the aging Nikon AF-S 80-400mm f/4.5-5.6G ED VR lens, launched back in 2013 with DSLRs in mind.
Read more: Nikon Z 100-400mm f/4.5-5.6 VR S review
How we test lenses
We test lenses using both real-world sample images and lab tests. Our lab tests are carried out scientifically in controlled conditions using the Imatest testing suite, which consists of custom charts and analysis software that measures resolution in line widths/picture height, a measurement widely used in lens and camera testing. We find the combination of lab and real-world testing works best, as each reveals different qualities and characteristics.