The Nikkor Z DX 16-50mm f/3.5-6.3 VR is the kit lens for Nikon's new Z 50 APS-C mirrorless camera, and its own way it's as exciting as the camera itself.
More than a year since Nikon introduced the world to its Z system, the Japan-based imaging giant has finally unveiled its very first Z-mount APS-C mirrorless camera. Dubbed the Nikon Z 50, this diminutive device is priced pretty keenly, especially with this Nikkor Z DX 16-50mm f/3.5-6.3 kit lens. Already it looks set to be one of the best Nikon cameras for hobbyists, if not one of the best mirrorless cameras on the market.
• Read our Nikon Z 50 hands on review
Nikon tells us this little pancake lens performs better than an F-mount DSLR kit lens, and it's all thanks to the Z mount's superior image rendering. This is cited as one of the most important factors in the Nikon mirrorless camera system. The company also showed us an updated version of its Nikon lens roadmap with no fewer than 11 new lenses added.
First impressions confirm just how compact this little lens is. The Z 50 is notably smaller than its full-frame counterparts and when retracted, the Z DX 16-50mm barely protrudes beyond the camera's comfy grip.
Although the variable aperture of f/3.5-6.3 means the lens isn't particularly fast at the zoom end, it does boast Nikon's Vibration Reduction image stabilization. This is said to compensate for up to 4.5 stops, making handheld shooting at slower shutter speeds possible. If that wasn't enough, the image stabilization extends to video for steadier handheld footage too. Both instances are something we'll look forward to testing out properly when we receive a review sample.
It's also worth considering the Z 50's target audience. Nikon tells us the camera sits alongside the Nikon D500 and Nikon D7500 in its enthusiast category. A presentation with Instagram influencer and travel photographer, Alex Stead, clearly conveyed the camera's suitability as a travel companion. When shooting bright vistas and golden beaches, we're expecting the DX 16-50mm to excel.
This isn't the only lens for the new Nikon Z 50. There's also a new Nikkor Z DX 50-250mm f/4.5-6.3 VR which we were able to spend a little time with.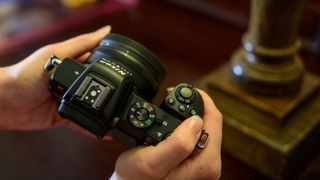 Build and handling
Cradled in the hand it's obvious this little lens comprises a largely plastic build, but the upside is its slight weight. Nikon really has made each of the optic's 135 grams count. A rather unusual addition is the tiny lens hood, which screws onto the lens much like a filter. The DX 16-50mm f/3.5-6.3 VR features a filter thread of 46mm and comprises 9 elements in 7 groups. It sports one ED glass element and four aspherical lens elements.
The 16-50mm focal length pairs perfectly with Nikon's other DX-format lens announcement, the Nikkor Z DX 50-250mm f/4.5-6.3 VR. The idea is that photographers can travel with just two lenses, while still having access to all of the most widely used focal lengths.
The presence of a silent control ring is a welcome addition and complements the Z 50's ability to operate silently. The control ring can be assigned to manual focus, aperture control, exposure compensation and ISO, which is a boon for video content creators. We did notice that the control ring was relatively narrow, which some users could find a little fiddly, but complaining about that really is clutching at straws. Considering how compact the lens is, it's an acceptable trade-off.
The pancake lens' tiny form factor may well appeal to Nikon Z 6 and Z 7 users too. Not only will its light weight go virtually unnoticed when dropped into a camera bag, but it'll automatically engage crop mode when attached to either of its full-frame mirrorless counterparts. As such, this could be an ideal lens for scouting locations.
A welcome surprise is the Z DX 16-50mm's ability to focus down to 0.2m, making it very suitable for close-up photography. Pair it with the Z DX 50-250mm f/4.5-6.3 VR and you really do have all bases covered.
Sample images
Although we didn't get to take sample shots at the launch event, we managed to get our hands on the Z DX 16-50mm and the Z50 to take a few images – albeit in lowlight, high ISO conditions - forcing to take most the shots at the widest aperture of this zoom. You can click on the top right corner of any of these shots to see the image full screen.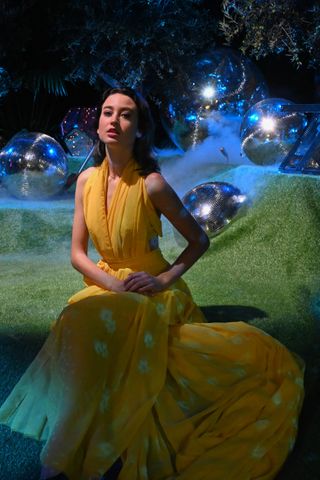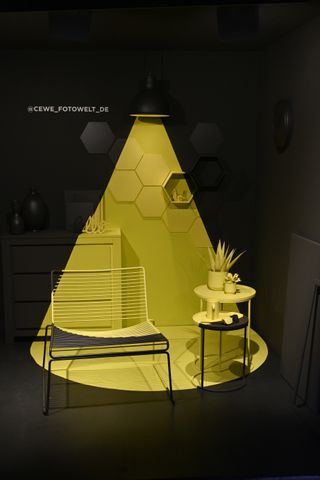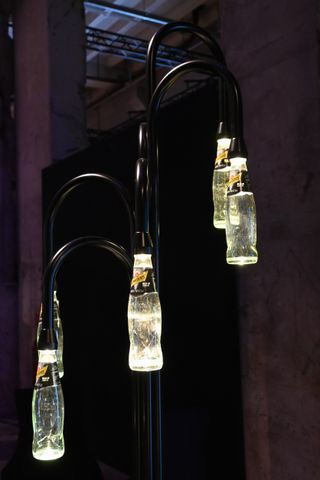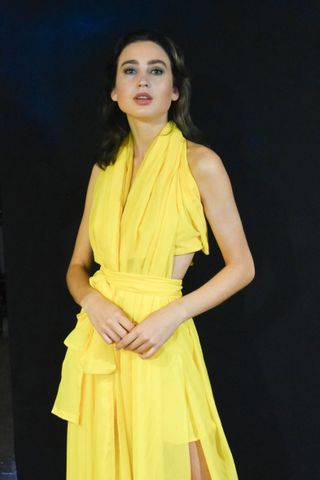 Early verdict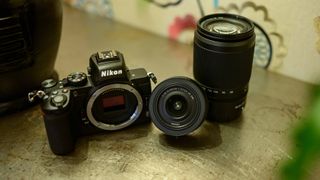 The Nikkor Z DX 16-50mm f/3.5-6.3 VR is a pancake zoom that perfectly complements the small size of the Nikon Z 50 itself. It's tiny, it's light and it's sure to prove popular with travel and street photographers alike. Its ability to focus down to 0.2m is mighty impressive, though we're told this isn't constant across the zoom range. Although this lens's plastic build may lack that premium feel, the addition of a silent control ring is a welcome mod con. What the Z DX 16-50mm f/3.5-6.3 VR lacks in speed, it makes up for in price, versatility and convenience. APS-C kit lenses are usually pretty big and clunky and many camera owners will dream of a compact kit lens like this one.
Read more
• Nikon mirrorless cameras and lenses
• Nikon camera rumors
• The best Nikon cameras
• These are the best mirrorless cameras
• DSLR vs mirrorless cameras: we explain the differences
• Nikon Z7 full review
• Nikon Z6 full review
• Nikon Nikkor Z 24-30mm f/4 S review
• Nikon Nikkor Z 24-70mm f/4 S review
• Nikon Nikkor Z 35mm f/1.8 S review
• Nikon Nikkor Z 50mm f/1.8 S review