Introduction
Nikon's new DSLR for enthusiasts does not boast any dramatic new technologies, but the D7500 does fill a significant gap in the range. It fits in towards the top of the Nikon DX (APS-C format) digital SLR range, where it's designed to offer a balance between high-end performance, versatile features and an affordable price.
The D7500 slots in above the D7200, which is two years old but still quite contemporary in its technology. The D7200 uses a 24-megapixel sensor with no anti-aliasing filter for sharp, high-quality results, but it's no longer Nikon's latest imaging unit: that was ushered in with the Nikon D500 in 2016.
The D500 is a powerful, professional-level camera that can shot continuously at 10 frames per second with a big buffer capacity and a maximum expanded ISO of 1,640,000, both made possible by a new 20.9MP sensor and the Expeed 5 processor.
Putting aside the four-megapixel drop in resolution, which is unlikely to prove very significant in everyday shooting, the D500 raised the bar for Nikon's DX-format cameras. It also raised the price point.
This left a big gap between the D7200 and D500, which the D7500 has now filled; so the question is how much of the D500's DNA has filtered down into the D7500, and whether this is the camera that could give enthusiasts the perfect balance between power and value.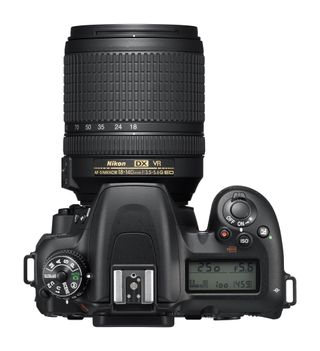 Features
This isn't a cheap camera, but the specs are very tempting. They start with the continuous shooting speed of 8fps, which is a little short of the 10fps and more achieved by top APS-C DSLRs and mirrorless cameras, but still enough for capturing most high-speed action.
The D7500 is helped by an unusually good buffer capacity of 50 raw (NEF) files – unusual outside the professional market. The typical enthusiast DSLR or mirrorless camera can shoot any number of JPEGs, but most keen photographers would rather shoot raw, even in continuous mode, so the D7500 is well ahead of its direct rivals here.
It also has the amazing high ISO setting of the more expensive D500, topping out at ISO 1,640,000. That's 5EV above its maximum standard ISO value of 51,200, so the quality inevitably takes a nosedive, but it is an indication of the technological advances built into the D7500.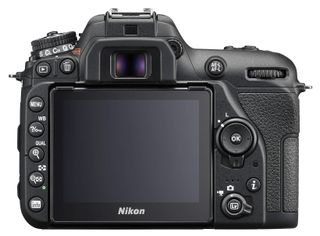 The D7500 is great for video, too, offering 4K UHD capture. This is increasingly common in the mirrorless market, but it's the first time 4K video has appeared in a non-professional DSLR.
Nikon hasn't used its latest 153-point autofocus system, however. This remains the province of its more expensive D500. Instead, the D7500 gets an improved version of Nikon's long-running 51-point Multi-Cam 3500 II autofocus sensor, now with the Group Area AF mode found in Nikon's professional models and an Auto AF Fine Tune feature.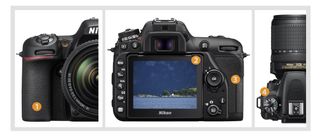 1. Surprisingly, the D7500 does not accept a battery grip.
2. The touchscreen tilts up and down and has a resolution of 922k dots, slightly down on some current rivals.
3. There's only one SD card slot, which is a bit of a surprise given that the cameras on either side in the Nikon range have two.
4. The D7500 uses Nikon's 'enthusiast' control layout, with a combined mode dial and drive mode dial.
On the outside, the D7500 sports a carbon-fibre body rather than metal alloy, though it feels plenty sturdy enough nonetheless and it is weather-sealed. It has a tilting touchscreen display on the rear, and it's the first Nikon DSLR with built-in support for Nikon's new radio-controlled Advanced Creative Lighting System.
But there are a couple of unpleasant little surprises. The first is that there is only one memory card slot. You might get by perfectly well with one slot, but the fact is that the D7200 and the D500 both have two.
Worse, there is no provision for a battery grip. The battery life is good already and it's no hardship to carry a spare or two in your pockets, but a grip can also improve the handling with long lenses and, even more importantly, make the camera easier to use vertically for long portrait shoots. Both of these omissions are a bit of a surprise.