At the launch of the Nikon Z 50 in London, Nikon revealed an updated Z lens roadmap which shows the evolution of the lenses that it will be launching over the next two years.
By the end of 2021, Nikon is promising to increase the number of lenses in the Z range to 23 - with no fewer than eleven new primes and zooms that have not previously featured on the roadmap.
New lenses in the line-up include two macro lenses, a 200-600mm super telephoto zoom and a 24-200mm superzoom. Only three of the new lenses will be have the premium S-Line designation - showing that Nikon will be putting more emphasis into producing more affordable full-frame lenses for the system..
In addition to the new 16-50mm f/4.5-6.3 and 50-250mm f/4.5-6.3, a third DX-format lens, an 18-140mm travel zoom (which will have an equivalent focal range of 27-210mm).
Along with the two new kit lenses for the DX-format Z50, which will go on sale at the start of November, the much-talked-about Noct 58mm f/0.95 will go on sale from 31 October.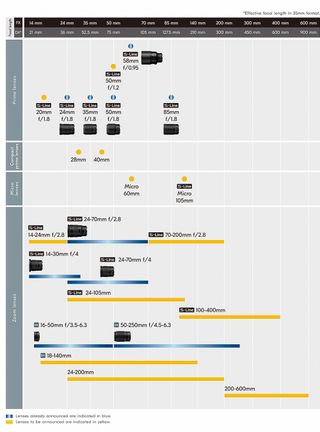 The full list of new lenses on the roadmap are:
24-200mm
200-600mm
28mm compact prime
40mm compact prime
60mm Micro
105mm S Micro
24-105mm S
100-400mm S
16-50mm f/3.5-6.3 DX
50-250mm f/4.5-6.3 DX
18-140mm DX
Read more
Nikon mirrorless cameras and lenses
Nikon camera rumors
Nikon Nikkor Z 24-30mm f/4 S review
Nikon Nikkor Z 24-70mm f/4 S review
Nikon Nikkor Z 35mm f/1.8 S review
Nikon Nikkor Z 50mm f/1.8 S review
Nikon Z7 full review
Nikon Z6 full review
The best Nikon cameras
The best mirrorless cameras
DSLR vs mirrorless cameras: we explain the differences