Apart from the notable exceptions of the forthcoming Z 24-70mm f/2.8 S and Z 58mm f/0.95 Noct, Nikon has been restrained with the aperture ratings of its S-line lenses for the full-frame Z system. The 35mm and 50mm primes are rated at f/1.8 rather than f/1.4, and the first 24-70mm offering as well as this new wide-angle zoom are f/4 rather than f/2.8.
Some moan that these apertures are pretty meagre for up-market optics although they make good sense, enabling the lenses to be relatively compact and lightweight, and a perfect match for mirrorless Z 6 and Z 7 camera bodies.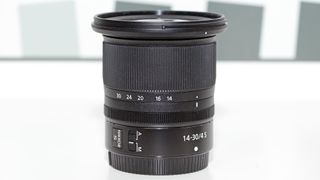 The 14-30mm S-line lens delivers the same maximum viewing angle (114 degrees) as the acclaimed Nikon AF-S 14-24mm f/2.8G ED for full-frame DSLRs, along with a bigger overall zoom range. It's much smaller, not only due to being an f/stop slower, but also thanks to its clever retractable design. It's also less than half the weight, at 485g compared with a full kilogram for the F-mount lens.
Although small and light, there's no shortage of high-quality glass. With 14 elements in total, the new lens matches its F-mount sibling, although it splits them into 12 rather than 11 groups.
Four ED (Extra-low Dispersion) elements are included, along with four aspherical elements, Nano Crystal Coat, and a fluorine coating on the front element to repel grease and moisture.
The customary control ring of S-line zoom lenses has the usual options for manual focusing, control over ISO, and for applying exposure compensation. It's good that Nikon has been consistent with the placement of the control ring in all of its S-line zooms. In the 35mm and 50mm primes, the large focus ring has the same customisable options.
A key advantage over many wide-angle zooms for full-frame cameras is that the petal-shaped hood is detachable. As such, there's an 82mm accessory attachment thread, enabling the easy fitment of circular screw-in filters or a holder for square filters. It's certainly more convenient than having to buy a pricey filter holder that's dedicated to a specific lens, like with the Lee Filters SW150 Mark II system.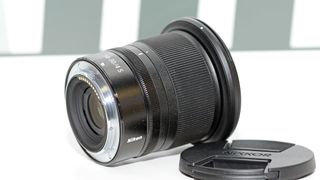 Performance
The stepping motor autofocus system is practically inaudible in operation. It's typically quick and snappy for stills, and delivers smooth focus transitions during movie capture. Manual focusing is smooth and precise, via the electronically coupled control ring.
Nikon's S-line lenses are rapidly building an excellent reputation for image quality, and the new 14-30mm zoom is no exception. Sharpness, contrast and colour rendition are stunning, while distortion and colour fringing are entirely negligible. Vignetting when shooting wide-open is noticeable when uncorrected in-camera, but certainly not severe, especially for such a wide-angle zoom. The aperture remains fairly well-rounded when stopping down a little, despite being based on seven diaphragm blades, rather than the more usual nine blades of wide-angle zooms for full-frame cameras.
Sample images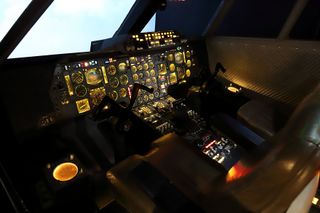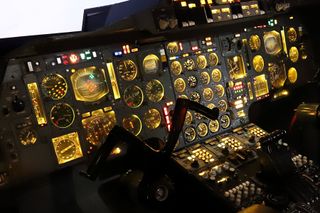 Lab results: resolution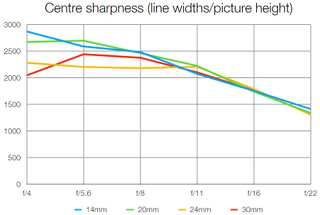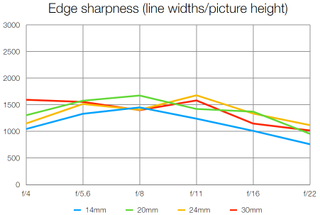 The sharpness of this zoom is simply stunning right into the corners of the frame –even when shooting wide-open at f/4.
Lab results: Distortion
Even when shooting test charts at very close range, distortions are barely perceptible at any zoom setting. Distortion measured at the widest 14mm end were higher than at the 30mm end - with scores of 0.51 and 0.15 respectively – but these are excellent scores for an ultra-wide zoom.
Lab results: Chromatic aberration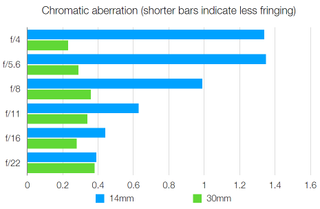 Lateral chromatic aberrations are absolutely negligible throughout the zoom range, right across the frame – and are particularly impressive for a wide-angle zoom.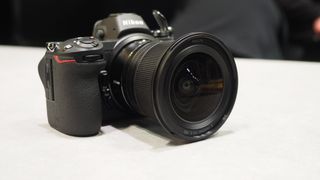 Verdict
The Nikon Z 14-30mm f/4 S is not the fastest lens, sure, but it's lightweight, small, gives super image quality, and is just the thing that may tempt new mirrorless users over to Nikon's side. The Nikon Z lens roadmap for the Z6 and Z7 has just got interesting.
Read more:

Nikon Nikkor Z 24-70mm f/4 S review
Nikon Nikkor Z 35mm f/1.8 S review
Nikon Nikkor Z 50mm f/1.8 S review
Nikon Z7 full review
Nikon Z6 full review