The Nikon Z fc is certainly a nice-looking camera, harking back to the design of the Nikon FM film SLR and rather like Nikon's retro-revival Nikon Df – though with a smaller APS-C sensor and a MUCH more affordable price tag. So what are the best lenses to get for the Nikon Z fc? This is where it gets a little more complicated.
Beautiful as it is, and while the Nikon Z fc is one of the best Nikon cameras, it doesn't have that many lenses yet. It's true that you can use all the full frame Nikon Z lenses on this camera, but these can be big and expensive, and the smaller APS-C sensor in the Z fc produces a 'crop factor' which reduces the effective angle of view of full frame lenses.

Some of the best Nikon Z lenses are great for the Z fc, mind, even if they are for full frame cameras, and we've some in our list. For the most part, though, a smaller format camera like this needs lenses designed for the smaller sensor, particularly for wider angles of view.

So we've also made sure to include all the dedicated Nikkor Z DX lenses Nikon currently makes, and the good news is that in addition to the two kit lenses and a telephoto lens that arrived at the start, Nikon has added an extra-wide-angle zoom and a handy little fast prime lens. It's still early days, but the lens range for the Nikon Z fc is already enough to cover most users' needs.

You'll see that we've put 'equivalent' focal lengths in our lens specifications below. This is so that you can judge their focal lengths in full frame camera terms. We also pay special attention to in-lens VR (Vibration Reduction) systems, since the Nikon Z fc does not have in-body stabilization.

Now that we've covered everything you need to know, let's get on with the list!
Best lenses for the Nikon Z fc in 2023
Why you can trust Digital Camera World Our expert reviewers spend hours testing and comparing products and services so you can choose the best for you. Find out how we test.
The NIKKOR Z DX 16-50mm f/3.5-6.3 VR is the standard kit zoom for the Nikon Z fc, and if you're debating whether to get this camera body only or pay just a little more to get the kit zoom too, we can help you out. Get the kit zoom! This lens offers a really useful 24-75mm focal range and its retracting mechanism means it packs away really small. It's a versatile little lens too, because it can focus right down to 0.2m for close up shots. It even has a silent control ring for different camera functions. We would say that the plastic build means it doesn't exactly have a premium feel, but at this price, what would we expect? What the Z DX 16-50mm f/3.5-6.3 VR lacks in speed, it makes up for in price, versatility and downright dinky charm.
See our full Nikon Z DX 16-50mm f/3.5-6.3 VR review
There's no doubt that a longer zoom range is useful, and there may be times when the Z fc's regular 16-50mm lens won't let you zoom far enough for faraway subjects – and that's where the NIKKOR Z DX 18-140mm f/3.5-6.3 VR steps in. Its 27-210mm equivalent focal range means it's practically a superzoom lens and one that can tackle a far wider range of subjects. It's not usually available as a kit lens option, though, and it is quite expensive as a standalone purchase, so you might want to think carefully. It is pretty compact and light for a lens with this range, but it's a bit disappointing that it comes with a plastic mounting plate. That's normal on cheaper lenses, but this isn't a cheap lens.
See our full Nikon Z DX 18-140mm f/3.5-6.3 VR review
The NIKKOR Z DX 50-250mm f/4.5-6.3 VR is a compact, light and effective telephoto zoom designed specifically for the Nikon Z fc and other Nikon Z DX cameras like the Z50 and Z30. A telephoto lens is usually the first choice for an additional lens, and this one doesn't disappoint, with an impressive 75-375mm effective focal range – that's impressive magnifying power for a lens this small and light. The build is plastic, as is the mounting plate, but don't let that put you off – it helps keep the weight of the lens down, and doesn't affect its optical performance, which is very good at this price. The slow maximum aperture of f/6.3 is a bit disappointing, but the Nikon Z fc delivers good image quality at higher ISOs, so you can use this to get faster shutter speeds where needed.
See our full Nikon Z DX 50-250mm f/4.5-6.3 VR review
When the Nikon Z DX-format cameras came out we were worried that there weren't any ultra-wide-angle lenses for it, as this is one of the first lens types we would recommend after a telephoto. But Nikon has put that right, launching the excellent NIKKOR Z DX 12-28mm f/3.5-5.6 PZ VR. This doesn't just offer wide-angle shooting for stills photography, but a great vlogging lens too. The extra-wide angle of view is ideal for arms-length walk-and-talk style filming, and its in-built VR will help with any jitters. The PZ (power zoom) mechanism offers smooth zooming while filming, and the lens doesn't change length while you do it, so it's not going to upset the balance if you use it on a gimbal. The Z DX 12-28mm f/3.5-5.6 PZ VR is light, compact, and very keenly priced for a lens of its type. Bravo, Nikon!
See our full Nikon Z DX 12-28mm f/3.5-5.6 PZ VR review
Prime lenses have become very popular in the past couple of years. They're smaller and lighter than zooms, have faster maximum apertures and need less correction for optical issues like distortion. We were really pleased to see Nikon launch the NIKKOR Z DX 24mm f/1.7 because it's designes specifically for the Z fc's smaller sensor and shows real commitment to this new format. With an effective focal length of 36mm in full frame terms, this is a really handy walkaround 'street' lens or semi-wide standard lens for all sorts of photography. There's no optical stabilization, but that's normal on prime lenses and the fast f/1.7 maximum aperture will offer lots of help in low light. This is a very light, compact and effective lens at a very good price.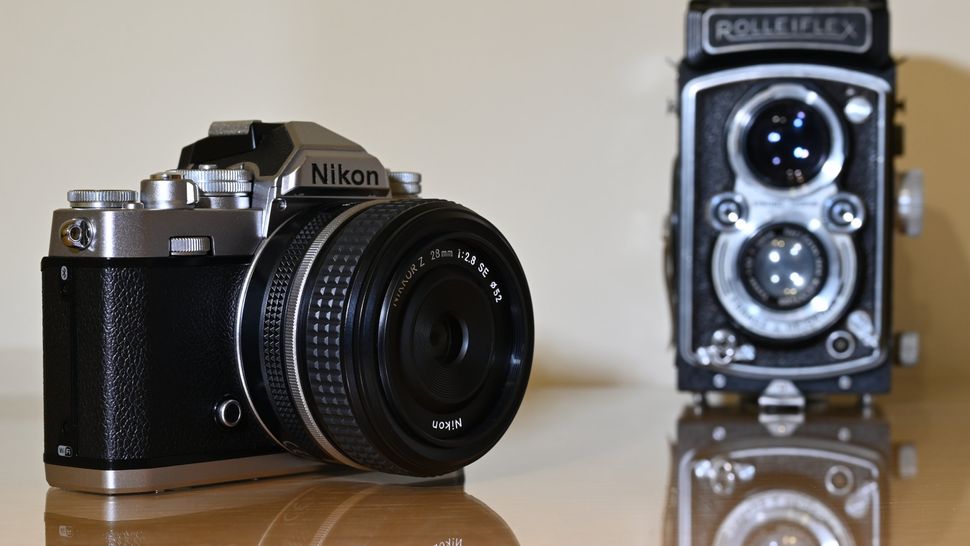 Normally we would recommend getting the Z fc with the Nikon 16-50mm kit lens, but if you want to jump straight into retro shooting with a prime lens, get this! The NIKKOR Z 28mm f/2.8 (SE) has an effective focal length of 42mm on the Z fc, which makes it a great general-purpose standard lens. Better still, the SE version is styled to match the classic look of the Z fc itself. This is not specifically an APS-C lens, though, as it will also work with a full frame sensor and would make a great wide-angle prime lens on one of Nikon's full frame cameras like the Nikon Z5. The f/2.8 maximum aperture won't set the world on fire, but it's still faster than a zoom lens, and given this lens's small size, light weight and price, it's hardly something to quibble over. This lens will certainly give the full retro shooting experience with the Nikon Z fc.
Here's another prime lens you might like to consider getting for your Nikon Z fc. Like the 28mm f/2.8, it's available in both a 'plain' and an 'SE' version styled to match the Z fc (though this does cost a little more). This also covers the full-frame format too, so it's a lens you can take with you if you upgrade to a full-frame Nikon Z camera like the Nikon Z5 in our image above. On the Z fc, the NIKKOR Z 40mm f/2 gives an effective focal length of 60mm, so it works like a slightly 'long' standard lens. The key feature here, though, is the f/2 maximum aperture, which should deliver nice background defocus effects. The Nikon Z 40mm f/2 is small and light and great value for money, though of course at this price you can't expect professional build quality and materials.
See our full Nikon Z 40mm f/2 review
Nikon doesn't make a macro lens specifically for the DX format Nikon Z fc, but this full frame macro lens will do just fine! The NIKKOR Z MC 50mm f/2.8 Macro offers the 1:1 close-up capability of a true macro lens, and on the Z fc it offers an effective focal length of 75mm, so it can also double up as a short telephoto or even a portrait lens. There's no optical Vibration Reduction, so you will be well advised to use a tripod for macro shots (it's good advice even WITH stabilization) and the shooting distance is just 2 inches at maximum magnification, so it could cast a shadow on your subject or scare off timid insects. That aside, though, this is a great macro lens for the Z fc, and at a price which won't scare off Z fc owners either.
See our full Nikon Z MC 50mm f/2.8 Macro review
Compare: Nikon Zf vs Z fc