As far as headline specs go, the Nikkor Z 50mm f/1.8 S seems like just another 50mm standard prime, if a well-specced one. The 12-element optical stack includes two ED glass elements as well as two aspherical elements to boost contrast and vibrancy.
Build & handling
With a large maximum aperture comes shallow depth of field effects, so nine rounded aperture blades shape passing light as smoothly as possible for attractive bokeh in out-of-focus areas.
Externally, the Z 50mm is noticeably bigger and heavier than a good old F-mount AF-S 50mm f/1.8G, but compared with some F-mount 50mm alternatives from Sigma and Tokina, it's still pleasingly portable.
The lens barrel features just a single AF/MF switch, but the wide, tactile and precise manual focus ring isn't redundant if you're using autofocus, as it can also be set in-camera to adjust exposure compensation or ISO sensitivity.
Lab tests
Nikon has made much noise about how it has shortened the distance between lens flange and image sensor from the F-mount's 46.5mm to just 16mm in a Z camera.
Combine this with the larger 55mm inner diameter of the Z mount itself and the result is less distance for light to travel from lens to sensor, and more room for a larger rear lens element. It all adds up to potentially increased image quality.
But this isn't just theoretical marketing hype. The Z 50mm f/1.8 S is terrifically sharp, only fractionally down on the significantly pricier Z 35mm f/1.8 S, and that's the sharpest lens we've ever tested.
Aberrations are practically non-existent at any aperture, and we couldn't induce any sign of distortion.
Of course achieving maximum sharpness when working with such a tiny depth of field available at f/1.8 requires super-accurate autofocus, but in our testing with both Nikon's Z 7 and Z 6 bodies, the Z 50mm never missed its mark and consistently delivered maximum sharpness with no focus hunting.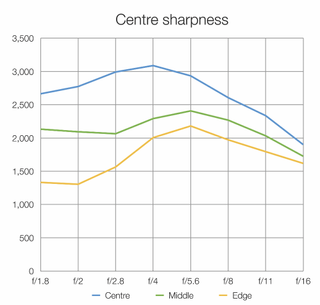 Sharpness:
Any score over 2000 LW/PH for centre sharpness indicates an impressively sharp lens. To achieve this at the edges of frame and 3000+ in the centre is simply incredible.
Fringing:
50mm prime lenses are usually pretty resistant to aberrations, but this lens generates particularly clean images, with barely a trace of fringing even when wide open.
Distortion:
Our testing is conducted with all in-camera distortion correction disabled. While a 50mm lens won't distort like an ultra-wide optic can, this flawless figure is still admirable.
Specifications
Full-frame compatible: Yes
APS-C effective focal length: 75mm
Image Stabilizer: No
Minimum focus distance: 40cm
Manual focus override: Yes
Focus limit switches: No
Internal zoom: N/A
Internal focus: Yes
Filter size: 62mm
Iris blades: 9
Weather seals: Yes
Supplied accessories: LC-62B 62 mm Snap-on Front Lens Cap, LF-N1 Rear Lens Cap, HB-90 Bayonet Hood, CL-C1 Lens Case
Dimensions (dia x length): 76 x 86.5mm
Weight: 415g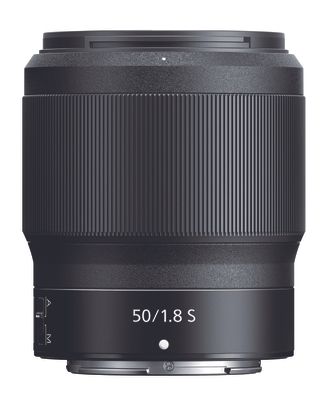 Verdict
Nikon's new Z mount has paved the way for lenses that set new benchmarks for optical quality. In focal length terms the Z 50mm f/1.8 S prime may be 'standard', however in every other respect this lens is anything but.
Features: 4/5
Build & handling: 5/5
Image quality: 5/5
Value: 4.5/5
Overall: 5/5