Sony shooters seeking a new option for portraits and macro now have a new option, with the announcement of the Tokina FiRIN 100mm F2.8 FE Macro (or "FíRIN", as the company lists it) for Sony E-mount cameras.
This versatile mid-range optic will challenge the Sony FE 90mm f/2.8 Macro G OSS as the best Sony lens for macro photography, but its fast f/2.8 aperture also makes it a solid option for portrait shots, with nine aperture blades producing soft beautiful bokeh and great background separation.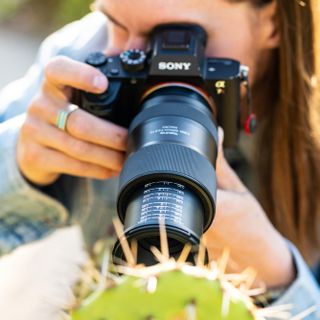 Its real strengths, though, lie in its macro capabilities. It reaches 1:1 life-size reproduction with a working distance of 114.3mm / 4.5 inches between the subject and the front of the lens.
Shown originally at Photokina last year, the lens comprises of nine elements in eight groups, the FiRIN's 'flat-field' optics have been engineered to eradicate field of view curvature, delivering superior edge-to-edge sharpness across the focal and aperture ranges.
Marvelous for macro
It has also been constructed to make maximum use of the powerful macro aids in Sony cameras such as focus peaking, auto image enlargement, electronic distance bar, manual focus assist and image stabilization.
Tokina is also confident enough to claim "perfectly controlled chromatic aberration, flare and ghosting" thanks to the optic's multi-coatings, which render images with a natural color and "extremely low" light falloff.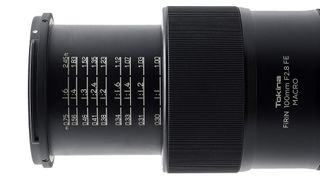 The lens boasts a large manual focus ring when you want to take over from its autofocus ability, with the extending barrel taking the lens length from 123 to 163mm. It weighs in at 589.7g / 1.3 lbs, with a 55mm filter size.
The first two lenses in the Firin series were the Fírin 20mm F2 FE MF and Fírin 20mm F2 FE AF – manual-focus-only and autofocus Sony-mount lenses of the same prime design.
The word Fírin is apparently a variation of Fírinne, the gaelic word for "truth". Tokina explains this 'represents a promise from Tokina to photographers to help them capture the truth in their images'.
The Tokina FiRIN 100mm F2.8 FE Macro will be available from 26 April at a cost of $599 / £579 and should provide an all-in-one solution for both portrait photographers and macro shooters.
Read more:
The best Sony lenses
The best Sony camera in 2019
Sony A6400 review