Mums – most of us don't appreciate them enough. But Mother's Day is fast approaching in Australia and it's about time you thought about what to get that wonderful woman who raised you, or is helping raise your own family, to celebrate her.
If she's the creative kind or loves snapping pictures of the family on her phone, get something that will print out her memories instantly. And that's where Instant cameras, like Fujifilm's Instax Mini LiPlay, come in, particularly if you can get them for a discounted price.
The LiPlay's headline act is that it's the world's smallest hybrid camera that combines a digital snapper with an instant one. While it uses Fujifilm's Instax Mini film to produce instant prints, the digital side of things is handled by a 4.9MP 1/5-inch CMOS sensor and built-in storage for 45 images. However, that storage can be increased with the use of a microSD card, a slot for which is available on the camera.
This means mum can take a variety of shots with the camera and print only the ones she really wants, the rest sitting safe and sound on the device itself (or backed up on a laptop or phone).
Everything is shot through a fixed wide-angle lens with a focal length equivalent to 28mm f/2 in 35mm terms, while framing is done via the Mini LiPlay's other headline feature – a 2.7-inch, 230K-dot rear LCD screen. While the display isn't unique (it is available on Fujifilm's SQ10 and SQ20 instant cameras), it is the first time it's found its way to a compact Mini model.
Say it with love
The third standout feature the Mini LiPlay boasts is the ability to record audio that can be played back for the prints using a QR code and a companion app – an added bit of fun to make those memories even more precious.
For the truly creative photographers, the LiPlay features three shortcut buttons on the left side of the device that can be used to select different frames for images – in fact, each button can be customised for a particular template for quick and easy access for any frame mum finds herself using the most.
So many features and all for just AU$175 at Camera House – that's 23% off the RRP for a great Mother's Day gift.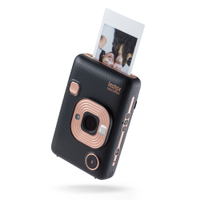 Fujifilm Instax Mini LiPlay | AU$175 (RRP AU$229; save AU$54)
For a tiny little instant camera, the Mini LiPlay packs quite the punch, offering plenty of features you're not likely to find elsewhere. And it's now available for an affordable price of just AU$175, saving you AU$54 on Fujifilm's own AU$229 price tag. That's a 23% discount for those crunching numbers.
While we think the blush-gold version is gorgeous, perhaps your mum would prefer a different colour. In that case, Camera House is also offering the Elegant Black version (with its blush gold trim) for the same price.
Read more
Best instant cameras in 2020
The best film cameras available right now
The best camera phones for smartphone photography
Best portable printers for photos