If you've always wanted to get a drone, but never thought you had the time to master it properly, now might just be the time. If you're stuck at home with a big back garden and few neighbors around, this could be the perfect opportunity to practice your drone skills (as long as it's done safely!). Luckily, Wex Photo Video are currently running an amazing deal on the DJI Mavic 2 Pro drone.
You can now pick up the DJI Mavic 2 Pro drone for just £1,229 down from its original price to just £1,349 by using the code MAVIC-120. As one of the most powerful consumer drones on the market, the Mavic 2 Pro can reach speeds of up to 45mph and has a class topping battery life of 31 minutes.
• Read more: Everything photographers need to work from home
The DJI Mavic 2 Pro also has a 1" CMOS sensor and a Hasselblad 28mm f/2.8 EQV lens to help you capture stunning 4K video and 20MP images. It has a 3-axis gimbal for silky smooth footage and omnidirectional sensors to help keep your drone safe. The DJI Mavic 2 Pro has a maximum range of up to 5 miles – but of course you won't be able to fully test that until we're out of lockdown.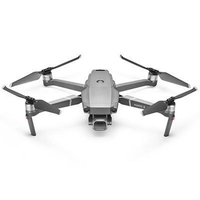 Read more
Best camera drones in 2020: these are the best drones for photography
Best drones for kids in 2020
Best drone accessories in 2020: essentials add-ons for DJI drones & more