With many of us stuck at home, you might be wondering how to make the most out of your camera in these difficult times. If you usually shoot outside of the house, your collection of lenses might not necessarily lend themselves to home photography. However, this Sigma macro lens for Nikon could make the perfect new addition to your kitbag.
The Sigma 105mm f/2.8 EX DG OS HSM Macro lens for Nikon F mount is down from its original price of $969 to just $469, which is an instant saving of $500! Not only will you be able to capture beautiful macro photos, this 105mm f/2.8 lens can also put in a double shift as a portrait lens when lockdown is over.
• Read more: Shoot a macro swimming pool scene
This lens is a "true macro" lens, which means that it's able to achieve 1:1 life-size magnification. It also has a 1" minimum focusing distance to help you get as close as possible to your tiny subjects. The Sigma 105mm f/2.8 macro lens has a Hyper Sonic Motor that enables quick and quiet autofocus performance and an Optical Stabilizer that minimizes the appearance of camera shake for sharper macro shots.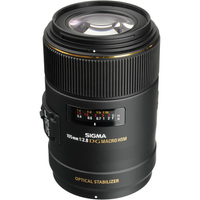 Read more
Best Nikon lenses in 2020: expand your Nikon DSLR with these lenses
Nikon flashguns in 2020: Get sorted with a Nikon Speedlight today!
Best Nikon camera in 2020: including Nikon DSLRs, Nikon Z and Coolpix