Some lenses are such strong sellers that you almost never see a good offer on them. The Olympus 300mm f/4 Pro is one such lens, which makes this fantastic offer doubly exciting: Amazon Spain is shaving a huge £312 off the price tag!
The Olympus M.Zuiko 300mm f/4 IS Pro is available for €1932 / £1787 – a massive saving on the £2,099 that the lens typically retails for in the UK. Thankfully, the Amazon Spain offer extends to anyone in the EU (so Brits better act quick!) with standard shipping to the UK at €6.11 / £5.65 and next day delivery for just €15.53 / £14.36!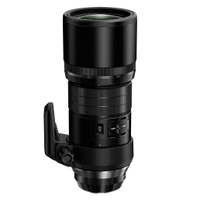 A professional-grade optic, the Olympus M.Zuiko 300mm f/4 IS Pro lens delivers an equivalent focal length of 600mm on Micro Four Thirds bodies. Fully weatherproof, it's designed to withstand the elements and pairs perfectly with professional cameras like the flagship Olympus OM-D E-M1X and Olympus OM-D E-M1 Mark II.
Indeed, when paired with these bodies, the Olympus 300mm employs Sync-IS that works in conjunction with the E-M1s' IBIS, resulting in a whopping 6 stops of image stabilization – ideal for taking rock-solid photographs or shooting super-sturdy 4K video at 600mm!
Read more:
The best Olympus OM-D E-M1 Mark II deals in July 2019
The best Olympus cameras in 2019
The best Micro Four Thirds lenses for your Olympus or Panasonic camera