With all the full frame fireworks from Canon, Nikon, Olympus, Sony and Panasonic, Olympus has been a little left out. It's stuck with the Micro Four Thirds sensor format while the rest of the world seems to be going full frame. 2018 was a pretty quiet year for ths once mighty camera brand, with only one camera launch, and even that was a modest update of an existing model.
But any fears that Olympus was trapped in a downward decline evaporated from the very first months of 2019. 2018 was a glitch; 2019 has been one of the busiest years for Olympus for a very long time, and it kicked off with a brand new camera designed to challenge the dominance of Canon and Nikon in the high-speed, high-tech, high-stakes world of sports and wildlife photography.
January
How much impact will the Olympus OM-D E-M1X have in the field of pro sports photography? We don't know. After all, almost all pros shoot with full frame DSLRs, and the downsized Micro Four Thirds sensor might be a step too far for most of them. But we like it so much we give the E-M1X a five star review. It has a smaller sensor than its pro rivals, but that brings dramatically reduced size, weight… and especially cost.
Did you know that Olympus considered entering the medium format market? Neither did we until the comment was made during a press event for the Olympus OM-D E-M1X. Olympus has decided to stick with the Micro Four Thirds format, however, and the start of the year saw news of a new consumer-level ultra-zoom which looked very interesting indeed. The M.Zuiko 12-200mm f/3.5-6.3 is equivalent to a 24-400mm lens on a full frame camera, offering a huge 16.7x zoom range.
That's not the only lens news. This month, Olympus announces its latest lens roadmap, with lenses in both its Pro range and less expensive regular M.Zuiko range. A few lenses on the list catch our eye, including a Wide Zoom Lens (9-30mm), Standard Zoom Lens (10-40mm), Telephoto Zoom Lens (48-210mm), Telephoto Zoom Lens (60-250mm) and Bright Prime Lenses that range from 10mm to 60mm.
We showcase our maths skills by calculating that the new Olympus M.Zuiko Digital ED 150-400mm f/4.5 TC1.25x IS Pro used in conjunction with the Olympus MC-20 teleconverter will give an effective focal length of 2000mm! Just don't ask what happens to the maximum aperture if you do that.
There's even a new camera. Well sort of. To celebrate its 100th birthday, which doesn't actually happen until October 2019, Olympus announces a special silver edition E-M1 Mark II – but it's only going to make 2,000.
Last but not least, there's a new Olympus FL-700WR weatherproof flash that is dust, splash and freezeproof, and has a maximum guide number of 42 (ISO 100/m). During wireless shooting it can act as commander or receiver.
February
Sad news. We hear unofficially that the Olympus PEN-F is being discontinued. This super-stylish PEN model had many of the features of the more advanced OM-D series, including an in-built electronic viewfinder and articulating LCD. But it was always expensive, rarely discounted, and when 4K video capture became the norm its 1080 video immediately made it dated. Dear Olympus, PLEASE make a Mark II!
March
Will Olympus sell its imaging business? Rumors are rife after the company appoints a representative of a 'value-driven' American shareholding company to its board. People add two and two together and make 22, and Olympus issues a denial that anything of the sort is planned.
People are twitchy nonetheless, especially since there's still no sign of a new Olympus OM-D E-M5 Mark III, perhaps the most important camera in the Olympus OM-D range, and now long overdue for a replacement. Olympus assures us the OM-D E-M5 Mark III is coming. Let's hope it's soon.
In the meantime we get our hands on the Olympus M.Zuiko Digital ED 12-200mm F3.5-6.3 for a full review. Our verdict? Like any other ultra-long zoom, the 12-200mm loses sharpness at the longest end of its zoom range, but it's nicely made, nice to use, and that zoom range is just ENORMOUS.
We also get to look at the even more impressive Olympus 150-400mm f/4.5 Pro and its integrated 1.25x teleconverter – and the separate MC-20 2x teleconverter – at The Photography Show in Birmingham, UK. It was behind glass, though, so we couldn't even pick it up – and we're still waiting for this lens to be released on to the market. Bah!
April
The MFT format gets a shot in the arm with the news that Sharp has joined Micro Four Thirds with Olympus and Panasonic ahead of the public release of its ground-breaking 8K video camera. It's not the only video specialist to use this format – the remarkable Blackmagic Pocket Cinema 4K camera also uses a Micro Four Thirds sensor.
Meanwhile, the Laowa 9mm f/2.8 Zero-D arrives in MFT mount. We've been very impressed by this lens on APS-C camera, so it's great news that Olympus users will get a version too. With an effective focal length of 18mm, this is an ultra-wide prime with manual focusing and a manual aperture ring – plus a distance scale and depth of field markings (remember those?) which are great to see.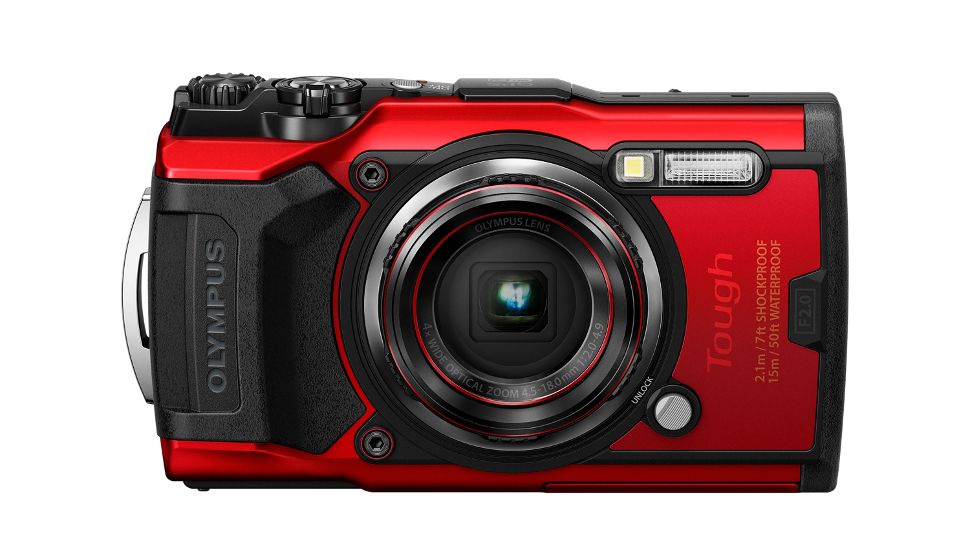 May
We get the specifications for the new Olympus Tough TG-6 underwater compact, which now has a higher-resolution display, a new digital teleconverter (so that's a digital zoom, then) and an Underwater Microscope mode that lets you capture subjects just 1cm from the lens.
June
We wanted to work out a joke about it being a Tough year for Olympus, but thankfully we gave up. Olympus did nevertheless bring out a new version of its highly rated go-anywhere compact camera. We gave the Olympus Tough TG-6 a full review and found it just as good as its predecessor, but not actually very different. We also broke a bit off.
We wouldn't normally review a teleconverter, but we made an exception for our Olympus MC-20 review. This 2x teleconverter can be used with three of Olympus's pro telephoto lenses: the 40-150mm f/2.8 Pro, the 300mm f/4 IS Pro, and the upcoming M.Zuiko Digital ED 150-400mm F4.5 TC1.25x IS Pro. It's the way it works with the 300mm f/4 that left us most impressed. The 2x crop factor of the 300mm lens means it's 'effectively' a 600mm lens (in full frame terms) already. Add the MC-20, and you get an extraordinary 1200mm equivalent f/8 ultra-telephoto.
This is the month that Olympus releases a major firmware update for the OM-D E-M1 Mark II. It brings the latest Olympus autofocus features, the autofocus algorithm from the flagship OM-D E-M1X, improved low-light sensitivity and improved high-ISO noise control.
July
July is pretty quiet, except for some rather random news via the Canon News website. It seems Canon has filed patents for three Micro Four Thirds format 'standard' zoom lenses: a 12-48mm f/1.7-4.0, a 12-47mm f/1.7-2.8, and a 12-24mm f/1.7-4.0. We don't think Canon is joining Micro Four Thirds any time soon (!), but then this format is quite important in the video industry, where Canon is no doubt keen to maintain a strong presence – though maybe with lenses rather than cameras, in this instance.
August
Remember the Olympus Tough TG-6 that we reviewed in June? Olympus announces that £5 from the sale of every TG-6 will go to the Sea Life trust, which funds projects such as Sea Life's Beluga Whale Sanctuary in Iceland, which recently saw the relocation of two whales from China.
Rumors about the OM-D E-M5 Mark III are building. We believe it will have the same 20-megapixel sensor as the flagship OM-D E-M1X model, phase detection autofocus and a lighter body than its predecessor, but still weatherproof.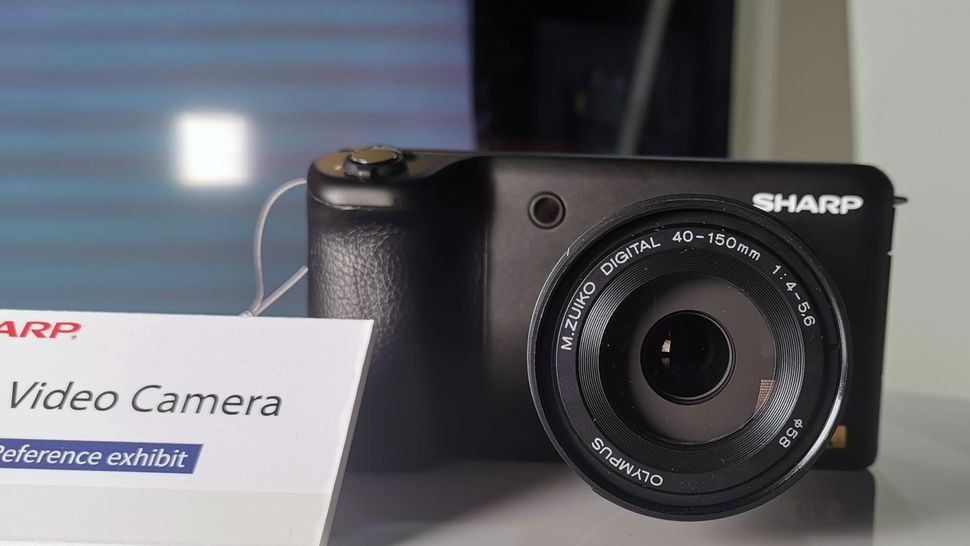 September
Grim news in September, as Olympus pulls out of Photokina 2020. It's not the only camera company to do so. Nikon, Leica and (later) Fujifilm have pulled out too. Does this mean Olympus is in trouble? In fact, it's Photokina that's in trouble. The much-loved German photography show, once the flagship exhibition of the photographic industry, appears to have hit hard times. We hope it bounces back.
It's revealed that Sony has developed a 47-megapixel 8K Micro Four Thirds sensor prompts a flurry of excitement in the DCW offices. This will be news to many. Sony doesn't make Micro Four Thirds cameras, but it does make MFT sensors. Olympus cameras have long been capped at 20-megapixel resolution, but will we one day see a 47-megapixel model?
We know that the Olympus OM-D E-M5 Mark III is coming, though not with a 47-megapixel sensor, alas. In fact, we think we know quite a lot about what this new camera might bring.
October
Oops. Amazon leaks details of the upcoming Olympus OM-D E-M5 Mark III, though Olympus says the details are 'inaccurate'. We also see leaked Olympus E-PL10 info, though there are no details about anything other than a new black finish.
There's more concrete information about a new Olympus 100mm f/2.8 Macro IS Pro lens – it's not officially announced yet, but the company has filed a patent. It's the third Olympus MFT macro lens, but the first to fall under the Pro banner, so it looks like a very useful addition to the growing pro lens range for these cameras.
What is official, though, is a new Laowa 17mm f/1.8 MFT lens. The appeal of a manual focus prime with a focal length the same as the excellent Olympus offering might look limited – until you find out that Laowa plas to sell it for just $149. It also has a proper distance scale and depth of field markings for each aperture setting – perfect for hyperfocal focusing in landscapes and 'zone focusing' in street photography.
This is the month that Olympus celebrates its 100th birthday, and it does so with a rather charming exhibition of 100-year-olds' portraits. The company was founded in October 1919 by Takeshi Yamashita under the logo 'Tokiwa', and specialized in the manufacturing of microscopes and thermometers (to this day, the Olympus medical division is huge – far larger than its camera division). The first Olympus camera was the Semi-Olympus I, in 1936.
And finally, the Olympus OM-D E-M5 Mark III is official. But which of the three latest OM-D models is right for you. We compare the E-M10 III vs E-M5 III vs E-M1 II to find out.
November
In November, it turned out you can have an awful lot of smoke and no fire at all. Olympus was again pressed into officially denying it had any plans to sell its imaging division, following a rumor that began in an online comment and gained strength despite denials from Olympus.
That was soon forgotten when we got our official Olympus OM-D E-M5 Mark III review sample. The E-M5 has always slotted in between the entry-level E-M10 and the pro-level E-M1, but in many ways its combination of compactness and power has made it the most desirable of all three, especially among more experienced enthusiasts. But it's also the last model to get the latest 20-megapixel Micro Four Thirds sensor, and it's taken so long that many loyal fans feared it might not happen at all. But the good news is that the OM-D E-M5 Mark III is here at last, and the even better news is that it's brilliant.
The new PEN E-PL10, announced quietly on the same day, is slightly more confusing. From what we can learn, it's not a replacement for the E-PL9 but a modified alternative aimed more at the Instagram/influencer market and sold only through certain channels, notably the Olympus store.
We also learned of three new Pro lenses scheduled for release in 2020. We already know about the M.Zuiko ED 150-400mm f/4.5 TC1.25x IS Pro lens, which made its public debut at The Photography Show way back in March. This super-telephoto will be joined in 2020 by an M.Zuiko ED 100-400mm f/5.0-6.3 IS and the M.Zuiko ED 12-45mm f/4.0 Pro – we're not quite sure what to make of this second lens, since Olympus already has an extremely good 12-40mm f/2.8 standard zoom.
December
If we're honest, we've been a bit worried about Olympus for the past couple of years, but 2019 has a gone a long way towards convincing us there's still a lot of life left in this iconic brand.
Olympus doesn't launch a lot of cameras, so when it does, we pay attention – and the Olympus OM-D E-M5 Mark III was one of the cameras that blew us away in 2019. Not because it has anything radically new that we couldn't predict, but because it has so many brilliant features and so much power in depth. It was an instant and obvious choice for our list of the best Olympus cameras in 2020. We also list the best Micro Four Thirds lenses for Olympus and Panasonic cameras (since they are interchangeable).
Will there be more to come next year? We don't know – but in 2019 Olympus has consolidated a camera range that may not be mainstream, but certainly creates its own very important niche in the camera market. Olympus continues to champion the idea that things don't have to be bigger, they just have to be better.
Read more:
• These are the best Olympus cameras today
• We list the best Micro Four Thirds lenses for Olympus and Panasonic
• What's the best mirrorless camera right now?