Olympus has announced an update to its 2020 lens roadmap, confirming that three new Micro Four Thirds optics will be released next year – including two previously unannounced optics. Furthermore, the company revealed that an additional new telephoto zoom Pro lens is also under development.
First on the list is the already announced M.Zuiko ED 150-400mm f/4.5 TC1.25x IS Pro lens, which made its public debut at The Photography Show in March has been widely expected to launch early next year.
This remarkable optic, with a 35mm equivalent base focal range of 300-800mm, possesses a built-in 1.25x teleconverter, which increases its reach to a staggering 1000mm (though this reduces the maximum aperture to f/5.6). Coupled with the Olympus M.Zuiko Digital 2x Teleconverter MC-20, the lens becomes a 2000mm equivalent – but with the benefit of rock-solid 5-stop Sync-IS image stabilization.
Revealed in the roadmap update are two new lenses: the M.Zuiko ED 100-400mm f/5.0-6.3 IS and the M.Zuiko ED 12-45mm f/4.0 Pro – the former having been leaked by Japanese patents, and the latter feeling somewhat confused in its intention.
The 100-400mm (an equivalent 200-800mm in full-frame terms) would appear to be a non-Pro alternative to the 150-400mm. However, the 12-45mm Pro (24-90mm) seems to tread right on the toes of the existing 12-40mm f/2.8 Pro – and with a much slower aperture, to boot.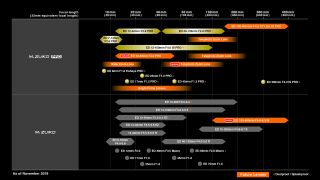 What could differentiate the new, slower 12-45mm lens is a more streamlined form factor; a report on 43 Rumors claims that the lens will come "without sync IS and no Fn buttons", suggesting that it could occupy a much smaller footprint to better complement smaller bodies like the Olympus OM-D E-M5 Mark III.
When it comes to the newly announced Pro telephoto zoom lens, nothing at all was revealed in terms of specs or availability. All we have to go on is the graphic on the revised lens roadmap document, which reveals that it will be something in the region of a 50-200mm optic.
With rumors having swirled in recent weeks that Olympus might sell its camera business (which have now been officially debunked), it is great to see that the manufacturer is getting back to the business of releasing new bodies and lenses, following a year of virtual hibernation while it relocated its manufacturing facilities and didn't release any products.
What do you think – are you a Micro Four Thirds user who is excited by these lens announcements? Are you a full-frame shooter who is intrigued by compact optics offering ridiculous focal ranges? Or do you think all this is too little, too late for Olympus? Have your say on the DCW Forums!
Read more:
Olympus debunks rumors: "We currently have no plans to sell the business"
Olympus 150-400mm f/4.5 Pro + MC-20 converter deliver 2000mm range
Olympus OM-D E-M5 Mark III review